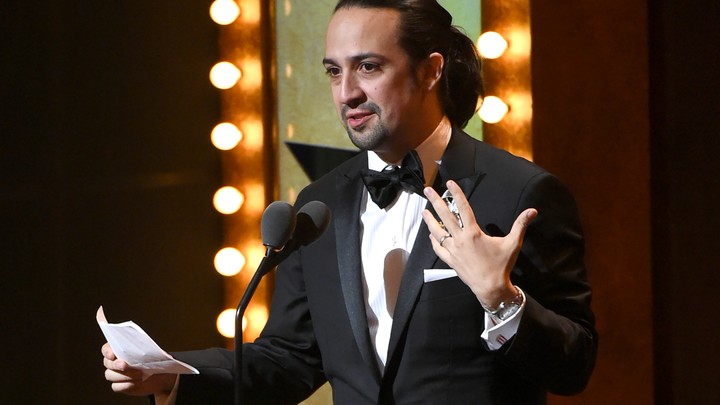 Sunday night's Tony Awards had a difficult mission at hand: throwing a joyful celebration of the year in Broadway theater while also acknowledging that morning's horrifying massacre at a gay club in Orlando. Even at the best of times, there's very little more frivolous than an awards show, but rather than feeling tonally jarring, the revelry ended up being a perfect answer to the misery of the day, its mere existence offering a counterpoint to an act of hatred. It was the kind of night where the Hamilton creator Lin-Manuel Miranda could accept a trophy with a sonnet in praise of love and have it not feel corny, but necessary. If there was a night for bold, open-hearted sincerity, it was this year's Tonys.
It helped that the winners were wonderfully diverse, in welcome (and repeatedly remarked-upon) contrast to the Oscars, which have failed to nominate even one film actor of color in the last two years (out of 40 nominees). Miranda's musical sensation Hamilton took 11 Tonys including Best Musical, Best Score, Best Book, and three acting awards, while a revival of The Color Purple also won big. To open the show, the presenter James Corden soberly addressed the events in Orlando, saying, "Theater is a place where every race, creed, sexuality, and gender is equal, is embraced, and is loved." The ensuing ceremony was a lively, uplifting affair, but one that served as a reflection of that sentiment.
It also helped that there was a palpable lack of tension in the room, thanks to Hamilton, which had been tipped for utter dominance since it opened on Broadway last August. A combination of rave reviews, a best-selling cast album, and a cast filled with electrifying actors of color has turned the show into a mega-phenomenon. Previous hits like The Producers and The Book of Mormon had seemingly represented the ceiling of the Broadway sensation, but Hamilton also tapped into the internet to reach a whole universe of fans still clamoring to see it. Meanwhile, it's sold out through next year and prices are only going up (the best seats now go for $849, face value).  
Hamilton was the star of the show, and it opened and closed the night. There was a jokey rap introduction for Corden; a "carpool karaoke" video where Corden and Miranda sang along to the cast recording before being joined by the Broadway stars Audra McDonald, Jesse Tyler Ferguson, and Jane Krakowski; a performance of the song "Yorktown"; and later a more impromptu version of "The Schuyler Sisters" to close the show (with the cast still in their tuxes and gowns). Corden frequently and jokingly referenced the assuredness of a Hamilton sweep, and if that wasn't already obvious, Barack and Michelle Obama introduced the performance of "Yorktown" via pre-recorded video.
Miranda's first acceptance speech, for Best Original Score, was the most memorable—his sonnet addressed his wife and child as well as the tragedy in Orlando, making it all the more powerful and spontaneous. "This show is proof that history remembers we lived through times when hate and fear seemed stronger," he said. "We rise and fall and light from dying embers, remembrances that hope and love last longer."
The show's other winners included Daveed Diggs, who plays the Marquis de Lafayette and Thomas Jefferson, for Best Featured Actor in a Musical; Renée Elise Goldsberry, who plays Angelica Schuyler, for Best Featured Actress; and Leslie Odom Jr., who plays Aaron Burr, for Best Leading Actor, beating Miranda as many awards pundits had anticipated. Hamilton's haul of 11 trophies fell one short of The Producers's record 12—it lost Best Scenic Design to the gorgeous jewel-box look of She Loves Me's 1930s Budapest perfumery, and Best Leading Actress to Cynthia Erivo in The Color Purple.
Erivo brought the house down with her performance of "I'm Here," earning the first standing ovation of the night. Almost all of the show's musical numbers were well-staged, a departure from the typical pattern at the Tonys, where songs often feel awkwardly truncated so that they can fit in enough ad breaks. Hamilton's dominance came during an overall strong year for Broadway—revivals like The Color Purple, She Loves Me, Fiddler on the Roof, and Spring Awakening (which featured a partly deaf cast and innovative staging) were well-received, while new musicals like Waitress, School of Rock, and Bright Star showcased the thematic variety on offer for theatergoers.
The searingly dark family comedy The Humans was another big winner, collecting accolades for Best Play, Best Featured Actor (Reed Birney) and Actress (Jayne Houdyshell), and Best Scenic Design. Jessica Lange took Best Leading Actress for Long Day's Journey Into Night (leaving her only a Grammy shy of an EGOT), while Frank Langella took his fourth Tony Award for his work in The Father, a new play by Florian Zeller about a man suffering from Alzheimer's. In his speech, Langella also referenced the shooting in Orlando, saying, "When something bad happens we have three choices: We let it define us, we let it destroy us, or we let it strengthen us."
Often with awards shows, such moments can feel incongruous with the comedic antics that buttress these presentations, but Corden was a successful emcee in that regard. As a former Tony winner himself, he had an air of authenticity alongside the winners and performers, but as the host of CBS's Late Late Show, he's well-practiced in making the audience feel like insiders. This year's Tonys were inclusive in so many ways, from the diverse faces onstage to the message of love that pervaded throughout the speeches, and Corden gelled perfectly with that atmosphere. "Hate will never win," he said in his opening remarks. "Together, we have to make sure of that. Tonight's show stands as a symbol and celebration of that principle."
We want to hear what you think about this article. Submit a letter to the editor or write to letters@theatlantic.com.
David Sims
is a staff writer at
The Atlantic
, where he covers culture.