The Strange, True, Tragicomic Story of EGOT
How a Miami Vice star and a 30 Rock writer made a nonsense acronym into the entertainment industry's highest achievement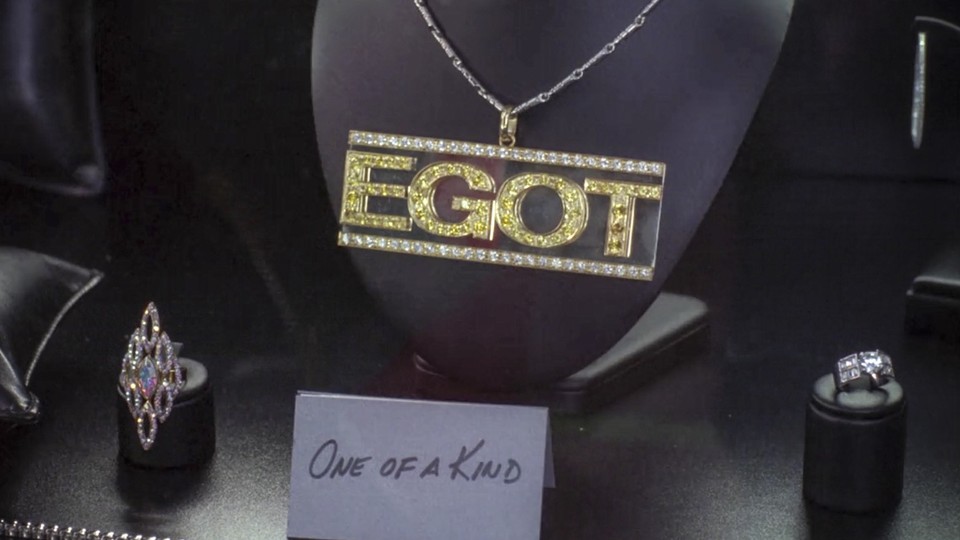 In 1984, 35-year-old Philip Michael Thomas got the biggest break of his career when he was cast as Detective Ricardo Tubbs on Michael Mann's new NBC drama, Miami Vice. Previously, Thomas had mostly had bit parts on television shows including Starsky and Hutch, Wonder Woman, and Roots: The Next Generations; his biggest job had involved playing a PCP-addicted musician in the 1978 exploitation film Death Drug. In an interview with the Associated Press to discuss Miami Vice, Thomas talked about his plans for future success, which he summarized in four letters: EGOT. "That stands for Emmy, Grammy, Oscar, and Tony," he told the reporter, Jerry Buck. "Hopefully in the next five years I will win all those awards."
Thomas believed so ardently in EGOT as a manifestation of his dreams that he had the letters engraved on a gold pendant, which he wore around his neck. EGOT was a symbol of achievement in the performing arts, yes, but also of Thomas's fierce ambition. That duality of talent and thirst—a burning desire to demonstrate exceptional ability on every stage imaginable—encapsulates how the acronym is understood now in popular culture, more than three decades later.
"I really want that Oscar ... I need that EGOT," Cyndi Lauper told a reporter late last month. Kate Winslet, in a February interview with Reuters, revealed that her 12-year-old son, who is "obsessed with records," has urged her to chase EGOT status. In a segment filmed for the 2015 BET Hip-Hop Awards, the Hamilton creator Lin-Manuel Miranda raps, "Got a Grammy, got a Tony, got an Emmy, goddammit homie, somebody show me the way to the Oscars." If Jessica Lange wins a Tony Award on Sunday for her role in Long Day's Journey Into Night, she'll be three-quarters of the way to "the coveted EGOT," which Entertainment Weekly pointed out several months before the show was even in previews.
The story of how four letters on Philip Michael Thomas's necklace became the entertainment industry's highest badge of honor is a cautionary tale involving pride, fame, pop-culture folklore, and the Internet. And like the best parables of stardom and naked ambition, it involves an episode of 30 Rock.
* * *
To date, only 12 artists have received full EGOT status: Richard Rodgers (in 1962), Helen Hayes (1977), Rita Moreno (1977), John Gielgud (1991), Audrey Hepburn (1994), Marvin Hamlisch (1995), Jonathan Tunick (1997), Mel Brooks (2001), Mike Nichols (2001), Whoopi Goldberg (2002), Scott Rudin (2012), and Robert Lopez (2014). Only two have won the "triple crown" of three acting awards (Hayes and Moreno). And only two (Rudin and Lopez) achieved EGOT status and realized it at the time, since EGOT didn't really exist before 2009.
Unless you were Philip Michael Thomas. In the mid-1980s, at the beginning of Miami Vice's five-season run, Thomas's EGOT necklace was a frequent object of curiosity for the media. At first, he was open about what it symbolized. In a 1985 Playboy interview conducted alongside his co-star Don Johnson, Thomas discussed how the two actors had bonded before filming began. "We … trained with each other," he said. "I told Don about my goal, EGOT, which stands for Emmy, Grammy, Oscar, Tony—I want to win or be nominated for each award in the next five years. And he told me about dreams he wanted to develop."
But toward the end of that year, Thomas began backtracking, notably in an interview with the Miami Herald:
A gold medallion with the letters EGOT is around his neck. He claims it doesn't stand for the Emmy, Grammy, Oscar, and Tony awards he constantly thinks of winning, as reported by the media.

"It means Energy, Growth, Opportunity, and Talent. It's also a character I've created. A mythical space character that I'm going to put in one of my videos. He's an angel of light that comes from outer space. On the way … he passes E.T. going home." The angel of light eventually descends on the planet, he says, his own cherubic face boyish, open. At one point he says, "I believe in miracles."
By that point, Miami Vice was a hit. In its second season, it was the ninth most-watched show in America, prompting producers to switch it to a 9 p.m. time slot on Friday, against CBS's Dallas. The move backfired: Ratings fell, and in its fifth season, the show was cancelled. Thomas appeared in a handful of TV movies, but there were no more mentions of EGOT in interviews. In 2000, the journalist Rob Walker wrote a diary entry for Slate about reading "a 1986 paperback called The Making of Miami Vice," and being struck by the description of Thomas's necklace. "Can you imagine?" Walker writes. "Do you think that's true—he wore a medallion that said EGOT? Does he still have it? I don't think he won any of those awards; in fact I'd be surprised if he was even nominated for any."
Indeed he hadn't. And EGOT—as a dream, as a distillation of fame and power, as an oddly arranged acronym—had been forgotten. Until 2009, on a different NBC show, when the egotistical TV star Tracy Jordan walked into a jewelry store and stumbled upon an artifact of pop-culture history.
In a fourth-season episode of 30 Rock, "Dealbreakers Talk Show #0001," Tracy (Tracy Morgan) goes searching for a gift for his wife at Yakov's Nubian Bling Explosion. The store clerk shows him an elegant necklace, but Tracy's eye is caught by a more distinctive object on display: a giant, diamond-encrusted medallion bearing the letters EGOT. "That belonged to Philip Michael Thomas, the actor who played Tubbs on Miami Vice," the salesman tells him. EGOT, he explains, is "a goal: It stands for Emmy, Grammy, Oscar, and Tony. Four awards that Thomas planned on winning in his career."
"That's a good goal for a talented crazy person," Tracy muses. He immediately adopts it as his own, assembling an orchestra in a bid to compose a hit album/musical, and even visiting the EGOT-status performer Whoopi Goldberg to ask for her advice. The episode aired on December 3, 2009. Almost overnight, it cemented EGOT as a notion in the cultural imagination.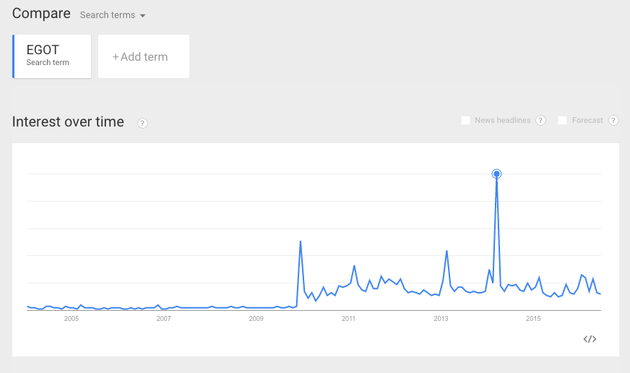 In January 2010, less than a month after the episode aired, The Pittsburgh Post-Gazette published a listing noting that Marvin Hamlisch had "an 'EGOT.'" That same month, the Palm Springs Desert Sun ran an interview with Lily Tomlin, describing how "Tomlin, who turned 70 in September, is one Oscar short of joining 10 performers who have won the showbiz grand slam known as the EGOT." In June, Julia Roberts introduced Mike Nichols at the AFI Awards by calling him "one of the few people in the world who's an 'EGOT.'" In October, the Chicago Tribune published a list of stars who could plausibly be on their way to EGOT status (Justin Timberlake, Lea Michele, Lindsay Lohan, Beyoncé), spawning a vibrant new genre of entertainment journalism: EGOT futures.
Questions soon abounded about the new designation. Is it something one embodies or something one acquires? (It's unclear.) Do honorary awards count? (No, to the chagrin of Barbra Streisand, Liza Minnelli, James Earl Jones, and Harry Belafonte.) If you also win the Pulitzer Prize, are you a PEGOT? (Ask Hamlisch, Rodgers, and—after he gets his Oscar—Miranda.)
More intriguing, though, was how EGOT simply leeched into performing-arts consciousness. If you Google the term today, more than 447,000 hits come up. Many people seem to remember that EGOT was a subject in an episode of 30 Rock, but few seem to realize that before that episode aired, only Philip Michael Thomas and his publicist had any conception of it as an actual thing. (It's worth mentioning that before the 30 Rock episode aired, EGOT was mostly known as a Filipino racial slur, and there's a certain irony in Thomas randomly assigning letters in a way that appropriated that slur's meaning.)
"Dealbreakers Talk Show #0001" was written by Kay Cannon, the enormously talented writer behind Pitch Perfect and Netflix's upcoming comedy Girlboss. Cannon didn't respond to requests for an interview. Perhaps she, too, stumbled across a dog-eared paperback copy of The Making of Miami Vice, or perhaps NBC has a welcome manual full of eccentric things its stars have said in interviews. (For the record, Thomas's actual necklace was a model of subtlety compared to Tracy's fictional blinged-out chain.)
Thomas also declined to be interviewed for this story. In March he talked to Thrillist ahead of the Daytime Emmy Awards, and seemed exasperated at this particular cornerstone of his legacy, saying, "There's things so much more fascinating than this, what you're talking about." Meanwhile, the quest for EGOT continues. Taylor Swift is apparently chasing EGOT. So is Geoffrey Rush. Allison Williams has "vague" EGOT goals. Alan Menken wants a REGOT. Jennifer Hudson has an EGOT plan that involves dogs. Adele has a plan that involves an HBO special. Helen Mirren wants to get there by the less zany but infinitely more probable method of an audiobook.
Thomas may not have achieved his dream of winning four major entertainment awards. But in coining a term that—thanks to Kay Cannon and Tracy Morgan—became the hallmark of both artistic achievement and what we might describe today as the textbook definition of #goals, he secured his enduring place in Hollywood history nevertheless. Through his audacity, his vision, and his implacable faith in his future success, Philip Michael Thomas can say that he gave the most accomplished artists in history something to strive for.