The Shallows Is Torture Porn, With a Shark
The Blake Lively vehicle, the harrowing tale of a surfer stalked by an angry cartilaginous fish, jumps the … yeah.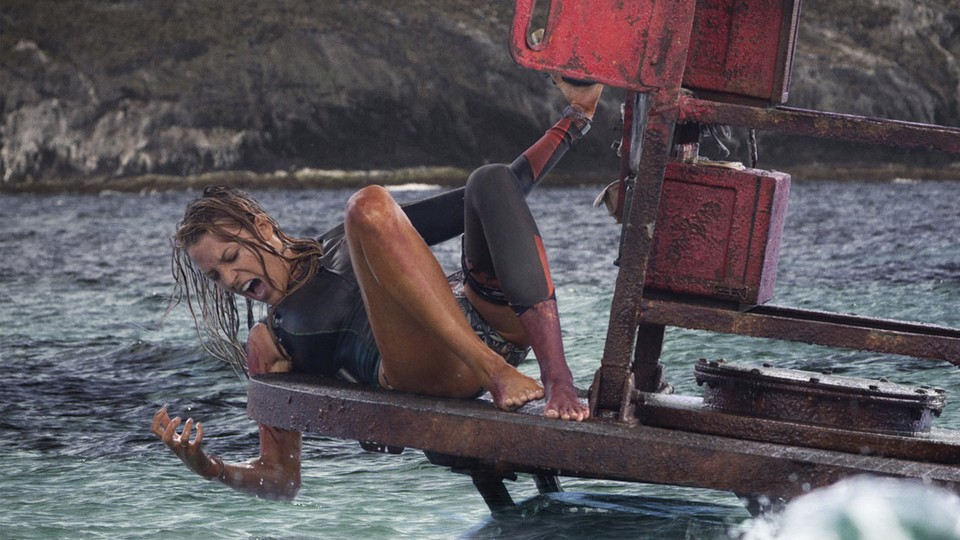 In July of 1945, during the final weeks of World War II, the USS Indianapolis was struck by a Japanese torpedo. The ship sank, leaving the survivors of the explosion—some 900 men—to float, helplessly, in the Pacific. The crew sent SOS signals; help never came. What did come, however, were sharks, specifically oceanic whitetips, and the creatures proceeded to pick off the survivors one by one. The ordeal lasted for four days. Only 317 men would emerge alive from what remains "the worst shark attack in history."
News of the horror that had befallen the crew of the Indianapolis contributed to a national anxiety that remains with us, and that has been both channeled and exacerbated by pop culture. Deep Blue Sea, Kon-Tiki, Dinoshark, Soul Surfer, Sharknados 1-3 (with the fourth installment, Sharknado 4: The 4th Awakens, planned for release in late July), and the many, many other films in the Jaws genre … all of them summon the fear that sharks are not just predators, but also—much more than other powerful animals manage to be—monsters. Call it, if you want (though you probably shouldn't), fin-ema.
The Shallows is another entry in that genre—a "survival thriller" about an epic battle of wits and wills that takes place between an American woman, Nancy Adams (Blake Lively), and a vicious shark. Nancy is a medical student who is reconsidering her life's purpose after losing her mother to a long battle with cancer; as a kind of tribute, she travels to a deserted beach in Mexico—the same one her mother traveled to when she learned she was pregnant. She plans simply to surf the waters there as her mother had, but instead she encounters a Great White—and, it turns out, will keep encountering it. She gets bitten on her thigh; she spends the many hours after the bite occurs battling not just the shark but also hunger and dehydration and gangrene and the sun's rays. A little bit Jaws, a little bit Blue Crush, a little bit 127 Hours, and a little bit Shark Week, The Shallows would seem to be a promising fusion of all the things we love to hate and hate to love about saw-toothed cartilaginous fishes.
It is probably not a good sign that fairly soon into proceedings, serious questions emerge about the shark's motivations. Hunger alone doesn't seem to be driving him (I'll refer to him as a "him," as Nancy does throughout the movie, though the audience isn't privy to the biological sex of this modern-day megalodon). The ordeal begins with Nancy spotting a dead whale off the beach, and paddling toward it in curiosity; since Great Whites in particular have been known to feast on whale carcasses, and in fact likely derive a hefty portion of their total calories from whale blubber, then The Shallows, as far as the shark is concerned, is set in the parking lot of a Hometown Buffet. The shark also has other human victims in addition to Nancy; one of them washes up on the beach deceased but uneaten—another suggestion that the shark is more than simply hungry.
So then (and I belabor this point only because it is also the entire premise of this film): Is the shark territorial? Is the beach Nancy has been surfing his hunting ground? Which would make sense, except that (according to the many gorgeous aerial shots the film provides, of waters so crystalline as to reveal the particular typographies of the shallows' floor) the beach in question seems to be home to precisely none of the animals that would normally be hunted by Great Whites. So then: Maybe the shark has somehow realized, on a spiritual level if not an intellectual one, that humans are responsible for the decline of the global shark population, and figures he should do his part to correct the imbalance? Or maybe he saw The Age of Adeline, and is seeking his revenge?
The answer, in the end, seems to be at once more boring and more interesting than any of those: This shark must simply be a sadist. He is like Jaws in Jaws—and when it comes to Nancy in particular, for reasons that can be known to the shark alone, this time it's personal. And so: The shark circles, malevolently, as orchestral strings swell. He waits, with an impressive amount of patience, for Nancy to be forced back into the water. He does what he can to knock her off her precarious perches: an outcropping of rock, the whale carcass, a buoy. He is, whatever Nancy does, and however long she waits, simply there. He isn't attacking her so much as he is stalking.
The Shallows bills itself as a "suspense thriller," and suspenseful it certainly is. Its director, Jaume Collet-Serra, has taken the lessons of Jaws and made them his own: He understands, and employs to great effect, the power of the shark's-eye-view of a human frolicking on the surface of the water, and how the sound of a few taut, orchestral strings can set a collection of human nerves on edge, and the way Great Whites in particular—braun and brain, united by millions of years' worth of evolution—can summon humans' deepest fears. Add to all that some lush, masterful cinematography, and a setting that might as well be a default screensaver of a Microsoft-circa-1999 desktop, and you have a film that is, all in all, a visual masterpiece.
The gorgeous visuals, though, are also part of its problem. The Shallows revels, despite its survival-driven storyline, in its various physical beauties—not just those of its setting, but also those of its star. At the outset, when The Shallows is more Blue Crush and less Soul Surfer, we get several slow, languorous, almost-uncomfortably-close-up shots of Lively stripping down to her (tiny) bikini. And then rubbing sunscreen on her back, slowly and languorously (even though, moments later, she'll don a neoprene jacket that will render that effort completely unnecessary). And then zipping that jacket up just enough to tighten her cleavage, but not to cover it. And then, once in the water, straddling her surfboard. Collet-Serra delights in angles that focus on the surface level of the water; what that amounts to when it comes to Lively, however, are a series of crotch shots.
This is a movie, of course, about a lady-surfer; you would expect, given that, a certain amount of lady-surfer-in-her-bathing-suit images. Compounding things, however, is the fact that the images The Shallows serves up aren't just remarkably sexualized. They're also remarkably violent. Before she takes a beating from the shark, Nancy takes one from the ocean. She wipes out while surfing, and the camera dutifully—but not at all necessarily—provides several close-up shots of her arms and legs getting pounded against rocks, and of her hair (loose, of course) tossed by currents in whiplash-y slo-mo. Even before the shark appeared, the audience in my screening was audibly gasping at the violence displayed onscreen.
In this, there's an uncomfortable dissonance: The film has empathy for Nancy at one moment, and at the next suggests its own form of cinematic sadism. It carries messages about female empowerment, until it doesn't. The Shallows takes a saw-toothed villain and uses that as an excuse for a maritime version of Saw; it is, in the end, torture porn that outsources its violence to the morally unaccountable realm of the natural world.
Hampering things further is the fact that the plot moves along not just through the battle of wills taking place between a human and a fish, but also through a series of improbable twists of bad luck—the result of cosmic accidents and also of people (and sharks, obviously) being mired in self-absorption. There are approximately 13 separate moments of deus-ex-machina-in-reverse during the course of the 87-minute movie, which suggest either that Nancy has exceptionally bad luck or that the film's writer, Tony Jaswinski, is highly attuned to the zig-zagging nature of fate. "You've got to be kidding me," Nancy mutters as yet another unforeseen and highly improbable obstacle is thrown in her path.
When even the film itself acknowledges its own inconceivability, there might be a problem. It would be one thing if The Shallows had been based, like Soul Surfer, on a true story, and thus obligated to the solemnity of history; the various punishments Nancy faces, though, have been doled out by human imagination. That makes their absurdities not merely absurd, but laughably so.
It's unfortunate for everyone involved, but especially for Lively, who proves her star power in The Shallows—not to mention an acting range never on display in Gossip Girl or any of her other projects. She is subtle when she needs to be, funny when she can be, all the while evincing a quiet determination that perfectly suits the demands, and the particular challenges, of the story in question. And Nancy herself is an engaging protagonist (her version of Tom Hanks's Wilson is a seagull who ends up stranded with her after it too is injured by the shark—a bird she ends up naming "Steven Seagull"). The Shallows should be a star vehicle for Lively; it likely will be.
But that doesn't make it good. The film could have been self-consciously campy in the manner of 1999's Deep Blue Sea, which featured Saffron Burrows fighting bio-engineered sharks-gone-rogue and was a thorough delight. Instead, The Shallows takes itself very, very seriously—as a "thriller"; as Cinema; as a tale of survival; as a moody take on the enduring themes of (Wo)man Versus Nature and the Power of the Sea; as a vaguely feminist tribute to feminine independence. (The song that plays during the closing credits is Sia's "Bird Set Free," whose lyrics include the lines "I'm not gon' care if I sing off key/ I find myself in my melodies/ I sing for love, I sing for me/ I shout it out like a bird set free.") The Shallows was originally titled In the Deep, and it's revealing that the two names selected for the movie are so profoundly self-contradictory. This is a film that doesn't seem to know what exactly it is—or what exactly, given the extensive canon of shark cinema, it should be. All it knows is that sharks are scary and that Blake Lively is pretty; both are true, but as observations meant to drive a movie, they are also pretty shallow.