The Radical Power of 'Killing Me Softly'
As sung by the Fugees' Lauryn Hill, the 20-year-old cover was a pivotal musical moment for many young black women in 1996.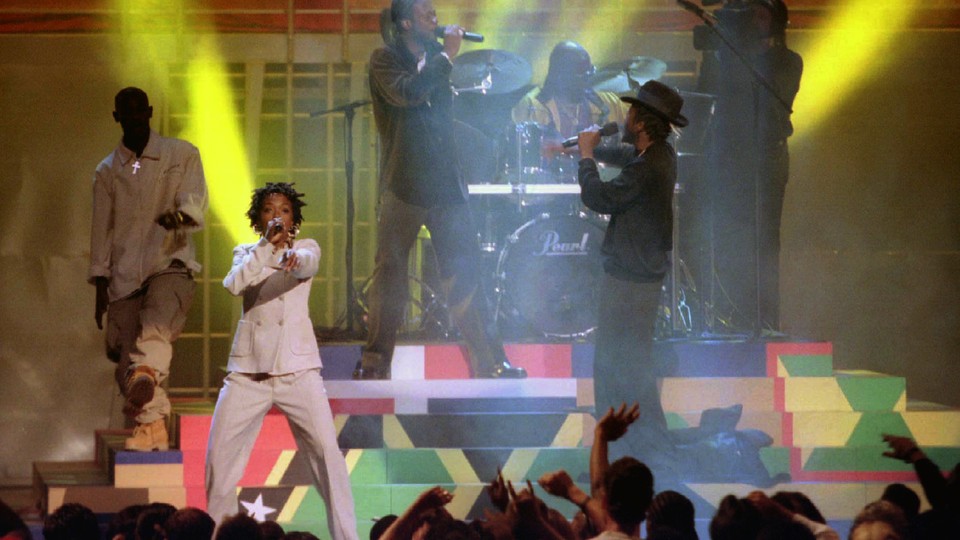 It's one of those songs that earmarks a period in your life and immediately takes you back every time you hear it. "Killing Me Softly" is both elegant and raw, simple and magnificent, with its standard boom-bap hip-hop beat juxtaposed with intimate lyrics. A redux of Roberta Flack's "Killing Me Softly With His Song," which became a hit decades before, the Fugees' 1996 cover version has emerged as a classic in its own right in the last 20 years.
Over that stripped-down production, the singer Lauryn Hill's golden voice soared and we, the black girls of that generation infatuated with her ability to switch styles and personas and still remain authentically herself, soared with her. "Killing Me Softly" was a pivotal moment in music for many young black women coming up in the mid-1990s. Never before had a female member of a hip-hop group been given center stage to shine like that on a platform like that—in a song like that—and when Hill did, she changed the way we contributed to and related to that sphere of musical culture.
Growing up on the fruit of golden-era hip-hop required learning how to negotiate being both a girl and a fan. This meant choosing when to self-censor the "bitches" and "hoes" that permeated your favorite songs or when to bark those words with bravado just like the rappers who wrote them, because they weren't referring directly to you. It meant sometimes checking young men who were under the impression that what happened in a song was okay to recreate in real life. It meant sometimes opting to turn your brain off so you could let your body dance, in spite of whole lines and verses that minimized and devalued it, because there were so few songs in that genre that didn't.
The year that "Killing Me Softly" dropped was already special: 1996 was a hip-hop Xanadu that birthed inaugural projects from Jay Z, Lil' Kim, and Foxy Brown. Tupac delivered two albums—All Eyez on Me and The Don Killuminati—in the time it takes most artists to labor over one, and Nas released It Was Written, arguably as much of a classic as his Illmatic debut two years before. A Tribe Called Quest made Beats, Rhymes and Life. Outkast produced ATLiens. Eazy-E peaked at number one on the Billboard hip-hop and R&B chart with his posthumously released Str8 off tha Streetz of Muthaphukkin Compton. The Fugees' second album, The Score, contributed to that surge of genre-defining music.
It was a time when hip-hop was the vanguard of versatility, and artists—not just rappers, but artists—prided themselves on creating music that made them distinct, which in turn let them reach distinct audiences. Hill chose to speak to us, we on the black girl spectrum from browned butter to burnished mahogany with our thick hair and thick lips and thick bodies. When the Fugees released "Killing Me Softly" as the album's first single, the critical and public response to it catapulted Hill from celebrity to superstardom, making her an archetype of #BlackGirlMagic before the idea had a name and a movement.
At the time, no middle or high-school talent show was safe from at least one performed rendition of the song. Only the most skilled of singers could get close to making the matrix of notes at the bridge sound as crisp and effortless as Hill could. What the song did, besides entertain us, was give black girls a voice in spaces where, at least most of the time, we had to leverage, strategize, and straight up fight for power. For Hill, that space was a male-dominated genre in a male-dominated music industry. For us, it was our classrooms, our homes, our streets, our own cultural community.
Women have always been a presence in male-founded hip-hop groups, or as female solo artists have been closely affiliated with a network of male musicians. Historically, there's been a formula at work: There's a singular feminine force for each overwhelmingly male outfit, where the woman is either the hypersexualized mascot or the secret-weapon anomaly that proves—surprise!—girls can rap, too. There have been respectable showings in spite of those parameters: Ms. Melodie in Boogie Down Productions, Eve in Ruff Ryders, Ladybug Mecca in Digable Planets, Rah Digga in Flipmode Squad.* Of course there have been all-girl groups like Salt-N-Pepa and TLC, fierce collectives idolized by black girls who argued over who was going to get the pretend role of their favorite member when they rapped the lyrics to their songs into hair brushes and TV remotes.
Rare, however, have been the mixed-gender groups where men and women contribute equally to the artistic output. Even rarer have been songs from those groups that feature a woman as the sole performer. From the Fugees' debut, Hill was the woman superpower in their tripartite success. In "Killing Me Softly" in particular, Wyclef Jean and Pras Michel played the background—sans Wyclef's "one time, two time" ad libs—to give her the mic and the floor.
According to industry lore, it was the last song produced for the album, a late addition to balance the otherwise rap-heavy lineup. They'd worked together for years—Pras and Lauryn had known each other since high school and been part of a previous group before Wyclef completed the Fugees as we know them—but Hill had reservations about how the song would be received. Her group mates' deference to having her take the lead on the track wasn't a favor, but a collective recognition of her talent, because no one could have sung that song the way she did. (Even Roberta Flack loves it.)
"Killing Me Softly" won an MTV Video Music Award in 1996 and, that next year, a Grammy for best R&B performance by a duo or group. Those are iconic accomplishments for any artist wanting to be recognized and appreciated for his or her work. But "Killing Me Softly" was also a song of independence for Hill and for black women like her, particularly those of us trying to understand and embrace our womanhood in an era of pop culture intoxicated by hip-hop's narrow definition of masculinity. Hill showed young black women that there was room to be vulnerable and assertive, classic and contemporary, hip-hop and soulful, and she demonstrated that to us in a song many of us now play for our daughters.
The Fugees disbanded a year after "Killing Me Softly" became part of the soundtrack of 1996, and Hill went on to make her legacy-cementing solo project, The Miseducation of Lauryn Hill. For a generation of black women, that record dominated life, spoke to our souls, and stays in regular rotation as its own 20-year anniversary creeps up on the calendar. Even with the commercial successes of Nicki Minaj and Queen Latifah, the two uncontested most influential women in hip-hop, there remains something overpoweringly symbolic about that one song that trumps even their multimillion-dollar business deals. "Killing Me Softly" is a testament to our ability to stand out and be big, whether we're in like company or the only one of us in the room, and that, no matter how our environment tries to dictate otherwise, there are victories divinely set aside just for us.
---
* This article originally misstated the name of the female member in Digable Planets as Butterfly. We regret the error.