The Brilliant Ascendency of Jessica Williams
The star Daily Show correspondent is moving on to make her own scripted comedy, and her gain is the show's huge loss.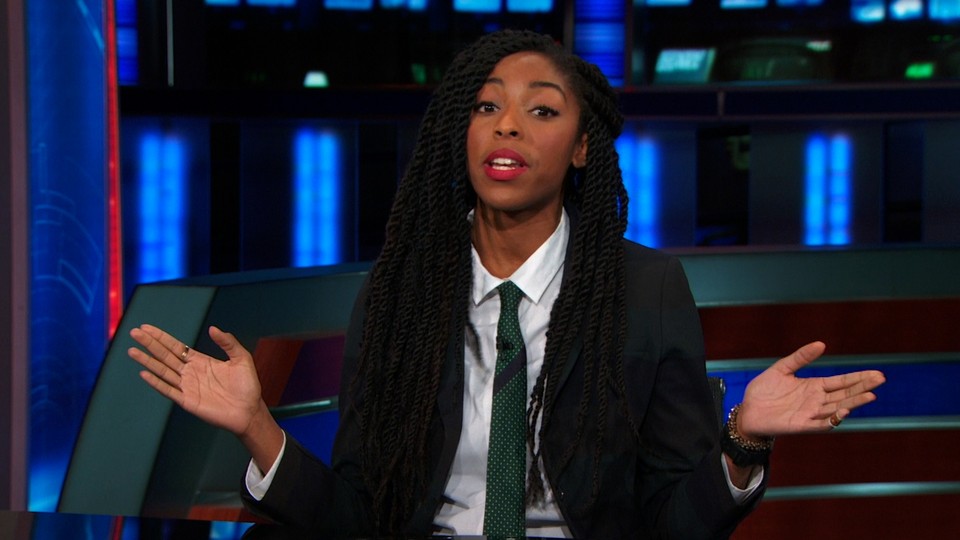 When Jon Stewart announced he was leaving The Daily Show last year, many fans lobbied for Jessica Williams to replace him, pushing one of the show's standout performers into a limelight she deemed herself not quite ready for. "Thank you, but I am extremely under-qualified for the job!" Williams tweeted. Comedy Central eventually picked Trevor Noah for the gig, and in the following months, Williams's star has only risen higher. It's no huge surprise, then, that on Wednesday she told Entertainment Weekly she was moving on from The Daily Show to develop her own scripted series for Comedy Central. It's great news for Williams, but a huge loss for the show she's leaving behind.
The discussion over Williams becoming The Daily Show host in 2015 turned into a minor political maelstrom. Williams publicly pushed back against the idea that she had "impostor syndrome," as suggested by one writer, for calling herself "under-qualified" and pointing to her young age (25 at the time) as a reason for her disinterest in the position. Indeed, there are a thousand reasons to not want the daily grind of a TV hosting gig, and the heightened scrutiny and criticism Noah has received in his year on the job is among them. But as Williams's popularity and talents have grown, and as The Daily Show has struggled to retain its critical cachet after Stewart's departure, it's been hard not to mourn a different outcome in which Williams took the host job and steered the series in a fresher, more relevant direction.
The upside, for Comedy Central, is that the network is retaining one of its hottest young talents, and Williams's scripted series sounds loaded with potential to be a Broad City/Workaholics-style hit for millennial viewers. The show will focus on "a politically-minded young woman who may be 'woke' but doesn't know what she's doing," and will be co-produced by Naomi Ekperigin of Broad City and Difficult People. "It's ... about someone in their 20s who has all these social ideas but still, like, does not have it together," Williams told EW. "And she's goofy and silly and funny!"
Williams's career has been meteoric—she was hired at The Daily Show in 2012 at the age of 22 and finished her final exams at California State University, Long Beach, before moving to New York for the gig. She quickly stood out as one of the show's "field correspondents," having particularly good comedic chemistry with Stewart in their moments of desk banter, and playing off correspondent Jordan Klepper's brand of stuffy ignorance. As the first black woman hired as a Daily Show correspondent, Williams opened up new angles of coverage for the now 20-year-old show; off-camera, her live comedy podcast 2 Dope Queens (co-hosted with Phoebe Robinson) has become a similar sensation for WNYC Studios.
In her exit interview with EW, Williams seemed very self-aware about her legacy on The Daily Show, and the demands that came with being an African American, female presence on a show that in the past had struggled to promote diverse voices. "As a black woman of color, I feel like I'm supposed to represent these ideals and values that I was taught as a young lady," she said, explaining the premise of her new show. "Like I'm supposed to carry myself in a special type of way, but oftentimes I'm, like … I'm still in my 20s, and still kind of a mess."
That dichotomy was part of her stated reason for declining the Daily Show hosting job last year—in essence, she thought she was not quite cynical enough for the gig. "At this age (25) if something happens politically that I don't agree with, I need to go to my room & like not come out for, like, 7 days," she tweeted. But that kind of profound feeling might have suited The Daily Show this year as it has struggled to capture the zeitgeist. Noah is a personable, breezy host filled with winning energy—but he has seemingly come along at the absolute worst moment for that kind of approach.
Stewart's often-arch, despairing tone was perfect for the Bush era, when his time at The Daily Show sniping at the administration from the sidelines and mocking the ineffectual left turned him into a generation's political conscience. But in the even more polarized times of 2016, where viral clips are the norm and viewers are more and more likely to tune in online rather than at 11 p.m., audiences are demanding passion from their late-night hosts. Full Frontal's Samantha Bee, Late Night's Seth Meyers, and Last Week Tonight's John Oliver have jumped to the fore with a reliance on long-form segments that verge on the polemical, intensely "eviscerating" a certain issue or politician to cheers from an audience. Williams had a talent for exactly that on The Daily Show—Noah does not (along with other shortcomings). He may yet find his footing as his show loses one of its biggest draws. But either way, whatever comedic opportunities arise for Williams in the future, "inexperienced" will be an excuse she'll no longer get to use.