The Academy Becomes a Little Less White and Male
The new list of voters is more than twice the size of a typical class and is mostly made up of women and people of color.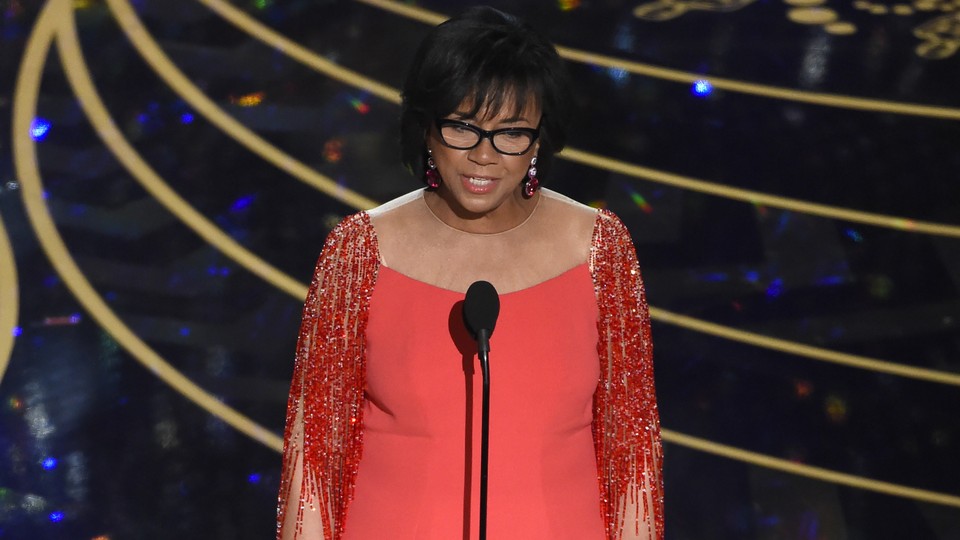 Almost any news story on the Academy Awards in the last year has been focused on one thing: #OscarsSoWhite. After last year's much-derided nominees list (where all 20 nominated actors were white for the second year in a row), the Academy of Motion Picture Arts and Sciences pledged radical action. Members who had been dormant in the film industry were demoted to non-voting emeritus status, while Academy President Cheryl Boone Isaacs vowed to transform the makeup of incoming voters. That's finally happening, and the recently announced new class is encouragingly diverse—even if the numbers only underscore the enormity of what Isaacs has to overcome.
The list of industry luminaries invited to join AMPAS is 683 names long (more than double the size of 2015's class) out of 7,789 total members. Forty-six percent of new members are women, which will bump the overall female demographic from 25 to 27 percent. Forty-one percent are people of color, increasing that demographic from 8 to 11 percent. Coupled with the shedding of inactive, mostly older voters, the 2016 class amounts to the closest thing to a sea change for AMPAS—and marks the most significant reorganization of the Academy's membership in its 90-year existence. As the frequent Oscars critic Mark Harris pointed out, these members will account for nearly 10 percent of next year's voters. If such efforts continues, the Oscars could begin to feel substantially different and signal to the movie industry at large that it's time to take similar, sweeping action.
The reforms have come after the last two years of Oscar nominations shut out performers of color at every level and mostly ignored well-received hits like Selma and Straight Outta Compton that seemed like traditional Academy material. Starting in 2015, journalists covering the Oscars began to focus more on the extreme whiteness of the Academy's membership (94 percent in last year's voting) and less on the films themselves. The voters had become the story, and Isaacs (who is African American) knew that was untenable.
"This class continues our long-term commitment to welcoming extraordinary talent reflective of those working in film today," she said in a statement. "We encourage the larger creative community to open its doors wider, and create opportunities for anyone interested in working in this incredible and storied industry." This year's membership drive also included a huge push for international voters, naming 283 new members from 59 different countries.
Among the new names are beloved actors of color, young and old: Oscar Isaac, Idris Elba, Anthony Anderson, Chadwick Boseman, John Boyega, Cliff Curtis, Loretta Devine, America Ferrera, Luis Guzman, Daniel Dae Kim, Dennis Haysbert, Ice Cube, Michael B. Jordan, and many more. Actresses including Kate Beckinsale, Rose Byrne, Emma Watson, Brie Larson, Rachel McAdams, and Alicia Vikander have also been welcomed. The full list is available on the Academy's website and is broken down into categories, some of which are getting important membership influxes (the music branch, for example, is one of the Academy's oldest and most male, and most of its new members are female).
The response to Isaacs's membership initiative has been wide-ranging. Some critics, like The Hollywood Reporter's Scott Feinberg, said they were troubled by the "lacking" film achievements of some of the invitees. Feinberg's argument, which pointed to stars like Ferrera, Anderson, and Tina Fey who are more famous for their TV work, seems rooted in the oldest of old-school Hollywood hand-wringing that has no conception of the changing industry, one where television and film share more and more creative DNA. Dismissing talents like Boyega, Boseman, Nate Parker, and others for their relative youth is exactly how AMPAS got into its current situation; Isaacs, to her credit, is looking to repair the Academy's tarnished reputation by building toward the industry's future.
Others, like April Reign, the creator of the #OscarsSoWhite hashtag, applauded Isaacs's effort while calling it a "small step" that doesn't come close to representing the country as a whole. Indeed, sustaining this kind of progress will require similar deliberate moves in coming years. Former Academy President Hawk Koch, who ran the Oscars from 2012 to 2013, called the AMPAS diversity targets "impossible" in February, telling the Los Angeles Times, "There aren't that many qualified people, period, of any race or gender, to invite each year."
He's simply wrong—as the new list proves, the "qualified" talent exists, and has been overlooked by AMPAS for far too long—and Isaacs herself has loudly and publicly rejected this mentality. "I was always perplexed by those kinds of comments, to be honest," she told the Times. "Does anybody know everybody in the film business around the world? None of us do. Our members have been engaged and really paying attention to talent that is everywhere, and that's why we were able to achieve such terrific numbers this year. And we're going to continue."