Tegan and Sara, Scientists of the Love Song
Love You to Death sees the duo tinkering with synth-pop to communicate precise, and often bittersweet, emotions.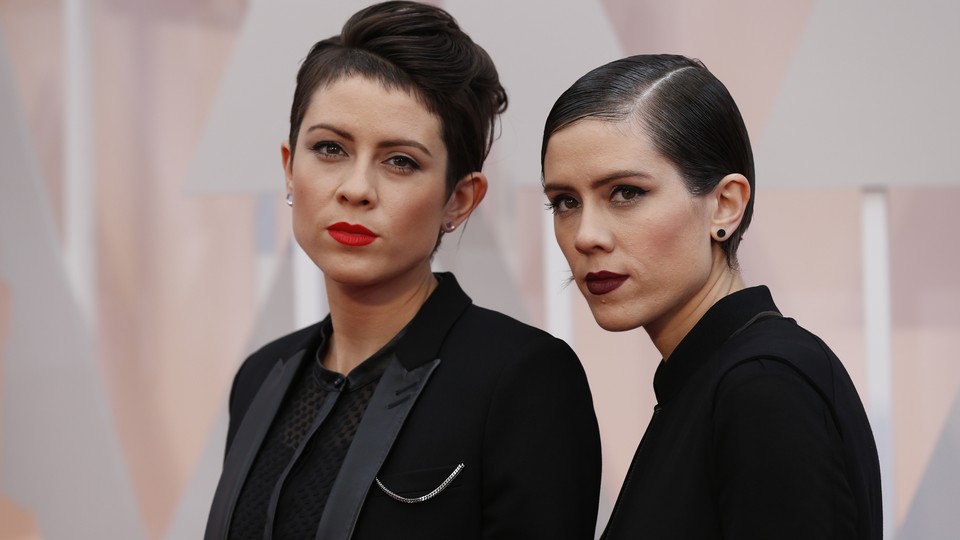 Toward the end of their great new song "U-Turn," Tegan and Sara lay out a series of instructions that, whenever I listen, I can't help but imagine being presented in a numbered list. "Every time I think I hurt you," one of the sisters sings, her voice climbing and then descending in pitch, "all I have to do is" …
"Think through what I want"
"List your virtues"
"Apologize. I don't deserve you."
The chorus smashes in for step No. 4, which—Q.E.D.—also explains why the tune exists at all: "Now I wanna write a love song, even though you never asked me for one."
Listening closely to Tegan and Sara, the twin musicians enjoying unprecedented popularity two decades into their career due to 2013's irresistible Heartthrob, can offer the kind of satisfaction that comes from solving a logic puzzle. Listening less closely can offer the same satisfaction great pop music always does. They bring a scientist's rigor and an editor's clarity to the stereotypically mushy topic of love, as well as, lately, to the synth-pop template they've helped repopularize on radio. Their trick is conveying lots of information—melodic, rhythmic, and lyrical—while maintaining simplicity and elegance.
Hearththrob was about desire, a subtopic of love served spectacularly by Tegan and Sara's craftwork. With tight grooves, clipped syllables, and two voices sometimes in counterpoint, songs like "Closer" and "How Come You Don't Want Me" nailed the moment when yearning overwhelms the impulse to repress. Their new album, Love You to Death, continues the former indie-rock duo's foray into mass-appeal new wave, but it's darker, focused mostly on what it's like to be inside a relationship facing hard times. Some of the songs address a difficult period of sisterly conflict in their past, a topic they've said has been off-limits for them till now. The chorus on "Faint of Heart" offers a suitable warning: "Real love is tough."
The first track, "That Girl," sets the album's bittersweet tone in a very cool way. It's about considering who you've become and not liking what you find—an extremely Tegan and Sara concept in that it's less a demonstration of emotions that it's a demonstration of thinking about emotions. The song itself is defined by a few different voice lines—natural and manipulated—that swirl around and interlock with each other, recalling both centuries-old madrigals and present-day peers like Haim. Synth drama starts up midway through, but the song might not have needed it: The vocals are moving enough to have worked nearly acapella.
The best moments on Love You to Death share the opener's melancholy. There's the wrenching piano ballad "100X," which delivers an extraordinarily empathetic apology for walking out on someone. It's the comedown after "White Knuckles," the widescreen angst-and-joy-of-twinhood anthem that Tegan and Sara have been holding off on making. The tender verses tell of how frightening (and sometimes literally bruising) codependency can be, followed by the kind of megaton chorus that the album's producer Greg Kurstin—an industry vet who's helped create smashes like Adele's "Hello"—excels at.
There are still giddy tracks for dance floors, though few approach Hearthrob's heights. "Stop Desire" analyzes the fact that you can't ever do what its title says, and its sound is suitably straightforward: It could have been on Taylor Swift's 1989, which, of course, was heavily influenced by Tegan and Sara. "Boyfriend" sashays in the verses and pogo-jumps in the chorus as the sisters use transgressive gender terms to sing of a frustrating romance. The sweet and fizzy "BWU" also subtly queers a pop-romance trope as it talks about being too cool for a wedding.
But the most successful would-be hit is "U-Turn." "Never been the type to leave much room for anyone to speak," goes the first line of the song, beginning a self-examination that leads to repentance that leads to affection while an array of keyboard lines cheer the emotional progress. Charting how exactly the heart and mind interact while forcing the body to move along, it's Tegan and Sara's current appeal distilled as if for an instruction manual on the art of joy.