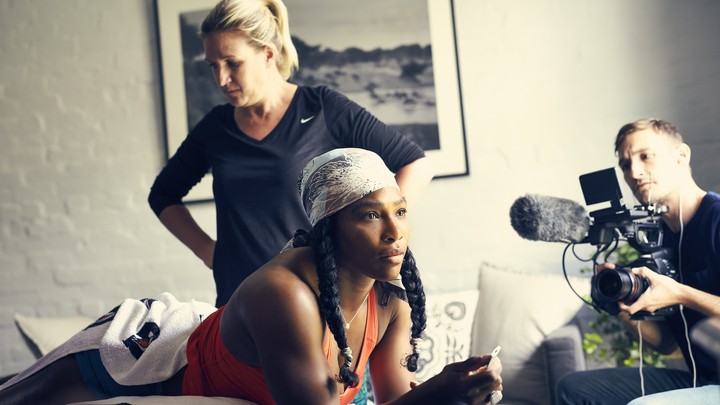 In 2015, at a lunch celebrating her designation as Sports Illustrated's Sportsperson of the Year, Serena Williams made a speech in which she acknowledged the criticism she's faced during her extraordinary 21-year career. "I've had people look down on me, put me down because I didn't look like them—I look stronger," she said. "I've had people look past me because of the color of my skin, I've had people overlook me because I was a woman." She concluded by quoting Maya Angelou: "You may write me down in history / With your bitter, twisted lies / You may trod me in the very dirt / But still, like dust, I'll rise."
The speech makes up the final scene of Serena, a documentary airing on Epix Wednesday night, and it's a powerful summation of Williams's determination to win, as well as her significance as an icon. At this point in history, with 21 Grand Slam wins, four Olympic gold medals, and more major singles, doubles, and mixed-doubles titles than any other tennis player in history, Williams has cemented her place in history as one of the greatest athletes of all time. But what makes Serena so compelling is the ways in which it captures the private reality of Williams's success. Over the course of more than a year in 2015, the filmmaker Ryan White followed Williams on her quest to win all four Grand Slam titles at the age of 33, and his portrait of her behind-the-scenes struggles offers texture to the typical Hallmark-inspirational narrative of greatness, and some sense of what it actually costs to achieve it.
Williams's motivation in giving White such access to her life, she said, was her desire to show a different side of herself, and from the opening scenes, there's an endearing goofiness to her. She keeps her Olympic medals in Ziploc bags in a cabinet stuffed with odds and ends. She laughs hysterically when her pants split while she's doing an aerial acrobatics class. She abandons a conversation at a karaoke bar (with Drake, no less) in mid-sentence to dance when a Gloria Estefan track comes on. She watches The Little Mermaid on Netflix while wearing a hairnet and clutching a toy monkey. "All my life, I've hated working out," she confesses.
But as she begins her mission to win all four major tennis tournaments in a year—something only six players have achieved in history in singles tournaments—it also becomes clear how vulnerable she is." Her muscles and joints ache. At the French Open, she catches the flu, and has to summon remarkable mental strength to fight back after losing the first set in a semifinal match against Timea Bacsinszky. Bookending the match are scenes of her crying and coughing, burying her face in her hands, and calling her mom to come take care of her.
Serena features interviews with the many members of "Serena Inc" who accompany her on the road: her family, her coach Patrick Mouratoglou, her agent Jill Smoller, her batting partner, her physiotherapist, all of whom offer insight into the mindset of a champion. Anger seems to motivate her better than anything else during a tough match, something for which she's also long been criticized. ("I get angry on the court," she shrugs. "So did McEnroe.") But the thing that governs her above all, throughout the movie, is her own unfathomable will, something not even her closest confidantes seem to fully understand. "Who says 34 is too old for tennis?" she asks. "Who makes the rules? ... I will play, and I will fight, and when I feel like I'm done I'll be done."
If anything, her desire to succeed transcends tennis, which feels in parts more like a path to destiny rather than destiny itself. And yet there are glimpses throughout Serena of how much she's come to define the sport on her own terms (in one blink-and-you'll-miss-it scene, Roger Federer sneaks a picture of her on his phone while she's warming up). The film intersperses scenes from 2015 with key moments from Williams's career, notably at Indian Wells in 2001 when she was booed after her sister withdrew from their semifinal match against each other due to injury. For 13 years, Williams refused to play at the tournament, going back for the first time in 2015. It's easy to forget what a hostile reception the Williams sisters faced when they started playing professional tennis, but Serena points at the coded bigotry she encounters to this day, including a New York Times story last year that seemed to criticize Williams's figure. ("Her rivals could try to emulate her physique," it read, "but most of them choose not to.")
History, unfortunately, robs the ending of Serena of some of its suspense, at least for tennis fans. But its grasp on both the public significance of Williams and the private forces that drive her make it a fascinating look at the kind of personality that's required to become the greatest of all time. In trying to win all four Grand Slams in a calendar year, Williams says she wanted to give people hope "to believe that they could do something impossible." More than so many athletes of her caliber, she seems to feel the weight of what she represents to people: as a woman, as a person of color, as someone who learned to play tennis not at a country club, but on public courts in Compton. "I'm the ultimate perfectionist," she said following a screening of the movie in New York. "When I don't win, it's my fault, because I have that opportunity. I have that talent."
We want to hear what you think about this article. Submit a letter to the editor or write to letters@theatlantic.com.
Sophie Gilbert
is a staff writer at
The Atlantic,
where she covers culture.