The Return of the King
LeBron James has suffered from PR missteps and public criticism alongside his accomplishments on the court. On Sunday night, he achieved an unequivocal triumph.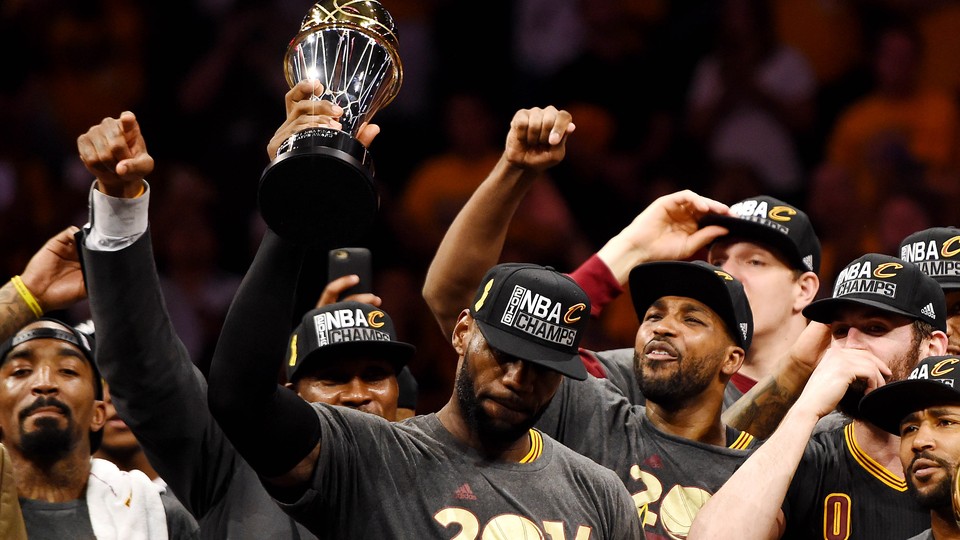 From almost the moment he first stepped on an NBA court as an 18-year-old, LeBron James has been a peerless talent. At six feet eight inches tall and 250 pounds, with a mind that rivals any in basketball history, James is equal parts imposing and intelligent, capable of outthinking or overpowering his opponents according to his whims. What he hasn't always been, at least to this point in his career, is embraced.
In 2010, of course, he left the Cleveland Cavaliers for the Miami Heat via an ill-considered ESPN special, but even prior to that PR misstep, and after his return to Ohio four years later, James had a disproportionate chorus of detractors given his accomplishments. Fans and commentators questioned his ability to function under late-game stress; amateur historians knocked his record in the Finals (prior to Sunday night, he'd won two championships in five trips, both with the superstars he'd joined in Miami). If every era gets the icons it deserves, then James seemed at times a manifestation of a sports culture tipping towards negativity. On Twitter and radio call-in shows, fans wanted more than anything to nitpick, and he provided just the right blend of ability and perceived shortcomings to make for endless fodder.
On Sunday night, though, James and the Cavaliers won the 2016 NBA championship, the first title of any sort for Cleveland in more than a half-century. To do so, they beat the Golden State Warriors, who'd won the most regular-season games in league history and had held a 3-1 lead in the Finals, forcing the Cavaliers to pull off the unprecedented feat of winning all of the last three games. For the team and the city, it was pure joy. For James, who put together an all-time performance and was named the unanimous Finals Most Valuable Player, it was something even more. Thirteen years into a career marked as much by attendant grumbling as by displays of on-court genius, he's achieved an unequivocal triumph, one beyond even the most cynical reproach.
The play that sticks in my mind came late in the sixth game of the Finals, with the Cavaliers holding an 11-point lead. James dribbled at the top of the key, some 25 feet from the rim. He looked to be in no particular hurry, pushing the ball from one hand to the other and bouncing on his feet, but the Warriors grew tense watching him, and with good reason. In Game 5, James had totaled 41 points, 16 rebounds, and seven assists, and already in that evening's game, he'd added 36 more points to his ledger. Twice he'd dropped in three-pointers; three times he'd bent the rim with two-handed dunks. So even as James stayed put, the Golden State defense shifted towards him ever so slightly, girding itself against a drive. He flicked a pass overhead to the center Tristan Thompson, who caught it and laid it in, more or less putting the game out of reach.
Other sequences will surely prove more iconic than this one—James's blocking Stephen Curry's shot out of bounds seconds later, for example, or his racing down the court in the closing minutes of Sunday's Game 7 to smother a would-be go-ahead Golden State shot against the backboard—but none is more illustrative of his particular genius for the sport, especially as it announced itself over the past week. He did everything a basketball player can do, switching tacks at the opportune moments. The way others might maneuver within a single play, feinting one way and then going the other, James seemed to manipulate the larger patterns of the game. During one stretch, he'd bull his way to the rim again and again; when the defense adjusted to that, he'd spend the next little while sending passes to the shooters stationed around him. Over the course of the Finals, he played more minutes than anyone on either team, scored more points, dished more assists, grabbed more rebounds, and blocked more shots.
In press conferences immediately after games and on the days in between them, though, he was not self-congratulatory but calm. Asked about the possibility of giving Cleveland a long-sought title, he said, "I'll give everything I've got and live with the results." Asked more pointedly if he thought the outcome of the series would define his legacy, he said only, "No." If this was evidence of the hard-earned wisdom he'd gained over the years—upon arriving in Miami, he'd infamously announced his attentions to win "not five, not six, not seven" championships—it also seemed like the Zen of someone who's learned not to find his worth in public favor.
In the deciding game, James registered a triple-double, strobing across the court to appear at the crucial coordinates at the crucial moments. He threw down thundering dunks, blocked shots, and, after taking a hard foul in the closing seconds, made the free throw that solidified the win. When the final buzzer sounded, he sank to the floor and cried, and when he delivered his final press conference of the season, he said he thought about "people counting me out. I've done nothing but be true to the game, give everything I've got to the game, put my heart, my blood, sweat, and tears into the game, and people still want to doubt what I'm capable of doing."
The 2016 NBA Playoffs seemed destined from the start to be a culmination. The Warriors had played almost perfectly all year long, gaining fans around the world with their seamless, telepathic style of play. Curry, Golden State's superstar point guard, had become the league's MVP and its most popular player. This was a team that not only won but stood at the front of a basketball revolution, one that prized quick passing and player movement and gorgeous three-pointers. It was practically a given that they'd win the title; the only question was how good they'd look doing it.
The playoffs did end up being a culmination, but one a much longer time coming. Before Sunday night, LeBron James's career was a sloppy collage of expertise and accomplishment and public perception and 21st-century fame. After Sunday night, it takes on a new clarity. James has always been one of the best basketball players anyone's ever seen, one of the best athletes in recent history, but over the last few days he played so well, against such daunting odds, that he finally gave us no choice but to look.