Where Is the Heir to Rage Against the Machine?
The super-group Prophets of Rage come at a time of much political music, but few iconically political musicians.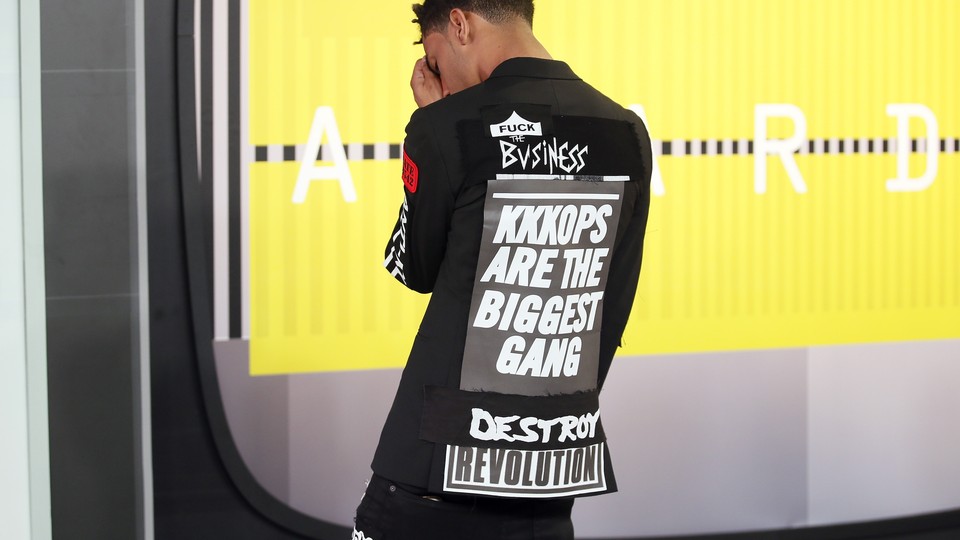 Do dangerous times demand dangerous songs? That's the thesis behind "Make America Rage Again," an imminent concert tour by Prophets of Rage, a supergroup formed by members of Rage Against the Machine, Public Enemy, and Cypress Hill. The press release for the tour features two hashtags—#MakeAmericaRAGEAgain and #TakeThePowerBack—and quotes the guitarist Tom Morello describing the Prophets as an "elite task force of revolutionary musicians determined to confront this mountain of election year bullshit."
The revolutionary branding has a retro air. Prophets of Rage's debut set list included hits recorded by their former bands, plus the Beastie Boys' "No Sleep Till Brooklyn" reworked as "No Sleep Till Cleveland" (a reference to the Republican National Convention, which the band intends to protest). There was just one new track, called "The Party's Over," which they dedicated to "Donald Trump, Mr. Combover."
All of this messaging insists that at this time, in the midst of the 2016 election, the band's existence is vital. Implicit in that idea is a dig at the current musical moment—an assertion that there's a 21-century protest-song drought that can only be filled by 20th-century icons. "There's not music that speaks to what's going on right now," Cypress Hill's B-Real told Bloomberg reporters at the band's first gig. This is a popular opinion, and a dubious one. Political music is flourishing, but it just doesn't sound or look like what Prophets of Rage does—these days, artists are mixing advocacy and art more fluidly than ever.
Anyone looking for a soundtrack to their particular version of progressive angst can probably find one from the last two years without too much effort. If you're fed up about inequality and America's global exploits, M.I.A., PJ Harvey, and Desparacidos have got you. B Real mentioned the need for music calling out "environmental insanity"—recent Anohni and Neil Young albums scorchingly do so. And to the notion that the music world's ignoring the election, just look at the list of artists backing Bernie Sanders, or listen to YG and Nipsey Hussle's "Fuck Donald Trump." These musicians don't currently have quite the cultural ubiquity that Rage Against the Machine once had, but they're by no means unknowns.
Meanwhile, the most vibrant strand of political music in the past few years has been rap and R&B's engagement with the grievances that fuel the Black Lives Matter movement. Kendrick Lamar, Janelle Monae, J. Cole, Chance the Rapper, D'Angelo and many others have made well-publicized songs about racism and its effects. The shared lineage these artists have with Prophets of Rage is often obvious. The fiercely political rap duo Run the Jewels has worked with Zach de la Rocha, the Rage Against the Machine frontman who's sitting out this new super group. When Beyoncé showed up to the Super Bowl in Black Panther attire, it was a tactic straight out of the Public Enemy playbook.
On Friday the Chicago rapper Vic Mensa, a 23-year-old protege of Kanye West and Jay Z, released a surprise EP titled There's Alot Going On. Mensa could be a decent candidate for heir to the Rage throne, thanks to the hints of '90s nu-metal in his aesthetic and, well, the fact that his forthcoming single is called "Rage." Apolitical he isn't: There's Alot Going On promotes a get-out-the-vote campaign, and at the MTV VMAs, Mensa wore slogans calling out "KKKops"—making the same analogy as Rage Against the Machine's most iconic song, "Killing in the Name Of."
On one new song, "16 Shots," he offers a specific and powerfully angry protest against over-policing, focusing on the killing of LaQuan McDonald by the Chicago police officer James Van Dyke. The chilling outro features a spoken-word description of a video of the incident. Another track, the melancholy "Shades of Blue," laments the injustice of the Flint water crisis: "Can a nigga get his basic human rights? Is that too much to ask, should I say it more polite?"
But despite his explicit activism, it's likely that most of the debate over Mensa's EP will focus on the quality of his music. The other songs on There's Alot Going On focus on his personal journey in rap, his sex life, and liquor. Politics is just one part of his persona.
In this, he's well in line with artists of his generation. Whether it's Run the Jewels putting out a cat-sounds album or Monae spinning a broad sci-fi allegory or Beyoncé weaving social themes into a narrative about personal reconciliation, the new musicians most likely to be associated with the word "woke" usually emphasize a lot more than advocacy in their art. Maybe this reflects how people construct their identities in the social media age, posting vacation photos next to screeds against presidential candidates. Or maybe it's insurance against the fact that being political as an artist still has an element of risk.
Ths isn't to say younger musicians are less radical than their predecessors were. Mensa openly considers violence against the police; Anohni's Hopelessness refers to her feeling about anything less than total upheaval of institutions; the notion of race war comes up in the closing moments of Kendrick Lamar's To Pimp a Butterfly. But only occasionally do you find the cathartic, accusatory slogans of the kind that de la Rocha excelled at. With someone like Lamar, you get the sense that he sees the world as being too complicated to want to advocate for outright revolution this very second in the way de la Rocha and Chuck D sometimes did. 
There's also genre to consider. Hip-hop and pop, not rock, are more readily driving the cultural conversation, and neither of those forms have been serving up a lot of angsty hits in recent years. So when artists want to make a political rallying call, they go positive rather than negative, as with the affirmations of Lamar's "All Right," Janelle Monae's "Hell You Talmbout," and Beyoncé's "Formation." Or there's the Anohni tactic of crafting would-be Trojan horses for radio, like "4 Degrees" (about climate change) and "Drone Bomb Me" (self-explanatory), which fuse pop's empowerment trope with cutting sarcasm.
Prophets of Rage's music—metal riffs, funk bass lines, screaming mixed with rapping—does sound different from anything else right now. But ideologically they aren't necessarily that novel. The most notable thing about this super-group in 2016 is that it's branding itself as capital-P political with the ruthless consistency of its forbears. Perhaps Morello & company are correct in thinking they're needed in 2016's campaign season, in keeping with Rage Against the Machine's history of showing up to the RNC in 2008 and the DNC in 2000. Pivotal presidential elections in a two-party system are maddening things, befitting loud, clear-cut songs of defiance. But while the Prophets rage, a new generation will keep experimenting with the best ways to spread its own revolutionary messages.