Popstar: Celebrity Satire Done Right
The first film from Saturday Night Live's Lonely Island trio gently mocks the fame of popstars like Justin Bieber.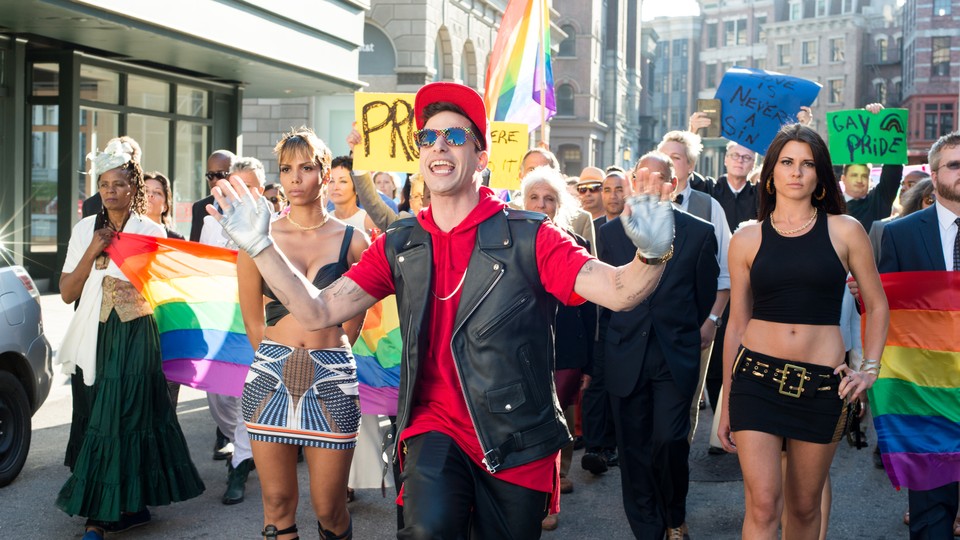 Perhaps the biggest compliment you can give Popstar: Never Stop Never Stopping is that it absolutely shouldn't have worked. Woven whole-cloth from the sensibilities of the comedy team The Lonely Island, and inspired by the trio's years making Saturday Night Live parodies of pop hits, Popstar could have ended up feeling like an overlong series of TV sketches, much like Key & Peele's Keanu. And yet it mostly dodges those pitfalls by adopting a "mockumentary" approach that forgives its episodic structure.
Popstar doesn't quite reach This Is Spinal Tap levels of satire (few things could), but as a send-up of the mores of today's celebrity-obsessed culture, it largely succeeds.The film stars the Lonely Island frontman Andy Samberg as Conner4Real, a Justin Bieber-esque recording artist who left his lyricist Lawrence (Akiva Schaffer) and producer Owen (Jorma Taccone) in the dust on his way to the top, and is now faced with inevitable humbling failure on the fall back down. Like so many genre parodies, Popstar stumbles most when its plotting gets conventional, particularly when Conner rounds the bases for a third-act return to fame. But it makes up for that late swerve toward formula by being—simply put—really, really funny.
Samberg co-wrote the film with Taccone and Schaffer, both whom directed. Together, they've transplanted the strange sensibility of The Lonely Island's music videos into a weird hyper-reality, where it's very hard to detect where fiction bleeds into fact. Conner4Real's songs are ridiculous, intricate anthems of stupidity. In "Equal Rights," he demands marriage equality for all while repeatedly reminding the camera that he is not, himself, gay. In "I'm So Humble," he brags about how down-to-earth he is despite his massive celebrity. In "Finest Girl," he details an encounter with a woman who demanded he treat her like the U.S. military treated Osama Bin Laden.
It's somewhat absurd that these songs are presented as straight-faced hits from a stadium-filling artist—but only a little. Popstar captures the current moment in the world of pop, where musicians feel more like brand ambassadors for their own fandom than artists: Their style is a mix of braggadocio and plaintiveness, and they broadcast shallow activism directly to their followers over Snapchat and YouTube. Conner's new anthems are presented as part of the classic hubris of the sophomore album, so it doesn't even matter that their lyrical content is so peculiar, especially not when each song's thudding beats and crisp production exactly resemble the music The Lonely Island is mocking.
Still, there's something ephemeral about Popstar's satire, which wouldn't have landed quite as well if the film had come out just a couple years earlier. It has the same basic structure as Justin Bieber's biopic/concert film Never Say Never, and apes the strange arc of Bieber's career, exploring a mix of the hedonistic excess and total sheltering that comes from life nestled within an entourage. But as silly as Conner is (he live-streams his own body waxing and thinks it literally takes 30 seconds to fly to Mars), the film can't match the ludicrous behavior of its pint-sized, pop-locking, sometimes-dreadlocked target. Perhaps the hardest part of any music parody is actually trying to match the moneyed antics of real rock-stars, and in that sense, Popstar stumbles.
But as a translation of Samberg and company's goofy sensibilities to the big screen, it's a triumph. Unlike so many of his contemporaries, Samberg excels at never making the joke about anyone; even the doofy Conner is so lovingly portrayed that he doesn't feel like a mean send-up. Popstar is loaded with celebrity cameos, like the dire Zoolander 2, but they don't feel pointlessly jammed in, and its humor is far less cruel. Samberg has always excelled at making himself the butt of every joke, and Popstar maintains that focus—when Conner is singing ridiculous songs like "Equal Rights" and insisting he isn't gay, the audience instantly recognizes that he's the fool (though a Ringo Starr talking-head segment does pop up to drive that point home).
Every star who drops by appears to be in on the gag, too—musicians like Nas, Mariah Carey, Usher, Seal, Questlove, and Starr give real performances and seem genuinely invested in Conner's success, in contrast to the flat cue-card reading of walk-on parts in Zoolander 2 or last year's Entourage. As he does on his sitcom Brooklyn Nine-Nine, Samberg projects foolish arrogance without ever totally letting go of his base charm. As his sidelined partners, Taccone and Schaffer are agreeably sad-sack, and the real standout of the supporting cast is the SNL veteran Tim Meadows as Conner's right-hand man Harry. Meadows has always thrived at playing put-upon middle managers whose cheeriness belies hidden rage, and Harry is the best version of that.
Popstar is too frothy to enter the pantheon of endlessly rewatchable modern comedies like Will Ferrell's Anchorman, Kristen Wiig's Bridesmaids, and Seth Rogen's Knocked Up, but that's partly because it's trying to hit a constantly moving target. Its jokes about hoverboards catching on fire probably won't be very funny even a year from now, but Popstar works best as a comedy for the moment, and in this era of six-second comedy videos and Snapchat updates that fizz into the ether after 24 hours, audiences could do much worse.