O.J.: Made in America Is Vital Storytelling
ESPN's stunning eight-hour series somehow manages to break new ground in the oft-told case of the O.J. Simpson murder trial.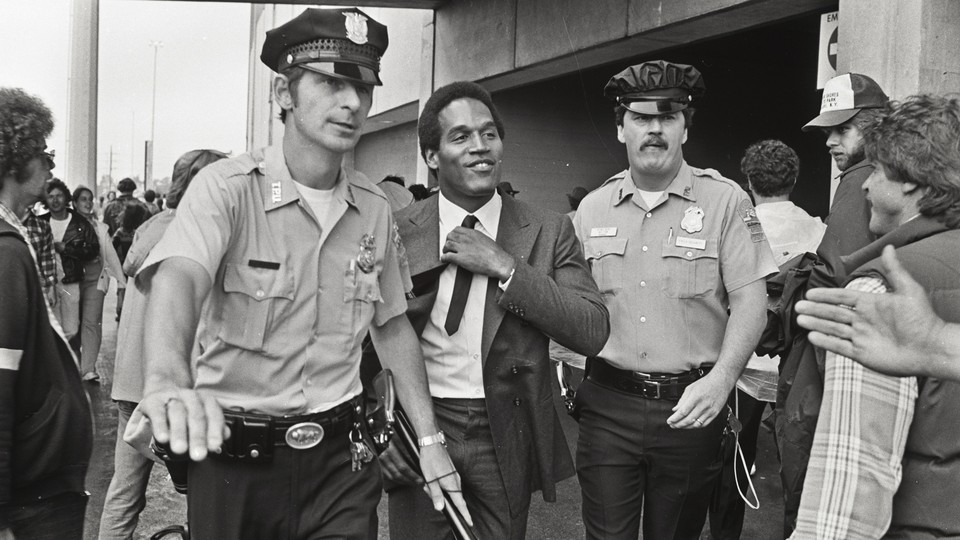 Buried in the fourth part of O.J.: Made in America, ESPN Films's masterful eight-hour documentary about the O.J. Simpson murder case, is a telling little Freudian slip from the then-CNN host Larry King, whose network had turned news coverage of the trial into an unprecedented 24/7 marathon. He had just met with Lance Ito, the presiding judge in the trial, and King was asked by a news crew if he wanted Ito to appear on Larry King Live. "Sure, we'd love to have him after the show is over. After the trial is over," he said, catching himself. "It is like a show."
Twenty-one years after the jury's not-guilty verdicts in the murders of Nicole Brown Simpson and Ron Goldman, the O.J. show has never quite left the airwaves. Most recently, February brought FX's American Crime Story: The People v. O.J. Simpson, a stunning dramatization of the case starring Cuba Gooding Jr., Courtney B. Vance, John Travolta, and Sarah Paulson. So it's reasonable to wonder what further depths could be plumbed from the whole affair—the collapse of a seeming slam-dunk of a conviction that unfolded on TV like the first major reality show? Quite a lot, as it turns out. O.J.: Made in America can be an heartbreaking viewing experience, but it explores its subject with incredible length, breadth, intelligence, and sensitivity.
The eight-hour running time might seem daunting, especially coming only a few months after The People v. O.J.'s 10-episode run. But O.J.: Made in America is somehow even more engrossing than its fictionalized counterpart, meticulously fleshing out not only the details of the trial, but also the larger stories of race, celebrity, and misogyny that intersected around Simpson. This is a film that takes four hours before it even gets to the Brown/Goldman killings while still feeling relatively brisk—it's a sports documentary, a true-crime work, and a searing history of America's institutional racism wrapped up in one.
O.J.: Made in America was directed and produced by Ezra Edelman, an African American documentarian who's made other fine films for HBO, including 2007's Brooklyn Dodgers: The Ghosts of Flatbush and 2010's Magic & Bird: A Courtship of Rivals. Both dug into deeper issues around their subjects, but O.J.: Made in America is a much grander undertaking. Parts one, two, and three have already aired on ABC and ESPN; parts four and five arrive Friday and Saturday, and all five are available on ESPN's website for cable subscribers. Together, they make for some of the most compelling television of the year.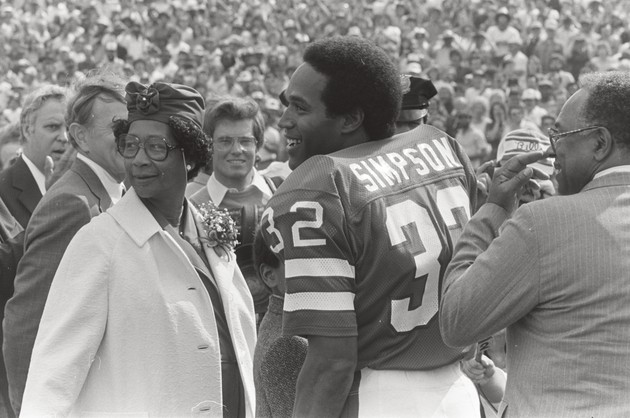 Though it's about much more than just Simpson's life, Made in America never lets go of its protagonist, juxtaposing his specific road to fame with the country's strained racial politics. Edelman hits on the strangeness of Simpson's particular place in society: As a college football phenomenon for USC in the late 1960s, Simpson was courted to join black athletes in fighting for civil rights and supporting Muhammad Ali's opposition to the Vietnam War and its draft. Instead he steered clear of controversy, taking pains to present a squeaky-clean image, one that consistently avoided the political activism of his black peers and consciously erased his racial identity—until he was put on trial for murder.
Edelman follows these dual paths throughout the story. There were Los Angeles's ongoing civil-rights battles, including the Watts Riots of 1965, the violent police raids of Operation Hammer, the death of Latasha Harlins, and the 1992 Rodney King riots. The cycle of systemic racism, police abuse, and repeated mistakes contributed to a charged atmosphere and distrust of the LAPD, which Simpson's legal defense team would later play upon. Then there was O.J. Simpson, the star running back for USC and the Buffalo Bills, who quickly parlayed his talent for charming the camera into a broadcasting and acting career.
Simpson was one of the first black faces of a national ad campaign (for Hertz), the star of movies like Capricorn One, The Towering Inferno, and The Naked Gun, and an occasional analyst and commentator for Monday Night Football. Piecing together stories from his youth, interviews with his directors, his business partners, his teammates, and his family friends, Edelman weaves a powerful and convincing narrative of Simpson's efforts to craft a Teflon image that could appeal to the widest possible American audience—all the while reminding viewers of the wounds of racism that were still open.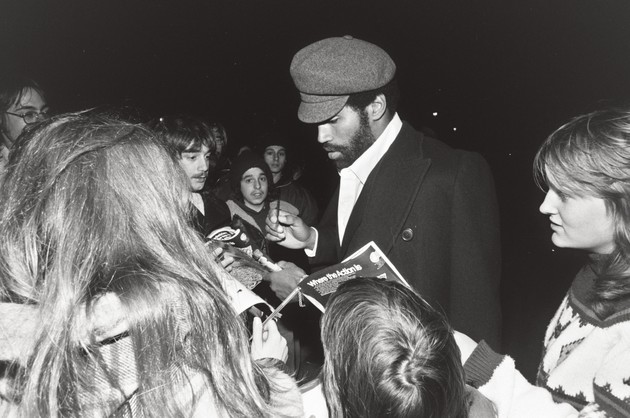 Edelman devotes ample time to Simpson's second wife, Nicole Brown, to the systematic and horrifying pattern of abuse that developed during their marriage, and to her eventual brutal death. The talking heads who cut in to annotate every part of the story are often directly or indirectly related to the trial that dominated the news in 1994 and 1995. They include people who were once Simpson's friends but then turned on him, others who were complicit in his defense case and now carry the burden of guilt, and others who still believe he's innocent despite the mountain of evidence to the contrary.
By sifting through every fine detail of the case and presenting it in the context of history, Edelman has created a fascinating testament to the historical and cultural complexities that led to Simpson's acquittal. Decisions and mistakes seem to ripple through decades, and even though the audience knows the outcome, it's hard not to be gripped through all eight hours. O.J.: Made in America should seem superfluous so many years after the fact, but instead it's a vital living document, one that lays bare a country's deepest flaws while recounting events that you can only hope will never happen again.