MTV's Role in the LGBT Revolution
For Pride month, the network is trying to remind audiences of the political legacy of shows like The Real World.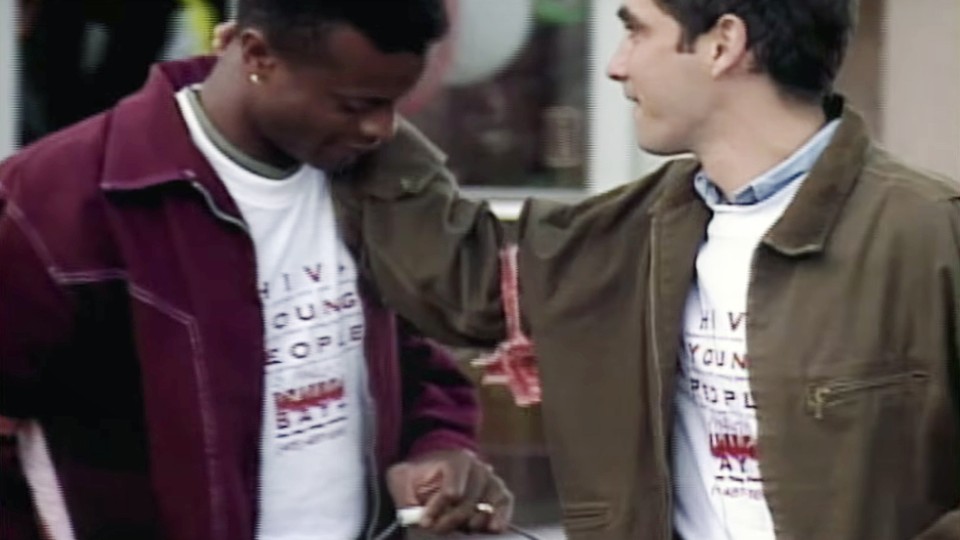 In the 2011 book I Want My MTV: The Uncensored Story of the Music Video Revolution, Tom Freston recalls the origin of the first modern reality TV show. "People asked me, 'How did you come up with The Real World? That is genius.' It was just because we didn't have any money."
It's true: The MTV of the early '90s knew its audience watched soap operas, but the price to script and cast a daytime drama seemed too steep for a network used to getting its programming—music videos—for free. The actorless, writerless solution that was The Real World ended up transforming MTV and the broader television landscape. And it might even have changed American politics by pushing conversations over race, gender, and sexuality to the forefront of popular culture.
MTV is looking to cement part of its social legacy this June, a month when LGBT Pride celebrations are held around the world. A retrospective special, MTV's Proudest Moments, highlights the network's history with queer people, accompanied by new, LGBT-friendly content online. Diving into it all indeed reminds of how MTV has been on the forefront of social change—but also of how progress can be a side-effect of profit.
The half-hour Proudest Moments opens by focusing on The Real World, which broke ground in featuring Norman Korpi, an artist who identified as bisexual, in its 1993 debut season. He was one in a cast of seven selected for diversity that could lead to drama: More famous today is the third season's Pedro Zamora, who lived with AIDS and was mourned widely when he died after the show aired. The special also demonstrates that The Real World has persisted with LGBT portrayals, from featuring a cast member dating a closeted soldier in Real World: New Orleans (2000) to featuring a transgender cast member in Brooklyn (2009).
"The seeds of marriage equality … were planted on MTV," the actor Wilson Cruz says during the special. "I don't think it's exaggeration or hyperbole to say that Pedro Zamora changed the world." It probably isn't. The power of TV to build empathy for groups that have been marginalized seems clear, and academics have generated reams of analysis over The Real World's impact. A 2008 Brookings Institute paper even credited the show with shifting attitudes against Don't Ask, Don't Tell, a policy that would be repealed a few years later.
As The Real World's popularity spurred the network to move away from music videos to reality and scripted programming, LGBT people remained in the mix. Dating shows like Next and soaps like Undressed and Teen Wolf contradicted what Vito Russo's seminal 1981 book The Celluloid Closet called "the big lie" about queer people: "that we do not exist." And they did so in a way that passes what GLAAD coined as "the Vito Russo test," especially the criteria that LGBT characters "not be solely or predominantly defined by their sexual orientation or gender identity"—they were just other players in the drama, or other singles getting "Next"-ed.
Another category of programming that MTV is now touting is its documentaries. The True Life series has been both celebrated and criticized over the years for swinging between episodes about, say, heroin addiction and episodes like "True Life: I'm Horny in Miami." But the show has continually spotlighted individuals who fit each letter of "LGBT," including a series of episodes about the coming-out process. There have also been non-True Life documentaries like Laverne Cox Presents: The T-Word in 2014. These programs highlight how MTV's charge to appeal to teens—for whom the day-to-day banalities of growing up are a topic of total fascination—allows it a special window into queerness. People don't have to be all that unusual to get an hour of TV devoted to their story.
MTV's typically stunt-packed award shows, the Video Music Awards and the MTV Movie Awards, exemplify how activism, ratings-grabs, and celebrity PR can often coincide. The 1999 VMAs, where drag queens modeled Madonna's outfits, and the 2013 awards, where Madonna presided over a crowd of gay and straight weddings, make it into the Proudest Moments highlights reel; thankfully, perhaps, her kiss with Britney Spears and Christina Aguilera at the 2003 VMAs did not. We're also reminded of Brokeback Mountain winning a Movie Award for "best kiss," Lady Gaga walking the red carpet with an entourage of discharged gay soldiers, and Miley Cyrus bringing queer homeless youth and RuPaul's Drag Race contestants to the VMAs stage.
In every instance, you can see the desire to be transgressive and distinctive for branding and rating's sake dovetailing with the social project of increasing LGBT visibility and humanization. The Proudest Moments doc is unapologetically self-serving, peppered with talent from the network's payroll delivering testimonials about MTV history, often with stiff, propagandist fervor that seems coached. What you don't see is any mention of the network's pre-Real World days, when the M in MTV really stood for music—an era that many mourn but that the present network would clearly be fine with young viewers never knowing happened (perhaps relevant: the clip that went viral after David Bowie's death showing how intolerant early MTV could be). Proudest Moments implicitly defends the frequently maligned all-reality-TV-and-soap-opera era of the channel, asserting its political importance while conveniently allowing viewers to forget the existence of, say, Jersey Shore or The Hills.
MTV's history also clearly contains the seeds of the strategies that newer media outlets have formed in the Internet age. The likes of Mic, BuzzFeed, Fusion, and Vice have openly admitted that they want to be MTV for a new era, and sympathizing with marginalized identities is part of the shared playbook. But the tone of these sites does, interestingly, differ from what MTV's has typically been. A scan of Buzzfeed video headlines— "15 Moments That Make Trans People Say 'F*ck'," "Iconic Romantic Films Reimagined By LGBT People," "9 Questions Gay People Have For Straight People"—remind how advocacy, not storytelling, is a quicker way to get people to share things on social media.
MTV's approach remains more documentary than high-concept. For pride month, the channel's running a Snapchat Discover series called No ID Required (also viewable online). It's made up of short interviews with gender-nonconforming and queer people—no listicles, no gimmicks. Just the true story of strangers, having their lives taped, getting real.