Maya & Marty Shovels Dirt Onto the TV Variety Show
NBC's latest effort to resurrect a classic TV format feels, at best, like reheated Saturday Night Live leftovers.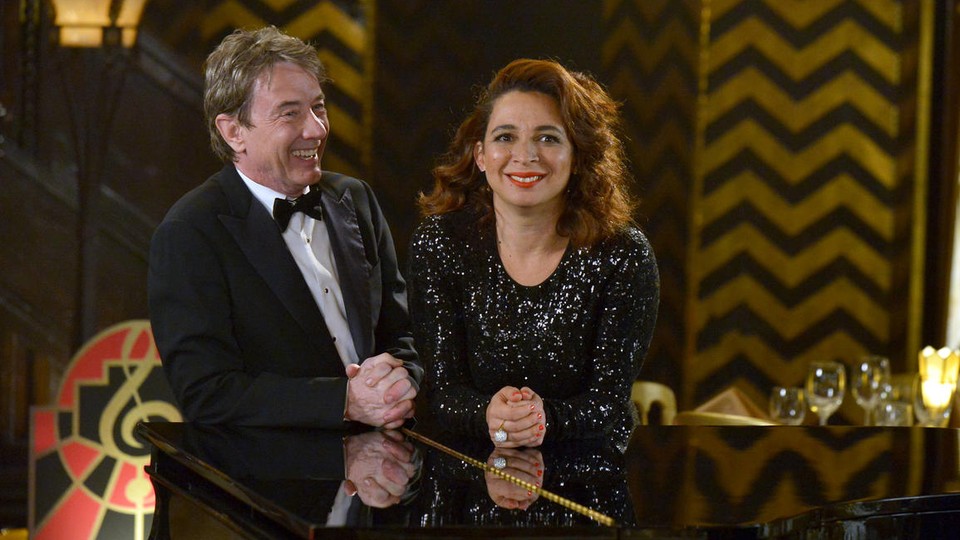 As networks like NBC confront the daunting swell of original content in the ever-expanding online morass that is "Peak TV," they've increasingly looked to the past in an effort to define their present. How else can you explain Maya & Marty, a bizarre curio that rolled out on Tuesday night, seemingly straight out of the Eisenhower era? It's the latest effort to revive the TV variety show, an old school mix of comedy sketches and song-and-dance numbers that defined the earliest days of the medium but now survives only in the form of Saturday Night Live. Maya & Marty is being pitched as must-see TV, an event chock-full of celebrities that simply has to be watched live, DVRs be damned. But at its best, it feels like a copy of a copy: Tuesday Night Live, if you will.
In the online age, you could be forgiven for thinking that the primary appeal of a variety series would be its ability to offer something topical and relevant—to instantly react to news and pop culture. Maya & Marty seems to be aiming for none of that. It has two veteran stars of sketch comedy as its hosts, Maya Rudolph and Martin Short, and its ensemble of recurring players and guest stars are ripped right from SNL: Kenan Thompson, Larry David, Jimmy Fallon. The frequent SNL hosts Tom Hanks and Miley Cyrus even popped in for episode one, which was shot in the very same studio SNL uses on Saturdays. The show's second sketch saw Thompson revive the Steve Harvey impression he's deployed multiple times on … well, you get the idea. In episode one, Maya & Marty felt less like an essential piece of live television and more like a patchwork of material from Saturday Night Live's cutting-room floor.
In a way, that makes it a safer bet than NBC's last attempt at a variety series, Best Time Ever With Neil Patrick Harris, which aired eight episodes last year to low ratings before being quickly put out to pasture. That show ditched comedy sketches for a bizarre mix of live stunts and pre-taped "pranks," which involved Neil Patrick Harris essentially stalking members of the public for months and revealing his behavior to them in front of a cheering studio audience. It wasn't good either, but it was certainly unique: an odd blending of Candid Camera and NBC cross-promotion (the show would visit the set of network hits like American Ninja Warrior or Last Call With Carson Daly).
Maya & Marty maintains the cross-promotion effort, mixed in with a little bit of shameless on-camera advertising (which will, apparently, become a part of SNL sketches in the future to cut down on the commercial breaks that everyone just fast-forwards through now). Perhaps you tuned into Maya & Marty to see Tom Hanks participate in a sketch where he played an astronaut bidding goodbye to his sad wife (Rudolph)? Well, then you got to see him chowing down on some Burger King-branded "chicken fries," which he prominently plugged to the camera. Also mentioned on the show? NBC's hit drama Chicago Fire (which Hanks watched a clip from on his iPhone in one sketch), and the Steve Harvey-fronted Little Big Shots (an excuse for some free advertising, and for Thompson to mug at the camera for five minutes).
It's like NBC decided to replicate the formula of SNL and took all the wrong lessons from it. People aren't going to tune into a new show for half-baked celebrity impressions they can see somewhere else. But there's still ample room for a comedy series that plays on topical issues, as late-night talk shows continue to scramble to fill the void left by Jon Stewart. Short and Rudolph are both brilliant impressionists, and they clearly have the ample cast of SNL at their disposal for this series, but the only sketch that played in that territory saw Rudolph crushing diamonds between her teeth as Melania Trump, while Kate McKinnon dropped by to reprise her role as Heidi Cruz (some weeks after Ted Cruz suspended his campaign for president).
The hosts of Maya & Marty are clearly having fun: Short got to revive his character Jiminy Glick, an overweight celebrity journalist who he created for his short-lived Martin Short Show in 1999, trading barbs with a bemused Larry David. Rudolph delighted in playing a drunken rabbit in a strange parody of the children's book Goodnight Moon that seemed very distantly connected to its source material. But it's hard to imagine what NBC was thinking in ordering this show to series (it will air six episodes over the summer), or exactly who the audience might be for a Goodnight Moon parody. (Jaded 4-year-olds up past their bedtime?)
When interviewed about the show, its producer Lorne Michaels (he of, yes, Saturday Night Live) insisted there was a place in modern TV for the classic variety show. "I think there's a real audience for it," he told Variety. "It was such a staple of television, really for the first 30 or 40 years. And then I think elements of it are in shows like Dancing With the Stars or The Voice, where they have that feeling—they are all just based on performance."
Michaels isn't wrong, and he's tapped into that appeal with a lot of NBC's other late night offerings like The Tonight Show With Jimmy Fallon, which gives celebrities a chance to gently mock themselves and sing silly songs in a bite-sized format that can easily go viral. But an hour-long variety special every week demands more than just a cheap celebrity walk-on: Maya & Marty feels like reheated leftovers rather than something that could demand popular attention every week. Its opening ratings were solid, with about 6.5 million people tuning in, but there was a reason for that—it aired before the season premiere of America's Got Talent, featuring Simon Cowell as a judge for the first time in that show's history, which drew almost 12 million viewers. Whatever your opinion, that's a variety show that actually commands interest from a live audience.