Game of Thrones Finally Became a Different Show in Season Six
As it's moved beyond the George R.R. Martin novels, the series has evolved both for better and for worse.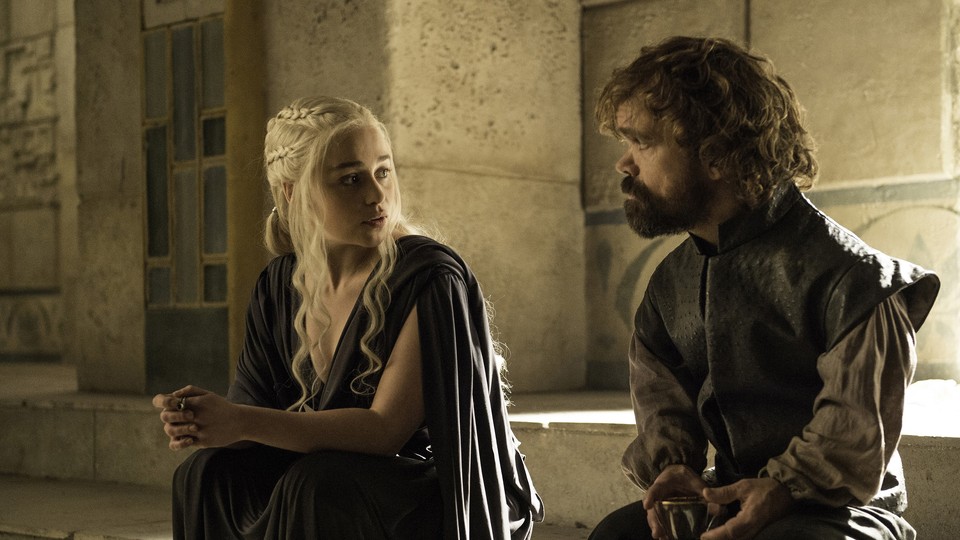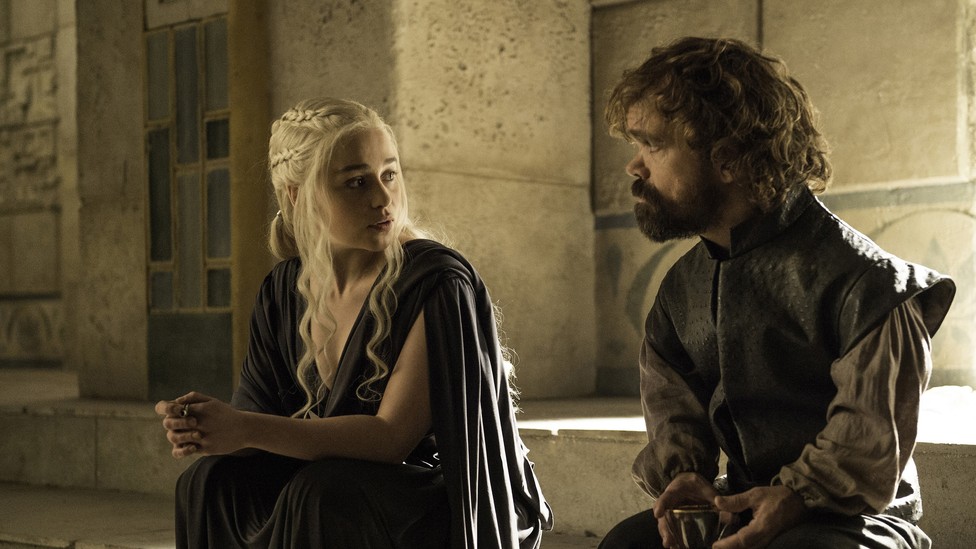 Well, that was more like it. Sunday night's Game of Thrones finale, "The Winds of Winter," was the best episode of the season—the best, perhaps, in a few seasons. It was packed full of major developments—bye, bye, Baelor; hello, Dany's fleet—but still found the time for some quieter moments, such as Tyrion's touching acceptance of the role of Hand of the Queen. I was out of town last week and thus unable to take my usual seat at our Game of Thrones roundtable. But I did have some closing thoughts about what the episode—and season six in general—told us about how the show has evolved.
Last season, viewers got a limited taste—principally in the storylines in the North—of how the show would be different once showrunners Benioff and Weiss ran out of material from George R.R. Martin's novels and had to set out on their own. But it was this season in which that exception truly became the norm. Though Martin long ago supplied Benioff and Weiss with a general narrative blueprint of the major arcs of the story, they can no longer rely on the books scene by scene. Game of Thrones is truly their show now. And thanks to changes in pacing, character development, and plot streamlining, it's also a markedly different show from the one we watched in seasons one through four—for the worse and, to some degree, for the better.
Begin with the former. Although in the early going Game of Thrones had all the usual trappings of a sword-and-sorcery epic—the armored knights, the mysterious priestess, the creepy undead—thematically it bore more resemblance to a political or espionage thriller: John le Carre, but with dragons.
The ill-fated Robb Stark put it well back in season three when he noted, "I've won every battle, yet somehow I'm losing the war." The great warriors at the heads of noble houses displayed a profound tendency to find themselves dead—Ned Stark (and later his son Robb), Robert Baratheon (and later his brother Stannis)—or at the very least unmanned (Jaime Lannister). The strongest fighters who remain on the show at this point are not noble knights but cunning swords for hire (Bronn, Daario Naharis) or fallen giants who have been literally or figuratively raised from the dead (the brothers Clegane).
From the beginning it was the plotters and connivers who held the true power: Tywin, Tyrion, Cersei (even if she was not as good at the game as she presumed), Varys, the Queen of Thorns, Margaery, and above all, Littlefinger. It was Littlefinger who essentially created the Westeros we know, sowing the seeds of the War of the Five Kings by having Jon Arryn killed and persuading the Starks that the Lannisters were behind it. It was Littlefinger, too, who conspired with the Queen of Thorns to commit a conspicuously complicated regicide at the Purple Wedding. (In between, of course, Tywin crushed House Stark and the army of the North at the Red Wedding.)
But what have these plotters accomplished in the last two seasons? With one notable exception—boom!—remarkably little. Tyrion's principal feat of cunning was an attempted truce with the slaver cities that proved an abject failure. (Yes, he also convinced Dany to leave Daario behind, but that hardly counts as a "plot.") Varys travelled to Dorne to cement an alliance with the Queen of Thorns and Ellaria Sand. Margaery allied herself with the High Sparrow, to disastrous effect.
And Littlefinger, the former master of the arts of deceit, has been a shell of his former self. His primary function last season was to marry off Sansa to Ramsay Bolton, while apparently knowing nothing at all about one of the most renowned sadists in the Seven Kingdoms. (There is almost nothing I can think of that would be less Littlefinger-like.) This season, he did hoodwink the childish Robin Arryn with a pet falcon. But that's awfully small beer compared to, say, persuading the boy's mother, Lysa, to murder her husband and then marry Littlefinger to make him Lord of the Vale. (And then, for good measure, pushing her out the Moon Door to her death.) And, yes, he also rode to the rescue of Jon Snow's army at Winterfell, and may yet use this rescue as leverage. But so far at least it seems to have been primarily a response to Sansa's summons, rather than the culmination of some neatly laid plan. Littlefinger has never seemed so little.
Cersei, at least—and at last!—brought us a satisfying and dramatic conspiracy in the finale, when she and Qyburn went all Guy Fawkes on the Sept of Baelor. It was a great moment, even if a heavily foreshadowed one. But to some degree, the thrill it provided was a reminder of just how rare such moments have become.
The show still had its share of shocks this season, of course. But they typically seemed spontaneous (Ramsay stabbing his father Roose), conveniently timed (Dany's return to Meereen with her dragons), relatively straightforward (satisfying as it was, Cersei's wildfire plot wasn't particularly complex), or largely unexplained. For instance, I enjoyed Arya's revenge-killing of Walder Frey—neatly set up by his Red-Wedding-echoing line earlier, "The Freys and the Lannisters send their regards"—as much as anyone. But it came, almost literally, out of nowhere. When and where did Arya arrive back in Westeros? How did she infiltrate the Frey household and kill two of Walder's sons—let alone gain access to the kitchens to bake them into pies? How and where did she get the new face? (An unnecessary flourish, incidentally: She could almost certainly have accomplished all of the above just as easily with her own face; the Mission-Impossible-esque peel-back wasn't really for Walder, it was for us.)
Like so much this season (and to a lesser degree, last), the Frey murder seemed all payoff with almost no meaningful buildup. Likewise, Dany's burning down of the khalar vezhven back in episode four, though also terrifically satisfying, raised as many questions as it answered. (Did no one notice that the entire floor was covered in oil?) Compare any of these developments with the meticulous setup of, say, the Purple Wedding—the introduction of foolish Ser Dantos, far, far in advance, for instance, and the presentation of the poison-amethyst necklace—and the contrast is striking.
Martin's novels are extremely careful about character motivation, and that's another area where the show has skimped of late. We still have no real idea what Littlefinger was thinking when he engaged Sansa to Ramsay, and it doesn't look as though we ever will. (How could that possibly have gotten him closer to the "picture of me on the Iron Throne, and you by my side"?) After the Knights of the Vale rescued Jon's army in episode nine, there was much online discussion of why Sansa hadn't told Jon reinforcements were on the way. And the answer supplied in the finale was essentially no answer at all: "I should've told you about him, about the Knights of the Vale. I'm sorry." My bad! Must've skipped my mind.
The laws of succession, too, have gotten awfully lax. I'm fine with Cersei taking the Iron Throne, given there is almost literally no other plausible living candidate in King's Landing at this point. But it'd be nice if there were some hint of unrest or concern over the fact that she's taking the throne because she killed thousands of people—including the queen and the head of the church—while destroying the most holy building in the city. Other successions have been odder still: After Ramsay killed his dad (in front of witnesses) and then fed stepmom and baby bro to the dogs, why would anyone want to accept him as lord of the Dreadfort—let alone lord of Winterfell and warden of the North? And while I know Dorne likes to march to the beat of its own drum, it seems an outrageous stretch that the bastard lover of a dead prince, having brutally murdered the rightful ruler and his legitimate heir, would be the one to wind up running the place (as opposed to, say, executed).
Of course, Dorne has been a mess on the show from the beginning. But Sunday's return, after an eight-episode absence, underlined the difficulties the series has had in pacing, post-Martin. Ellaria is clearly eager for Dorne to go to war with King's Landing—which makes perfect sense. But it should have happened at the beginning of the season: She's wanted revenge since Oberyn's death in season four, and the sentiment would have been mutual the instant that Cersei (and everyone else in King's Landing) learned her daughter Myrcella had been poisoned. It's a pretty basic rule: Murder the sister of the king, start a war.
There was another weird time-lapse development in the finale, when Ser Davos finally—finally!—figured out what had happened to his beloved Princess Shireen and confronted Melisandre. This, too, should have happened five, six, or seven episodes ago, perhaps immediately after the Red Lady jump-started Jon's mortal car battery. Holding off until now made sense only from the vantage point of wanting to save another Big Scene for the finale.
At other times, meanwhile, plot developments have taken place altogether too fast. The Sparrows took over King's Landing over the course of a two-minute montage last season, and as a result, their civic domination of the capital never made a lick of sense. Likewise, Stannis's moral descent and ultimate downfall, which could have been a heartbreaking arc had it unfolded over the course of several episodes, was so compressed that it nearly provoked whiplash.
As with time, so too with distance. Can anyone explain to me how it is that Varys got from Slaver's Bay the Bay of Dragons to Dorne and back over the course of one episode, yet it took Samwell Tarly four episodes just to make the local jaunt from Horn Hill to Oldtown? Yes, the Thrones writer-producer Bryan Cogman has addressed this on Twitter, explaining "This is to avoid things like, say, Arya spending four episodes on a boat." But there are plenty of ways around this problem—say, sending Varys off on his Dorne mission episodes earlier—without resorting to pointless time-bending.
Which is all another long way of saying that over the last two seasons, Game of Thrones has become a different show from the one it was over the previous four: more careless in its plotting and motivation, hinging on major developments that are inadequately set up or explained, tending to favor dramatic shock over internal logic, and so on.
But—and please read the rest before flaying me in comments—this was almost certainly inevitable. Why does Game of Thrones lately feel as though it's made up of crucial plot twists without all the details filled in precisely? Because that's exactly what it is. For the show's first four-plus seasons, Benioff and Weiss could pick and choose from the very best of Martin's extensive plots and scenes and dialogue. Now, they are working off of a rudimentary blueprint—and unsurprisingly, it shows.
Moreover, the question of whether Game of Thrones is as good as it used to be isn't even the right question. A better question is: "Is it better than Martin's relevant source material"? And here the answer is far less clear, and will remain so until Martin finishes his oeuvre—if in fact he ever does so. The author's fourth novel and (especially) his fifth were sprawling messes, introducing new and frequently dull characters by the fistful and sending them on peregrinations across Westeros and Essos so pointless and interminable that it almost seemed as though they were trying to Google-Map the two continents, city by city and block by block. Even if Benioff and Weiss were still working from Martin's direct text, it's likely they'd have to alter much of it—as they already did a great deal last season.
And so in place of Martin's aimless wanderings, we get Benioff and Weiss's reckless velocity. Say what you will about this season's flaws—and obviously I have, at length—it moved. More than any season in a while (arguably more than any season, period) there has been an overwhelming sense of momentum from episode to episode. Whereas Martin seems farther from concluding his story after five books than he did after three, it's clear that Benioff and Weiss are heading into the home stretch, with just two more, abbreviated seasons of the show planned. (I should note that they are almost certainly leaving millions of dollars on the table by not extending the franchise, a degree of restraint deserving of genuine admiration.)
Which is why, to my mind, "The Winds of Winter" was not only a tremendously satisfying episode, but more importantly a paradigm for what Game of Thrones can be at its best moving forward: thrilling, vivid, and proceeding with determination toward its ultimate climax. This will probably entail further narrative corner-cutting and occasional lapses in logic. But so be it. If you weren't stunned when Tommen went out the window, or moved when Dany made Tyrion her Hand, or thrilled at the sight of her finally(!) leading a fleet back toward Westeros, you're made of sterner stuff than I.
Game of Thrones may be a different show now, and in meaningful ways a less rich one. But it has an urgency that has been missing from the books (and sometimes the show, too) for a long while. I confess that I'm as excited about the next season as I have been in years.