Harry Potter and the Never-Ending Spoiler War
For The Cursed Child play, J.K. Rowling wants fans to #KeepTheSecrets in a way they rarely have before.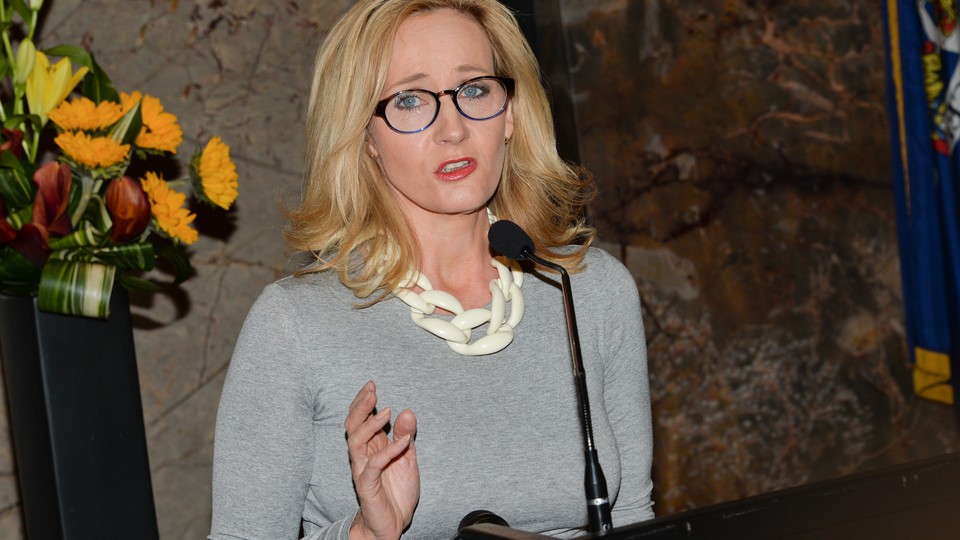 The year 2005 has come to feel like ancient times in the history of Internet fan culture. Back then, YouTube was new, few geeks needed to have opinions on "social justice," and Tobey Maguire was still the face of the (lower-case) Marvel cinematic universe. Most bewilderingly, "spoiler warning" wasn't a common term—in fact, the concept of mass spoiling was so novel as to become a pastime in itself.
That year saw the release of the sixth Harry Potter book, which contained the most shocking twist to date in J.K. Rowling's ongoing saga of Muggles and magic. Online, images of the page revealing that twist went viral prior to publication. On the night of the book's release, some trolls drove around to the Barnes & Noble shops where fans had lined up in costume and shouted—here's my spoiler warning!—"Snape kills Dumbledore!" The wails of the suddenly sullied masses were recorded in videos uploaded, as such things were in those days, to eBaumsworld. Someone took out a billboard with the offending information, and The Onion later sent up the whole mess with the headline "Final Harry Potter Book Blasted For Containing Spoilers."
This was a moment of savagery that society had to live through in order to get somewhere more civilized. There hasn't been quite as mass a spoiling as "Snape Kills Dumbledore" since 2005, though there has been anguished debate over how exactly fans and critics should go about discussing, say, Game of Thrones book developments that have yet to air on TV. By now, a pretty sturdy—if imperfect—code of conduct has developed. If you're going to talk about soon-to-air or recently aired (or published) twists, warn people beforehand. Don't put surprising information in headlines. Start a separate thread. Basically: Show some courtesy to others.
Harry Potter, the most influential all-original storytelling phenomenon of the new millennium, continues to be on the vanguard of this etiquette evolution. Five years after the last Potter film and nine years after the last Potter book, Rowling's saga is picking back up on stage in London with Harry Potter and the Cursed Child — Parts One and Two. Previews began Tuesday night, and Rowling, always an active social-media presence, has posted a video and tweets imploring viewers not to reveal any plot details online. She's even coined hashtags: #KeepTheSecrets and #Don'tBeWormtail, a reference to a traitorous character.
Nevertheless, spoilers have indeed started to arrive online. They're posted, for example, on a clearly marked Reddit thread, with specific details blacked out, requiring the reader to highlight over them to see them. Fan sites have begun dribbling out information about characters and settings—but, as far as I've seen, not much about the storyline itself. These articles have also been clearly marked. As with most other pop-culture happenings these days, Internet users will have a choice whether to click and find out more, or not.
This appears unacceptable to Rowling. Today, she posted a tweet labeling the publication Hypable as "Wormtaily." Which, of course, probably sent more people to that site, where they'd find articles that had tortuously polite beginnings like this:
SPOILER ALERT FOR HARRY POTTER AND THE CURSED CHILD.

First thing's first: Keep the secrets.

Just a few hours after the first performance, it's already becoming apparent that Cursed Child spoilers are unavoidable. We understand some fans want to know a bit about what happened (hence this article, which reveals a minor plot twist), but we urge you to keep your discussions to closed groups. Lots of Harry Potter fans want to find this stuff out on their own.

That said: Several Hypable staffers attended the first preview performance of Harry Potter and the Cursed Child, Part 1 on Thursday night in London. It's really unfair to share too many opinions before we've seen Part 2, but what we can do is give a few teasers of how the world looks 19-ish years later.
It's an unusual moment. Cursed Child is an unprecedented work in that it's advancing the plot of a very major fiction franchise—one whose plot has previously been advanced in mass-market novels—through the exclusivity of live theater (adding to the strangeness is the fact that it's made up of two separate plays running in matinee and evening performances). The story itself will be available for all to learn on July 31, when the script will be published for purchase, a day after the play officially opens. Many fans will prefer to wait to read the material or see it live to find out what happens to Harry 19 years after the events of Deathly Hallows. Some will not.
That would seem to be their prerogative, but Rowling is trying to exert control over the reception of her work in a way that is unusual for most creators but typical for her (see the recent New York Times story about how she's continued updating her universe both through tossed-off remarks and elaborate add ons, including a forthcoming movie). She believes that plot spoilers deprive viewers and readers of the full power of her work, and she's right, to an extent. But the fact that she's able to keep telling the Harry Potter tale to such wide interest, a decade after many readers were subjected to one of the most infamous spoilers of all time, highlights that there's more to the magic of storytelling than surprise.