Finding Dory Is a Sweet-Hearted Sequel
Though it lacks the originality of Pixar's best work, the studio's latest feature offers a fun and tender ride.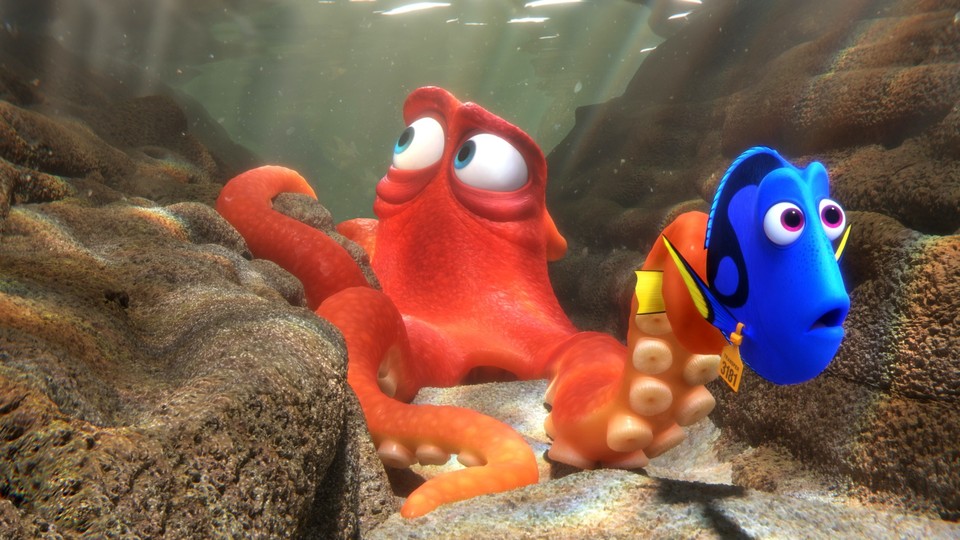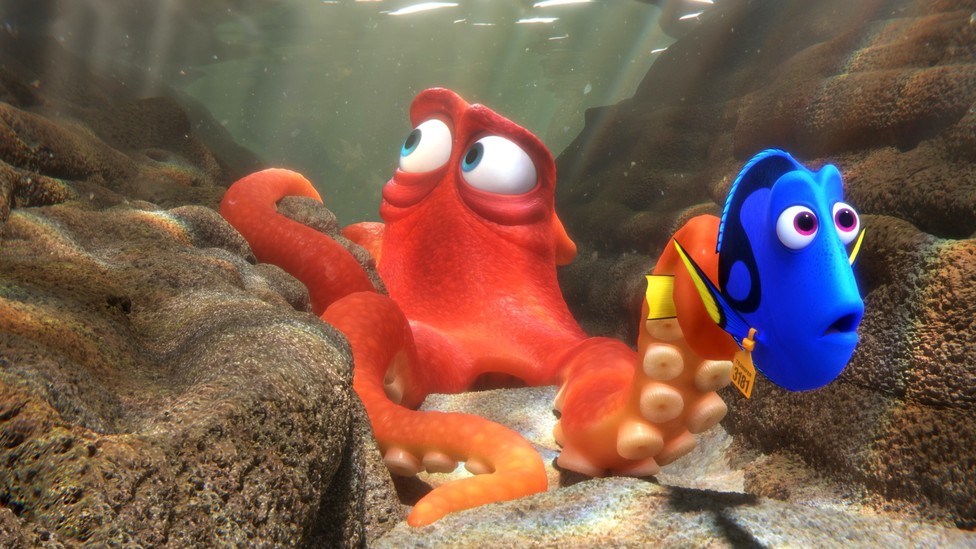 A fledgling marine protagonist is cast out into the wide world to discover the dangers and possibilities of the ocean, in a dazzlingly beautiful and creative offering from Pixar.
Alas, I refer not to the studio's new feature film, Finding Dory, but to the mesmerizing six-minute short that precedes it, "Piper," about a baby sandpiper's first forays outside its coastal nest. The marvelous filmlet provides incontrovertible proof that Pixar is still capable of wonderful new feats of visual and narrative imagination.
Finding Dory by contrast, proves that the studio is capable of making a quality sequel—which is good news, I suppose, given that this seems like pretty much all it intends to do for the foreseeable future, with Cars 3, Toy Story 4, and The Incredibles 2 all headed down the pike over the next three years. The stunning originality that once defined Pixar's cinematic buffet has apparently been reduced to an animated amuse bouche.
That said, Finding Dory presents a thoroughly enjoyable variation on a theme. The movie takes place one year after the events of Finding Nemo, in which Dory (Ellen DeGeneres), a regal blue tang with short-term memory issues, helped overprotective clownfish Marlin (Albert Brooks) find and recover his titular missing son. This time out, it's Dory's turn for a transpacific quest, with Marlin and Nemo (voiced this time out by Hayden Rolence) along for the ride as her sidekicks.
It all begins when Dory, after a blow to the head, recovers a long-lost memory of her parents (Diane Keaton and Eugene Levy) and her childhood home off the coast of California. With her clownfish pals in tow, she sets off to reunite with her family, once again propelled by the surf-dude sea turtle Crush (himself once again voiced by the movie's director, Andrew Stanton). Along the way she encounters old friends and new—notable among them a pair of grumbly sea lions (played by former The Wire antagonists Idris Elba and Dominic West), an ill-humored octopus named Hank (Ed O'Neill), a whale shark named Destiny (Kaitlin Olson) whom Dory knew as a child, and a beluga whale named Bailey (Ty Burrell).
The latter three are all residents of the Monterey Marine Life Institute (a stand-in for the real-life Monterey Bay Aquarium), where the bulk of the movie's action takes place. As it did with the diabolical day care of Toy Story 3, Pixar has some ingenious fun with the workings of the aquarium—perhaps never more so than in its depiction of the "petting pool" as a watery horror, into which children's fingers poke down through the surface like the smites of angry gods.
Many (perhaps too many) chases and rescues ensue, including one that finds Hank the octopus behind the wheel of a truck—which, according to taste, is either hilarious or a bit too broadly farcical. Likewise with a joke in which Sigourney Weaver supplies the voice of … Sigourney Weaver, celebrity narrator at the Institute: This is a level of meta to which Pixar rarely aspires. Indeed, the movie's whole narrative shape is looser and more haphazard than the elegant structure that has characterized the studio's best films.
There are genuinely tender moments, and a few well-earned morals: about friendship, about family, and about perseverance in the face of adversity. (It's clearly no coincidence that in addition to Dory's faulty memory and Nemo's shrunken right fin, Destiny suffers from poor eyesight and Hank—the "septopus"—is missing one of his legs.) If anything, some latter portions of the film may be a touch more grim and stressful for young viewers than the filmmakers intended.
In short, Finding Dory offers a great deal to commend itself, especially as a family viewing experience. But there are times when Dory's ongoing habit of repeating herself feels just a little too on the nose for a movie that, in many instances, is doing essentially the same thing. Here's hoping that at some point in the future Pixar will redevote its vast creative prowess to the invention of new worlds rather than the recycling of old ones. In the meantime: Go for the sandpiper; stay for the fish.