Feed the Beast: A Hot Mess of a Restaurant Drama
David Schwimmer and Jim Sturgess star in AMC's tonally chaotic show about best friends opening a restaurant in the Bronx.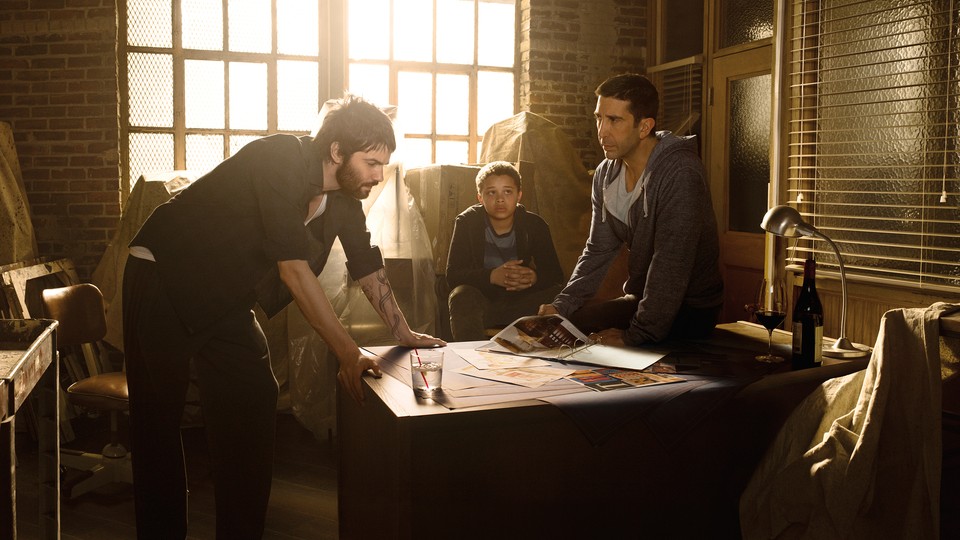 Feed the Beast, AMC's new drama about two friends compelled by fate, financial ineptitude, and dramatic necessity to open a restaurant in New York, is a lot of things, but it isn't afraid of metaphor. There's its title, for one thing, which contains multitudes (but could also possibly be overworked TV writers making a point). There's the way scenes are punctuated with close-up shots of flames being ignited. Most of all, there are the show's parallels between food and addiction: the perpetual sniffing of a coked-up chef versus the exaggerated inhalations of a sommelier, the butcher who doubles as a drug dealer, the sense that being a restaurateur, like being an addict, is something you never recover from.
That it's not a good show is clear fairly early in the first episode, but it is occasionally an interesting one. Tommy (David Schwimmer) is a widower struggling to raise his son after his wife was killed in a car accident, who's declined from being an advanced sommelier to an alcoholic wine salesman. Dion (Jim Sturgess) is Tommy's childhood best friend, a brilliant chef fresh out of jail who's also a stupidly reckless cocaine addict in trouble with the mob. There are questions the show fails to answer right off the bat: Why does Tommy live in a vast empty warehouse? Why would anyone agree to do anything for or with Dion, a violent lunatic who burned down his last restaurant on purpose? Why is every primary adult character in a show set in the Bronx white? Answers are sacrificed in Feed the Beast's quest to be 18 different things at once: a Bourdain-esque tale of bad-boy chefs made good, a gritty crime drama, a superhero show, a touching tale of familial reception.
For the viewer at least, it's exhausting. In the first four episodes, Schwimmer and Sturgess operate on totally different levels, with Schwimmer adding subtle pain to the sad-sack befuddlement he mastered earlier this year playing Robert Kardashian in The People v. OJ Simpson, and Sturgess using every over-the-top affect he can to make Dion annoying (brash accent, overbearing machismo, pathological sniffing and wheezing). Apparently appearing in a different show altogether is Mad Men's Michael Gladis as Patrick Woichik, a gangster known as the Tooth Fairy for his habit of extracting people's incisors. The character feels like Feed the Beast's attempt to bring some Marvel-lite villainy to proceedings (Gladis plays the Tooth Fairy like a subdued version of Daredevil's Kingpin), but his looming presence in an armchair in the back of a Mercedes van only ever feels absurd.
Feed the Beast is based on a Danish show, Bankerot, with Dexter's Clive Phillips as showrunner and Bankerot's Henrik Ruben Genz and Malene Blenkov on board as executive producers. This, along with its parent network, perhaps explains the maddening tonal inconsistency: It has all the performative dour masculinity of an AMC drama, but also moments of pure Scandinavian realism. Tommy's relationship with his son, TJ (Elijah Jacob), who's refused to speak since his mother died, is one of the show's highlights. His relationship with Pilar (Lorenza Izzo)—a magical widow who meets Tommy in his grief-counseling group but seems blithely and cheerily unaffected by the death of her husband, and mostly functions so Tommy and Dion can explain the intricacies of fine dining to a haute-cuisine rube—is not.
Then there's the dialogue. "Now we nose the wine," Tommy tells Pilar. "That's wine jargon. Smell it." Later, after he's described the history of his friendship with Dion, she remarks, "You guys punch each other in the dick a lot," to which he responds, totally straightfaced, "We do. We're friends." Clearly, Phillips has invested heavily in getting the details of the restaurant industry right—Sturgess went to cooking classes, and AMC brought in the chef Harold Dieterle as a consultant to make the food scenes authentic. That they couldn't finesse the script a little more is a pity, but it wouldn't have saved a show that can't figure out whether its spirit animal is August Escoffier or Guy Fieri.