Where Saturday Night Live Failed This Season
The show had some bright spots—such as Larry David's work as Bernie Sanders—but it largely failed to capture the zeitgeist in the year of Trump.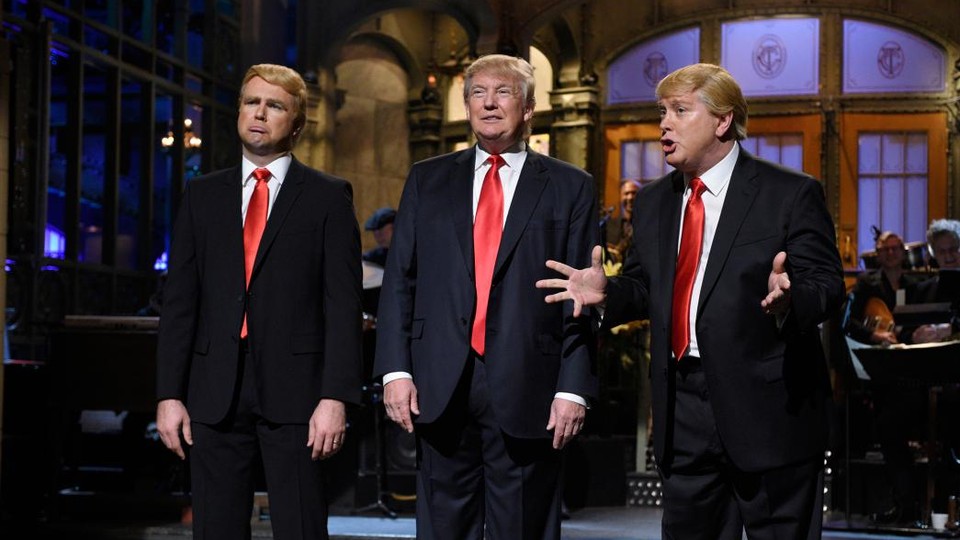 As Saturday Night Live wrapped its season last weekend, it made sense that it led off with Hillary Clinton (Kate McKinnon) and Bernie Sanders (Larry David) bidding each other farewell, and Donald Trump nowhere to be seen. The 41st year of SNL has struggled to find its voice during this demented election season, a time when the show usually taps into the zeitgeist, but if there's anything it'll be remembered for, it's the inspired casting choice of David as an avatar of grumpy disgust with the nation's political process.
And yet David isn't in the main cast of Saturday Night Live—technically, he's an alumnus of the show, having written for its 10th season. Darrell Hammond, who impersonated Donald Trump for most of the year after Taran Killam's early attempt, is another veteran brought in for a specific role. And the 41st season finale, easily one of the best episodes of the year, worked mostly because its host Fred Armisen brought back many luminaries from his time on the show to help recall his own glory days. In the three years since Armisen departed, Saturday Night Live has struggled to define its new era, and the joy of seeing its old cast return has only helped to underline that troubling fact.
It stands to reason that Hammond's reappearance as Trump on the show (he was a regular cast member from 1995 to 2009) should have given SNL the shot of energy that Tina Fey delivered in 2008 with her work as Sarah Palin. But Hammond's Trump has run into the same problem as plenty of other late-night shows: It's hard to turn and find the underlying satire when the subject is already a living cartoon. The Late Show With Stephen Colbert tried having its host talk to an actual animated character. Jimmy Fallon's Trump impression struggled to match up to the real thing when Trump guested on his show.
Hammond's impression is technically fine, but it doesn't get anywhere near the dark heart of Trump's candidacy and the reactions it's inspired across the country. That's been best indicated by the public outcry SNL sustained for inviting Trump on as a host, months after NBC ended its relationship with him on The Apprentice for calling Mexican immigrants "criminals and rapists." The episode itself fell flat largely by playing up Trump as a harmless figure—having him in the same room as Hammond's exaggerated impression made him look normal by comparison, and the episode's most memorable moment ended up being his aimless dance to Drake's "Hotline Bling."
Perhaps that's why David's casting as Sanders was so smart—he didn't take Hammond's approach of trying to precisely imitate his target's cadence and speech patterns, but his impression understood the underlying humor of Sanders's popularity. David was basically playing himself as Sanders, mocking the candidate's phlegmatic style while also getting at his surprising appeal: After all, no one would've pegged the ornery co-creator of Seinfeld to become one of the most beloved comic actors of an entire TV generation, and yet here he stands. No one thought the Vermont senator's candidacy would have made it this far, but it took the whole season for SNL to say goodbye to him.
But little else has stood out on Saturday Night Live in recent seasons. Its solid cast lacks a breakout star outside of McKinnon, though there's also no obvious dud of the bunch (only Jon Rudnitsky, the new hire for this season, has struggled to stand out in sketches). If the previous era headlined by stars like Armisen, Kristen Wiig, Bill Hader, Jason Sudeikis, and Andy Samberg perhaps relied too much on recurring characters, this iteration of the show almost entirely lacks for memorable sketches worth repeating.
"Weekend Update," still hosted by Colin Jost and Michael Che, has settled into utter mediocrity after its horrendous start. Che winked to the tumult in the season finale, reeling off a list of jokes they rejected over the year with the caveat, "What's the worst that could happen, they fire Colin?" "Update" is another segment that should work better in a political year, but Jost and Che's chemistry has never sparked like previous hosting pairs (Tina Fey and Jimmy Fallon, or Amy Poehler and Seth Meyers), and there's no obvious successor waiting in the background.
That's the problem with this SNL cast: They still feel like they're settling into things, even though stars like Killam, Vanessa Bayer, Cecily Strong, Aidy Bryant, and Jay Pharoah have been on the show for years now without carving out the niches their predecessors found. There are things to applaud: With the addition of Leslie Jones, the show's cast is more diverse than it was in Wiig and Samberg's glory days, though it still lacks for a Latino or Asian cast member. Season 41's stars have undoubtedly been its women—McKinnon's "Update" characters, like the Russian correspondent Olya Povlatsky, are among the few that prompt genuine excitement from the crowd for every appearance.
But if this year's political tumult gave SNL the chance to regain the spotlight, season 42 will be an even more crucial test. A swing and a miss during primary season gives the show a chance to readdress its biggest problem areas, including finding a compelling way to present Donald Trump, shaking up "Weekend Update" either behind the scenes or with a change of hosts, and looking for new talent to help bolster the cast's diversity. SNL is not in a crisis, and it has rebounded from far worse years. But if America's premier sketch show can't find a way to stand out from the pack in the year of Trump, viewers have ample other topical television shows to choose from.