The Growing Divide Between Game of Thrones and George R.R. Martin
The new chapter of the sixth book in the sprawling A Song of Ice and Fire series shows how much the TV adaptation has diverged from the novels.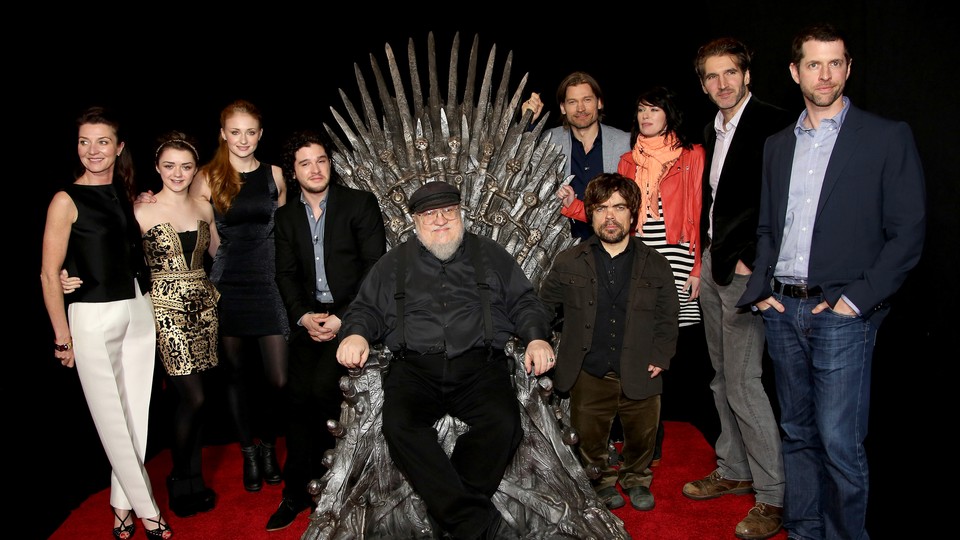 The latest chapter from George R. R. Martin's long-gestating novel The Winds of Winter, released on the author's website yesterday, is typically tantalizing material. Like the rest his Song of Ice and Fire series, it's told entirely from the point of view of a specific character—this time Princess Arianne Martell, the heiress to the kingdom of Dorne, as she ponders a new challenger to the Iron Throne of Westeros. It adds more context to two crucial stories and lends further depth to one of Martin's most dynamic female characters. It also has nothing to do with the hit HBO series that the novels inspired.
Game of Thrones, currently in its sixth season, has largely diverged from Martin's books, telling stories past their current end point in the completed novels as the annual demands of TV production outpace the author's decades-long writing process. Fans have worried that the show, which creators David Benioff and D.B. Weiss have said will probably end after two more truncated seasons, will spoil Martin's grand conclusion. But as every chapter released from The Winds of Winter shows, including this latest check-in with Arianne, there's nothing to fear. Martin is telling tales of characters the show's viewers will never meet, on quests that will never make it to the screen. And the show is actually beginning to work toward an ending, which leaves Martin free to do something else entirely.
Fans have also long accepted that Game of Thrones will finish before every chapter of A Song of Ice and Fire hits bookstores. Even if Martin had finished The Winds of Winter last year as he intended, he would have had to turn around the seventh and supposedly final entry within a year or two to beat the show. He hasn't worked at that pace in a long time: The shortest turnaround between books was just under two years between the second and third novels in the series, and the last entry came out in 2011, the year Game of Thrones premiered. But when Martin announced to fans that Winds of Winter wouldn't be done in time for season six of Game of Thrones, he tried to reassure readers. "Some of the 'spoilers' you may encounter in season six may not be spoilers at all ... because the show and the books have diverged, and will continue to do so," he wrote.
The new Arianne chapter, which Martin has read aloud at fan conventions, is a perfect example of that divergence, coming at an opportune moment since the show has begun killing pivotal characters. Arianne, the heiress of Dorne, isn't a character in the show at all—she was replaced by a male heir, Trystane, a minor character in the books. His elevation sparked outcry from fans who thought the show was losing a compelling female leader, but in Martin's pages she endures, negotiating the future of her kingdom and reckoning with a new contender to the throne.
That character, the pretender Aegon Targaryen, also isn't in the show. Neither is his companion Jon Connington, who's discussed extensively in the new chapter. Martin has also released chapters about Stannis Baratheon and Barristan Selmy (both killed off by HBO last season), and Victarion Greyjoy (who doesn't exist on the show and likely never will). As the show came closer to overtaking Martin's books, he made more and more references to the "butterfly effect" of TV plotting, where Game of Thrones's attempts to simplify the grander story arc would only lead to bigger differences between the books and show. What first felt like a cop-out now feels on point: Readers are no longer worried the show's going to spoil the novels, just that it'll move forward clumsily with its adaptation efforts.
Consider a semi-humorous Kickstarter campaign to "fix" the show's Dorne plotline, which was largely dispatched in the opening episode of this season. In Martin's books, Dorne is a powerful sector of Westeros under the rule of the infirm but wise Prince Doran, who's scheming to position his children for greatness as the realm falls into chaos. On the show, Doran was an ineffectual fool, eventually betrayed and murdered by his brother's paramour. His death scene, and the subsequent murder of his son, felt like Benioff and Weiss washing their hands of a plotline they never quite knew how to weave into the larger story. The Kickstarter campaign says it needs $20 million to replicate the show's style and production value and shoot enough material to paper over the problem areas. The campaign's creators probably aren't going to make it (currently, backers have pledged almost $24,000), but their project captures just how strongly many readers feel about the show's new direction.
For all the complaints from hardcore fans, Benioff and Weiss are working with admirable intent this year, and they're wise to point Game of Thrones toward an ending. Dorne may be an intriguing location in the books, but it never worked for the show, so it had to go. Characters like Stannis, Barristan, Roose Bolton, and others were compelling figures who weren't indispensable to the show's outcome, so it's no surprise they were all killed off in typically bloody HBO fashion.
Martin, on the other hand, may never even finish his grand opus. When he began writing A Song of Ice and Fire in 1991, it was planned as three books. The fourth book turned into a volume of unpublishable length and was split into two, taking over a decade to be released. Martin still swears there are only two more entries left in the series. His plot meanderings across his fictional continents may frustrate some readers, but the approach is also why so many were drawn to the detailed world he created in the first place. For fans dissatisfied with the show's pared-down move toward an endgame, there'll be no shortage of richness in the books to come—as long as they don't mind waiting several more years.