Weiner: The Story of a Marriage
What happens when political collapse meets personal scandal?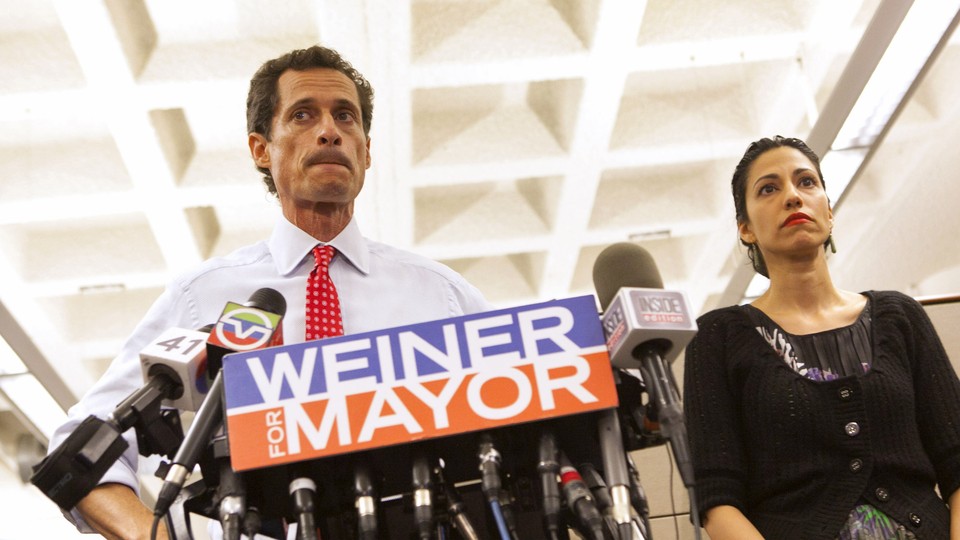 "I might have successfully whistled past the graveyard here," Anthony Weiner explains to filmmaker Josh Kriegman. It's the spring or early summer of 2013, and Weiner, despite having resigned his House seat two years earlier as the result of a sexting scandal, is running for mayor of New York City and leading in the polls. Footage shows him giddily whirling a rainbow flag at an event, surrounded by wildly enthusiastic supporters. (Then, a study in contrast: a grim handful of voters half-heartedly carrying signs for his primary opponent, then-Public Advocate Bill de Blasio.) Weiner seems on the verge of pulling off one of the most remarkable political comebacks in memory.
That is the story that Kriegman and his co-director, Elyse Stenberg, thought they might be recording when they began work on their documentary Weiner on May 21, 2013, the day Anthony Weiner announced his candidacy for mayor. The story they got—as anyone who ever reads a paper will recall all too well—was a far more mesmerizing one.
Not long after Weiner's comment about graveyard-whistling, the other shoe dropped, and dropped hard: It turned out that Weiner's habit of sending women explicit photographs of himself via Twitter and Facebook had continued long after his resignation from Congress; he had also conducted an extensive phone-sex relationship with a 22-year-old named Sydney Leathers, who quickly took advantage of her newfound notoriety to launch a porn career; and most farcical—and arguably most damaging—Weiner had engaged in these activities under the sobriquet "Carlos Danger." (As Stephen Colbert memorably quipped: "I suppose it was to avoid using a ridiculous name, like 'Anthony Weiner.'")
Remarkably, following the revelations, Weiner continued to allow Kriegman and Stenberg near-unfettered access. (The fact that Kriegman was a former senior staffer for Weiner no doubt contributed mightily to this decision.) Far more remarkable, however, was the access granted by his wife, Huma Abedin, a senior aide to Hillary Clinton famous for her camera-shyness. As a result, the film offers a front-row seat to a spectacular political unraveling, as Weiner's front-running candidacy collapses—with apologies to Ernest Hemingway—suddenly and then gradually.
Weiner is arguably the best documentary about American politics in many years. (It was assembled from more than 400 hours of footage shot by the filmmakers over the course of the four-month campaign.) But it is more than that as well: a detailed study of narcissism and absent impulse-control; an object lesson in the dangers of offering one's faith and time to a flawed candidate; and an intimate, occasionally excruciatingly, portrait of a marriage.
It's in this last vein that the film is at its most fascinating. Weiner and Abedin are both lifelong political pros, but they hail from opposite ends of that professional spectrum. Weiner is the showboat, the "principal," possessed of almost an uncanny vitality—insert joke here, if you must—his need for attention, any attention, almost as palpable as his physical self. Whether he's berating his Republican colleagues on the House floor for hiding behind "procedure" in their efforts to quash a bill for 9/11 first responders or engaging in a wildly self-destructive argument with a voter outside a kosher deli, his energies seem almost uncontainable. It's hard to shake the sense that his decision to cooperate so fully with the filmmakers emanates from the same place as his online sexual escapades: a horror of silence or stasis—of having no one there to listen to him, to validate his experience, to help fill, moment by moment, some gnawing void. As he himself explains at one point, "Politicians probably are wired in some way that needs attention. I'm not blaming that...but it is hard to have normal relations."
Abedin, by contrast, has been famous as Hillary Clinton's "body woman" and confidante since the mid-1990s, shunning the spotlight despite her much-noted glamor and proximity to power. (At Abedin's wedding to Weiner, Clinton declared, "I have one daughter. But if I had a second daughter, it would be Huma.") Which is to say that Abedin was an "enabler," in the typical Washington political sense, long before her support of her husband throughout his scandals prompted many to attach the term to her in its vastly more pejorative personal sense.
Early in the film, the scenes with Weiner and Abedin are revealing, if perhaps customary, of a political power-couple. Sitting together in his tiny campaign office, dialing for political contributions, he gives her a hard time for not putting in enough effort ("This is your A-list?"). But moments later, coming off a call with a donor ("How was the engagement? I want all the details"), she evens the score, announcing, "Alright, he'll max. His wife is going to max out."
But after the second scandal, their marital balance becomes—as one would presume—infinitely more complicated. Although Abedin appears at the initial press conference responding to the new revelations, the campaign weighs ever more heavily on her. When Weiner asks if she wants to watch an extended web version of a testy exchange he had with MSNBC's Lawrence O'Donnell, she has to leave the room, declaring, "No, I can't." She resists his entreaties to appear at events and in commercials. (Her refusals reportedly came at least in part at the request of other Clinton aides.) Especially poignant is her declining to attend his final event on election day with their young son, even as Weiner pleads, by the elevator to their apartment: "It's my last race. And I wanted him to see us together …"
There are other astonishing scenes throughout the course of the documentary—many of them, in fact: the moment, after relaying the latest dispiriting polls, when an outside consultant essentially quits over speakerphone ("So, this is a solo flight…"); a comical dash through McDonald's on election night to avoid Sydney Leathers (campaign codename: "Pineapple"), who's planted herself outside Weiner's party venue as a publicity stunt.
But what lingers beyond the humor and the pathos, beyond Weiner's painful self-absorption and almost equally painful pangs of self-knowledge, is a perturbing glimpse inside a marriage under unimaginable public strain. At one point, late in the documentary, Weiner implores the filmmakers, "I hope it's going to be more than a punch line." He needn't have worried. Weiner is more than that. Much more.