Underground: A Thrilling Quest Story About Slavery
A harrowing new period drama takes its cues from both history and the apocalyptic narratives that populate today's TV and film.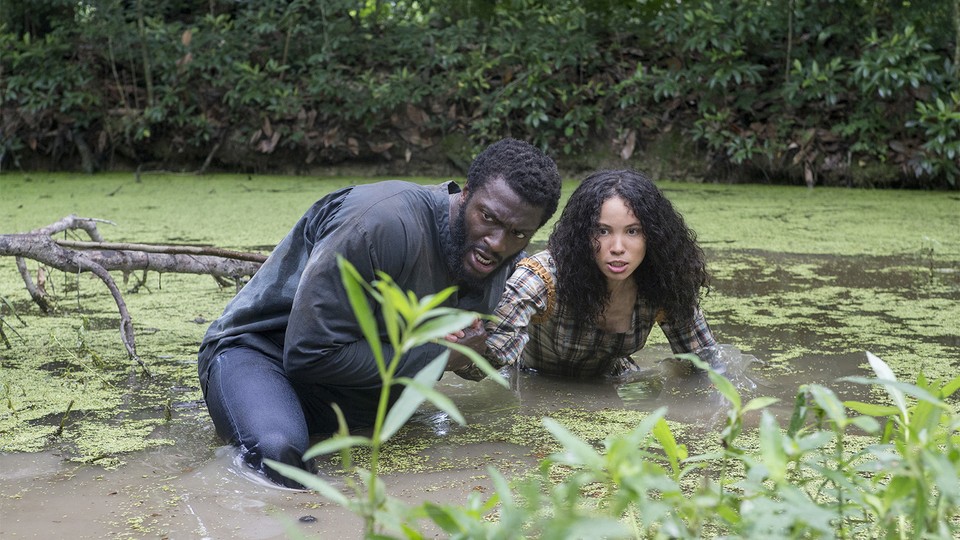 Few cultural conceits have been as fruitful in recent years as the trope of a band of survivors making a journey through a collapsing world. It's the premise behind both AMC's The Walking Dead (with added zombies, gore, and moral complexity), and Mad Max: Fury Road (where Max Rockatansky and Imperator Furiosa take a high-octane flight across an Australian wasteland). In literature, it's the central pillar of dystopian works like The Road and Children of Men, and predates even Frodo and Sam's fateful trip to Mount Doom in The Lord of the Rings.
Most of the works that explore this scenario are set in fictional worlds that are either near apocalypse or suffering its aftermath. But the idea of escape, specifically a harrowing flight through hostile territory while under constant threat of death, is built into the foundation of America's history. The flights of hundreds of thousands of enslaved people via the Underground Railroad and other efforts in the 18th and 19th centuries are themselves a story of escape from apocalyptic horrors, with many souls risking mutilation, death, disease, and unimaginable psychological trauma in their quest for freedom and a promised land.
Finally, television is exploring America's most autobiographical apocalyptic quest story. WGN America's Underground, which airs the final episode of its first season Wednesday night, is an epic series about slavery and escape created by the Heroes writers Misha Green and Joe Pokaski, and executive produced and scored by John Legend and his Get Lifted team. The entertainment industry has tackled the subject before—on television with Alex Haley's landmark 1977 miniseries Roots and its 2016 remake, and in film with 2013's 12 Years a Slave, Django Unchained, and the upcoming Birth of a Nation, among others. But those treatments largely focused on the terrors of plantation life or on revenge fantasies. Underground, by contrast, provides historical fiction about the great flights that shaped American history, taking its cues as much from other weekly primetime thrillers as it does from the famous canon of slavery period pieces.
Underground's main plot follows a group of escaping slaves known as the "Macon Seven," whose members include Rosalee (Jurnee Smollett-Bell) and Noah (Aldis Hodge), who inevitably become the show's power couple as they lead their group north. Scenes cut between their journey, the Georgia plantation they escaped from, and the abolitionists at their destination in the Ohio River valley. Some episodes play out uncannily like The Walking Dead, only with single-minded slave catchers taking the place of zombies. Questing characters follow the video-game-inspired level-up process that's become The Walking Dead's key structure, with Rosalee and Noah evolving from naive co-conspirators to nearly unkillable wraiths over the course of the first season.
That isn't to say that Underground is a total departure from its heavier slavery-film counterparts. Scenes back on the Macon plantation, anchored by Amirah Vann's Ernestine, who's the mother of Rosalee and the enslaved object of owner Tom Macon's (Reed Diamond) desires, are as emotionally resonant and torturous as any scene in Roots. Enslaved people are beaten, mutilated, humiliated, stripped naked, and killed, all of which is generally shown in visceral detail. The show doesn't shy away from the rampant sexual assault that defined plantation life, and it also does a good job of portraying how enslaved people carved out whatever spaces for survival they could. One of the advantages of it being a television series is that Underground has the space to explore the full depth of its enslaved characters: They are brilliant, petty, caring, peaceful, and violent at once, as are all people, and their daily interactions and individual stories have room to breathe and not be swallowed up by the need to sum up for audiences in a few hours just how awful American slavery was.
But the core of Underground is still the quest, which sets it apart as both a TV series and a work about slavery. It isn't perfect. Some of the episodes require quite a good amount of suspended disbelief, and the Get Lifted team's decision to incorporate modern music into the show—while a brilliant way to connect the dots in black history and culture across time—sometimes comes across as forced. Underground toes the line between fantasy and reality in a way that can be uncomfortable for historically minded viewers such as myself. But it's off to a good start, and holds the mark as perhaps the most watchable and rewatchable media about slavery yet. For once, a show finally connects the real epic quests of blackness at the center of American identity with its penchant for fantasy apocalypses.