Tony Gwynn's Family's Lawsuit Against Big Tobacco
Two years after the Hall of Famer died at 54 from using chewing tobacco, his family is going after the industry.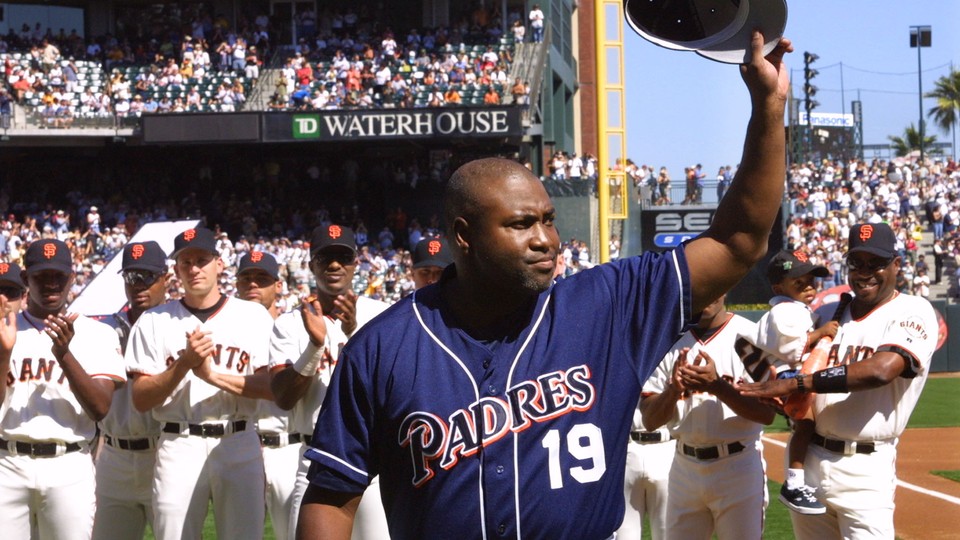 Hall of Fame baseball player Tony Gwynn died in 2014 when he was 54, succumbing to salivary-gland cancer from his many-decades-long habit of smokeless tobacco. Now, his family is suing the tobacco company they say manipulated him into addiction.
The family of Gwynn, who played for the San Diego Padres from 1982 to 2001, filed the lawsuit against Altria Group Inc., the company formerly known as Philip Morris. They allege the company induced Gwynn to start dipping when he began college at San Diego State University in 1977 with free samples of their product, knowing its health risks. As The New York Times reports:
For 31 years—1977 to 2008—Gwynn used one and a half to two cans of smokeless tobacco (usually Skoal) per day. It was the equivalent, the suit says, of four to five packs of cigarettes every day for 31 years. Gwynn would dip Skoal immediately upon waking up, the suit said, and sometimes fall asleep with the product in his right lip and cheek area.

There are no damages specified in the complaint, which asks for a jury trial on grounds of negligence, fraud and product liability. Essentially, the complaint says that Gwynn, while in college, was the victim of a scheme to get him, a rising star athlete, addicted to smokeless tobacco, while knowing the dangers it posed to him. The suit says that the industry was undergoing a determined effort at the time to market its products to African-Americans, and that Gwynn was a "marketing dream come true" for the defendants.
Throughout his career, Gwynn was photographed in games with a bulge of dip in his cheeks. And he wasn't the only player with the habit. Dipping tobacco remains one of the key aspects of the game; young players start the habit as early as high school, The New York Times reports.
Boston, Los Angeles, New York City, and San Francisco have all passed bills in recent years to ban smokeless tobacco at baseball games in an attempt to tackle the health risks and prevent images of baseball players dipping on local television.