The Real Housewives of Jane Austen
Why do reality television's most popular stars so uncannily resemble the heroines of the 19th-century writer's work?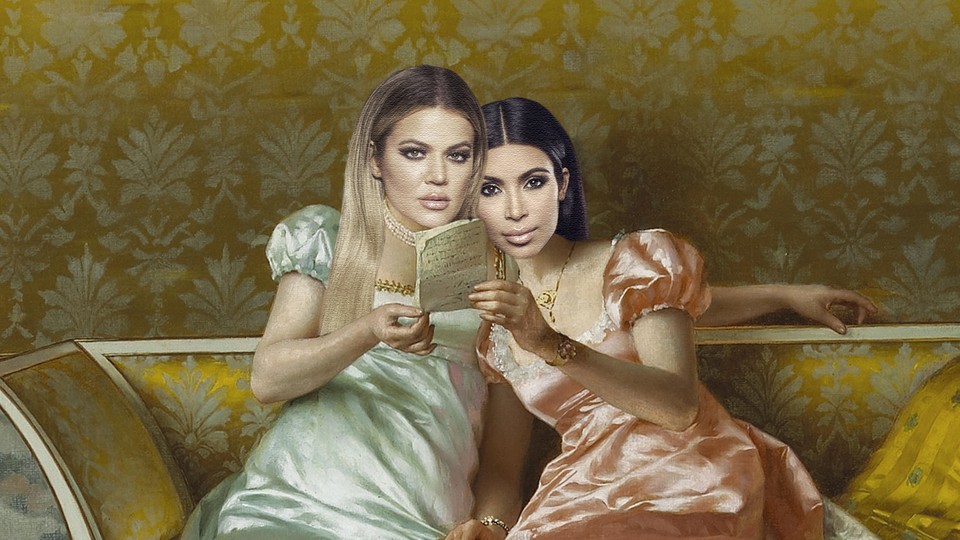 One of the more unconventional fairytales of our time involves a brilliant schemer, famous almost entirely for her physical attributes, who finds herself a single mother after her partner abruptly departs. Intent on bettering her situation, the woman pursues the wealthy and eligible son of a noted family, several members of whom she's already intimately involved with. His relatives panic. But the man remains besotted with the woman, whose meticulous plotting and social savvy make him ever more intent on proposing marriage to her.
The person in question is, obviously, Blac Chyna. She's also Susan Vernon, the antiheroine at the center of one of Jane Austen's earliest works, Lady Susan. Their resemblance on the face of it might seem completely absurd: Blac Chyna, born Angela Renée White in Washington, D.C. in 1988, is a model and former exotic dancer best known for her romantic relationship with the rapper Tyga, her friendship with the reality-TV star Kim Kardashian, and the complications that have ensued (currently being televised on Keeping Up With the Kardashians) when Tyga started dating Kim's sister and Chyna became pregnant with Kim's brother's baby. Lady Susan Vernon is a fictional character created by Austen in 1794 or so—an English widow in her mid-to-late 30s who idles away her hours in the stately homes of her aristocratic acquaintances and is described as possessing "an uncommon union of symmetry, brilliance, and grace."
But what's clear reading Austen today, or watching one of the countless adaptations of her work, is how much the women in her novels have in common with so many of the women on reality television. Her female characters are defined by two primary qualities: their privilege and their powerlessness. Her writing focuses almost entirely on women searching for stability and status, deploying the very limited means available to them. Deprived of intellectual gratification or professional empowerment, they scheme, manipulate, and get bogged down in petty rivalries with each other. Their ultimate endgame is marriage, described by Charlotte Lucas in Pride and Prejudice as the "pleasantest preservation from want." That they do nothing of much more substantive significance (except, some of them, on rare occasions, be kind sisters or daughters) is their flaw, but also, as Austen portrays it, their fate.
Isn't it weird? It's possible to imagine Austen, reincarnated with her bonnet and penchant for millinery, being moderately overwhelmed by the various cuts and colors of synthetic fabric worn by the contestants on The Bachelor. But the show's premise would strike her as utterly familiar. Caroline Bingley, one of the least self-aware and most pathetically predatory characters in literature, would adapt in a matter of minutes to being cast in any one of the Real Housewives franchises. When Curtis Sittenfeld sought to write a modern version of Pride and Prejudice, it was almost inevitable that her novel, Eligible, would feature a reality show. Perhaps what's even weirder is that recent adaptations of Austen's work—Whit Stillman's charming new movie Love and Friendship among them—don't really feel like period pieces at all. Almost two and a quarter centuries later, a flourishing television genre peddling "reality," and fantasy, promotes a vision of women if anything more retrograde than Austen's, without any of her irony.
* * *
In 2000, the first reality show on network television debuted on Fox. Who Wants to Marry a Multi-Millionaire was a two-hour special structured to mimic a beauty pageant, in which 50 contestants participated in a contest to marry a man whom none of them had ever met. There was a swimwear portion of the evening. There was a question-and-answer session. The winner, Darva Conger, received a three-carat diamond ring, a groom, Rick Rockwell, and a honeymoon in Barbados. Her husband, it soon emerged, had previously been issued a restraining order by a girlfriend who accused him of assault. On The Daily Show, Jon Stewart described the spectacle as "a televised dump on women's rights." The cover of People wondered if TV had "gone too far."
The show was scandalous enough to be pulled without any attempt at a redo, but its creator, Mike Fleiss, sold a new show to ABC that debuted two years later: The Bachelor, which recently concluded its 20th season. According to Jennifer L. Pozner, a media-literacy educator and the author of Reality Bites Back: The Troubling Truth About Guilty Pleasure TV, The Bachelor took the essential principle behind Who Wants to Marry a Multi-Millionaire—that women will sacrifice their independence, their bodies, and their dignity to fulfill their ultimate goal of marrying a wealthy man—and wrapped it up in a gauzy veil of romance. This time, there were roses, and dates (sometimes with several women at once), and getting-to-know-you time. There were even visits with family members, surprisingly few of whom seemed nauseated by the idea that their daughters had made it to the final rounds of a televised interview to be someone's wife. There was a "fantasy suite," in which the final three women got to spend a night with their prospective husband without cameras being present, courteously allowing them the choice of whether or not to have sex with him.
"The Bachelor set the mold for how women would be treated on reality television," says Pozner. "With it, producers and networks accomplished what the most ardent anti-feminist organizations and activists had never been able to achieve. They created a version of the world that was supposedly real, that looked real, but in which women not only appeared to not have any choices, but appeared not to want to have choices."
The Bachelor's popularity (the season-two finale was watched by 25.9 million viewers) spawned a wealth of imitators. Fox countered in 2003 with Joe Millionaire, in which women went through the same elaborate courtship rituals only for the winner to be told at the very end of the show that her "wealthy" fiancé was actually an impoverished construction worker, adding the extra bonus of public humiliation and censure for the gold-digging behavior the show had encouraged. The model for women in reality television had been established, both physically and psychologically. In addition to being gorgeous, they were to be some combination of gullible and calculating, naïve and brazen, stupid and manipulative. They had insignificant careers or livelihoods of their own, and their dual goals were either to safely ensconce themselves within a marriage or to find fame, the financial value of either of which would establish them as an object of envy for all their competitors.
What distinguished Darva Conger from so many of the women who followed was her age: She was 34 when she married Rockwell live on television (the marriage was annulled after the honeymoon, and she stated that it was never consummated). Susan Vernon, the protagonist of Lady Susan, is also significantly older than the rest of Austen's heroines. "From her appearance one would not suppose her more than five and twenty," her sister-in-law remarks in a letter, "though she must in fact be 10 years older." Widowed a few months before the book's events take place, Lady Susan also has a 16-year-old daughter, Frederica, whom she spends much of the novella trying to marry off to a wealthy man to secure their future.
In Lady Susan, Austen's first significant female character, the teenaged Austen created a full-fledged female predator who, as her biographer Claire Tomalin notes, "is also attractive, and so entertaining that we find ourselves sympathizing with her in her battles with the dullards who are also her victims." She's nothing like her successors, who are variously spirited (Lizzy Bennet), pious (Fanny Price), fanciful and naïve (Catherine Morland), and smug (Emma Woodhouse), but who are all young, essentially good, and eminently marriageable—pawns in a system they have no choice but to navigate. In her command of her predicament, Susan is as resourceful and self-reliant as Blac Chyna and the retinue of reality-TV stars who precede her—if not more so.
It's perhaps this deviation from the Austenian norm that attracted Whit Stillman, whose previous movies have focused largely on privileged WASPs negotiating their way through New York's social environs in the late 20th century. Played with sweetly malevolent aplomb by Kate Beckinsale in Love and Friendship, Susan is a brilliant and magnetic woman completely lacking in opportunities to support herself, yet well equipped for the seduction, scheming, or self-adornment that are no mere games for her, but essential to survival.
"Good reality," the producer Richard Drew wrote in The Atlantic in 2010, "is all about constant jeopardy, whether it's the threat of being sent home, the cake that's about to burn, or the date that might turn you down." For Susan, the jeopardy she faces throughout the movie is that she'll find herself homeless and destitute. At the beginning of the film, she's shown rushing to stay with her brother-in-law after an extended visit with friends has come to an abrupt end: She's been evicted, having gotten too close to both the gentleman of the house and his younger sister's suitor.
Both Stillman and Austen seem fascinated by Susan's bravado in the face of her powerlessness, her prowess in "the art of using the conventions of society to get what she wants," as Tomalin writes—and the ease with which she justifies her disreputable behavior when confronted. Her poise and sense of purpose, and her command of her sexuality, make the Bennet girls look tame, and make even the most outrageous reality stars— Brandi Glanville, Farrah Abraham, Heidi Montag—look like throwbacks whose acts really should have matured by now.
* * *
An older Austen, Tomalin writes, decided "to censor the part of her imagination that interested itself in women's wickedness, and particularly sexual wickedness." In Sittenfeld's updated Pride and Prejudice, as in the original, the female wiles betray more self-delusion and self-destructiveness than subversive power at work. Sittenfeld's inspiration is to put all the female Bennet family members under the spell of the conventions of reality TV as they face (or don't quite) the dismaying financial fact that Mr. Bennet has passively mismanaged the family finances for the last four decades: Their Cincinnati house is crumbling, and medical bills are threatening to bankrupt them.
To give Mr. Bingley (here known colloquially as Chip) the cachet and fame that a 19th-century single landowner might have enjoyed in the eyes of local womanhood, he is endowed with the ultimate credential. His appeal to the Bennet family isn't that he's a handsome and eligible doctor. It's that he spent time on a Bachelor­-esque TV series that most of the Bennets pretend not to watch. "Over the course of eight weeks in the fall of 2011," Sittenfeld writes, "twenty-five single women had lived together in a mansion in Rancho Cucamongo, California, and vied for Chip's heart: accompanying him on dates to play blackjack in Las Vegas and taste wine at vineyards in Napa Valley, fighting with and besmirching one another in and out of his presence."
The primary thread in Pride and Prejudice—Lizzy's relationship with Mr. Darcy—feels almost like an afterthought in Eligible. In the foreground is Liz's far more interesting and antagonistic relationships with her mother and her sisters. Compared with the more industrious Liz (a magazine writer), Kitty and Lydia (both CrossFit fanatics) are aimless and spiteful 20-somethings who live primarily for social media and personal grooming—a by now classic type: Instagram-savvy wannabes waiting for fame to find them. "Kitty and Lydia had never worked longer than a few months at a time, as desultory nannies or salesgirls in the Abercrombie & Fitch," Sittenfeld writes. "…  Primarily what occupied the younger Bennet sisters was eating lunch at Green Dog Café or Tellers, texting and watching videos on their smartphones, and exercising." In other words, all the activity of an average episode of Keeping Up With the Kardashians.
The intrafemale rivalry between Liz and her sisters—a central theme in Austen, as Sandra Gilbert and Susan Gubar emphasize in their seminal 1979 feminist reading of 19th-century women writers, The Madwoman in the Attic—is also the lifeblood of reality shows featuring women; without it, most series would surely wither and die over plotlines crucially deprived of drama. Austen, Gilbert and Gubar write, explores the "hostility between young women who feel they have no alternative but to compete on the marriage market," alert to the ways in which "female anger is deflected from powerful male to powerless female targets."
To judge by the current season of Keeping Up With the Kardashians, the male has that figured out, but it's not clear the women have. A key element is the relationship between Blac Chyna and Rob Kardashian, who for several years now has been a recluse, avoiding the spotlight while his sisters bemoan his weight gain. But after meeting Chyna, Rob has unexpectedly returned to social media, posting videos and pictures of himself and his new girlfriend, many of which seem to pointedly denigrate his sisters and his mother. Chyna, once a friend of Kim's, is now the subject of frequent unhappy phone calls between Kim and her family, all of which are conducted via speaker for the benefit of the cameras.
It's tempting to wonder what Austen's characters would make of it all—of the women clamoring to line up for a marital cattle call on The Bachelor, or of the insults the Kardashians hurl at each other. Miss Bingley's sniffed remark that Elizabeth Bennet is one of those women who "seek to recommend themselves to the other sex by undervaluing their own" is cutting enough, and suggests she has more insight than she might suspect into the dynamics of female relationships in societies where men have all the power. But it isn't quite as brutal as Kendall Jenner calling her mother "a desperate f**king whore" to her face, on television.
For Austen's heroines, an advantageous marriage is a necessity in a world that offers them next to no other choices—a fact that radically distinguishes the 18th-century husband-hunters from today's dating-show contestants. Without a husband, Lady Susan could very easily end up on the street. Without the ability to work or inherit property, the Dashwood sisters of Sense and Sensibility are forced to move to a tiny cottage while their manipulative sister-in-law takes over their family home. "One of the points Austen is making is that Lady Susan is just what … books advised women to be," Tomalin writes. "She has perfectly mastered the art of using the conventions of society to get what she wants." So, too, the best reality-show stars master the conventions of their genre—without ever seeming even slightly tempted to question them.
"Marriage is indeed a manoeuvring business," Austen wrote in Mansfield Park, a novel in which a quiet, plain, sweet-natured girl nevertheless wins out over an evil aunt, a pretty schemer, and an adulterer, and ends up with her true love. Not something, you'll note, that would ever happen on The Bachelor.