The Good Clothes
The Good Wife, which ends its seven-season run on Sunday, made use of its costumes in a way few shows have—giving them things to say about feminism and class and the complex interplay between the two.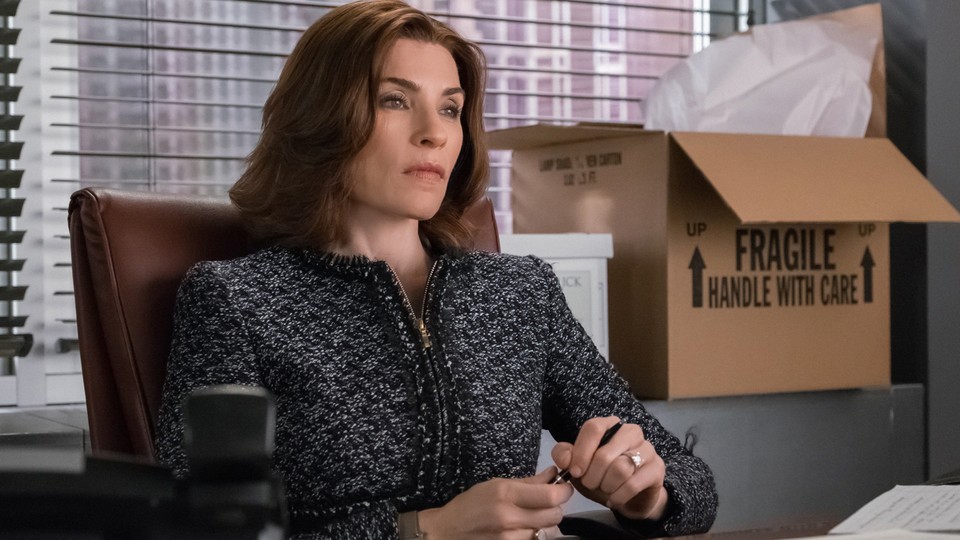 The Good Wife begins with a pair of suits. Two people, a man and a woman, walk down a long hallway, each clad in that classic costume of conformity. The woman's suit is gray-and-black wool houndstooth, slightly boxy in cut, clasped with mother-of-pearl buttons; the man's is black, with just a hint of white sleeve peeking out from under the arm. The faces in that first scene remain just out of frame; the suits' fabrics swish and bunch, their folds and shadows exaggerated by the harsh lighting of a cavernous hall.
Quickly, we learn that the faceless couple is Alicia and Peter Florrick, and that they're on their way to the press conference in which he will announce his resignation as Cook County's State's Attorney, confess his repeated infidelity to his wife, and otherwise engage in the time-honored yet quintessentially modern ritual of the performative political apology. Alicia will stand beside him while he does all that, stoic and sad and exhausted, the rigidity of her pencil skirt and woolen jacket seeming to help her stay upright as the callous cameras flash. And then, abruptly, in the next scene—six months after the first one, the show informs us—we see her again. She is no longer pale. She is wearing a pantsuit instead of a skirt, and a jacket that is, unlike the first, perfectly tailored to her form. She is wearing stilettos. Actually, she is running in them.
The Good Wife, which ends its seven-season run on Sunday, is rightly celebrated not just for its nuance and its depth and its ability to fuse ripped-from-the-headlines news stories with the fates of its characters, but also for a more superficial achievement: clothing that is consistently awesome.
The show is one of a not terribly large cadre—among them Empire (Cookie!), Scandal (Olivia!), The Mindy Project, Mad Men, Sex and the City, Girls—that treat costuming as a matter not just of production, but of literary ambition. Alicia's evolution as a character, from "the good wife" to "the good so-many-other-things," is suggested by the evolution of her suits—a rough trajectory from Talbots to Tahari to Thakoon. The sartorial choices of her fellow protagonists—particularly the female ones—suggest a similar telegraphic aim. The Good Wife is a later-in-life bildungsroman, a televised reassurance that one can come of age at any age; its clothes reflect those evolutionary impulses.
The show's costuming is overseen by Dan Lawson, who maintains an enormous closet for each major character ("300, 350 for Alicia," he estimates, of the suits alone, "and probably 250 suits for Diane"). And the clothes he chooses for the show's female characters, whether they're worn by Alicia or Diane or even the singular Kalinda, tend to be united by shared impulses and styles: They favor designer brands, fuse masculine and feminine touches, make copious use of high heels, and are always precisely tailored to their wearers' bodies. (This is an aesthetic choice that doubles as a pragmatic one: Baggier sleeves and A-line skirts—cuts that can add visual bulk in two dimensions—simply don't work on camera, Lawson told The Huffington Post.)
What results is a uniformity of style that transcends the clothes' minor variations (Diane's brooches, Lucca's love of bold patterns, Kalinda's boots) and even its major ones (pantsuits versus skirt suits versus dresses). It results in the sartorial aesthetic that defines the show. I've come to think of it as, all in all, The Suit.
As deployed by Lawson—and by Michelle and Robert King, The Good Wife's vastly undercelebrated showrunners—The Suit suggests the thing that most any suit will, in its whiff of corporate uniformity: the marriage of capitalism's individualistic impulses and its social demands. The Good Wife, unlike most of its fellow network dramas but very much like the "prestige dramas" on offer elsewhere, may be extremely suspicious of institutions, from the justice system to to law enforcement to organized politics to organized religion to marriage; what the show revels in, though, are the human-scale satisfactions of the communal endeavor. The cases won by Lockhart Gardner Stern, and later by Lockhart Gardner, and later by Florrick Agos, etc., are almost always won through the work of many, many people—lawyers, paralegals, investigators, DAs, "interested parties" of varying stripes—coming together at just the right moment.
And on the flip side: Many of the show's most pernicious moments—Eli's deleting of a voicemail, Alicia's incremental betrayals of Will and Diane and Cary—come about as the result of a character going rogue. (Going Rogue itself, Sarah Palin's work of self-promotional autobiography, comes in for repeated mockery during the show's middle seasons.) And many of its most redeeming happen when characters act, sometimes at a sacrifice to their own interests, for a greater good.
The Suit, the literary style—by way of the suit, the sartorial one—suggests The Good Wife's principled impulses. Notably, the suits on the show are not especially daring, as many of the iconic woman-worn suits of TV shows past have been (Ally McBeal's micro-minis; Samantha Jones's chest-revealing shirtless jackets). They are subtly performative, though. They represent a fusion of self-expression and self-abnegation, a beautiful, tailored collision of the individual and the collective. If the power suit of the '80s and '90s, donned by a woman, suggested the insistence of the women's movement, The Suit of The Good Wife suggests its normalization.
So when Diane shows up to work wearing her signature mix of menswear-style cuts and ultra-feminine details (scarves, bold colors and patterns, Albrightian statement brooches), that choice suggests the daily nuances of a life lived as that most profound of cliches: "a woman in a man's world." Kalinda's blending of materials both hard and soft, both sexual and professional—leathers and silks, bustiers and blazers, those omnipresent over-the-knee boots—suggests both her complicated character and her attitude toward the world at large. Lucca's penchant for bright, bold patterns—though relegated per the edicts of the show to the tailored confines of suits and shifts—suggests the relative freedom that younger generations of women might feel in the workplace (a luxury not always felt by women who were alive during the era of bra-burning).
Even the exceptions to the omnipresence of The Suit—like Elsbeth Tascioni, the mad genius whose lawyerly silks are a little too shiny and whose pantsuits go awkwardly un-tailored—prove the rule. Elsbeth may blend patterns that don't match and repeatedly violate Dan Lawson's "no excess fabrics" rule through her extreme fondness for ruffles; even she, though, wears suits. Even she, wacky as she is, dons the uniform of corporate conformity. It would never occur to her not to: She's a lawyer, and lawyers wear suits.
What's also notable, though, is how many of the show's subsidiary characters—Lucca, Alicia's friend and colleague; Nancy Crozier, her occasional, savvier-than-she-seems opposing counsel; Wendy Scott-Carr, another fellow-lady-lawyer and Peter's one-time rival for State's Attorney; Viola Walsh; Maddie Hayward; Caitlyn D'Arcy; Dana Lodge—are as sleek and tailored in their clothing as Alicia is. For some of them, that's not surprising: They, too, are high-powered lawyers, and they, like Elsbeth and Alicia, are dressing the part.
But Lucca is a character whom Alicia first met as a bedraggled bond court attorney. Caitlyn is a bedraggled associate lawyer. Wendy works for the decidedly un-glamorous State's Attorney's office. So does Dana. Yet they all, in their way—seemingly regardless of income or the day-to-day demands of their jobs—wear The Suit. They are all tailored and pressed and laser-cut. For a show that prides itself on the connections it maintains to the world beyond its borders, that strikes a discordant note.
In that sense, The Suit also serves as evidence of one of The Good Wife's very few flaws: its simultaneous embrace of, and ambivalence about, matters of money and salary and class. The show's plot is, after all, premised on all those concerns: Alicia joins Lockhart Gardner Stern in the first place because she needs to go back to work after Peter's extensive legal bills soaked up their savings. ("Thanks for playing the breadwinner for a while," Peter tells his wife at one point, before assuring her, apocryphally: "It won't last forever.")
The show is often refreshingly blunt about money, from its attention to Kalinda's ongoing salary negotiations with Diane and Will, to Alicia's thwarted quest to buy another house, to the partners of Lockhart Gardner's almost comically cyclical need to pool their financial resources for purposes of bail-posting or lawsuit-fighting or business-starting. The Good Wife's pilot features Alicia icily informing Peter of the influx of money they've just received from selling their Highland Park house: "We'll use most of it for your court costs, the rent will come out of my salary, and the kids are gonna have to stay in public school."
But the flip side of The Good Wife's desire to shine a light on the places that have remained largely shadowed in network TV—checkbooks and bank accounts and the financial concerns that trouble the lives of so many of those shows' very real viewers—is its profound shyness about the social implications of those things. Alicia, after informing her husband about their family's need for financial belt-tightening, proceeds to rent a sprawling apartment that seems to have sprung, fully formed, from the edit wall of Architectural Digest. She quickly swaps the Casual Corner-esque suit she wore in the first episode for designer numbers that, Dan Lawson has made sure, are perfectly tailored to her form. She meets the many other characters who, regardless of the incomes you'd think their jobs would afford them, end up donning some version of The Suit: fitted and fashion-forward and otherwise "fancy."
So the distinctive sartorial style of The Good Wife, for all the good it has to say about the progress women have made, is also notably silent about other kinds of progress. The Suit suggests a bit of blithe classlessness. The Suit's omnipresence on the show emphasizes the fantasy elements of The Good Wife—the fact that it is, on top of everything else, an extremely well-produced soap opera—while eliding the cumbersome fact that, in the world beyond Lockhart Gardner, designer clothes are of course the province of the elite.
The Good Wife's costumes, for all their beauty and drama and get-thee-to-saks.com charms, also engage in a kind of sartorial monomyth: They implicate their wearers in an elaborate tale about clothes as class, and clothes as its opposite. They are at once democratic and aristocratic, yet they refuse to acknowledge themselves as either. They are one more way that The Good Wife takes its various microcosms and amplifies them to an insistent macro—a visual version of, say, the show's treatment of a campaign for Cook County State's Attorney as if it were one for U.S. president. The clothes suggest the show's generally brilliant but occasionally jarring tendency to bring its many perspectives into explosive collision: Its events are at once small and broadly symbolic, at once fantastic and messily real, at once beautiful and—ever so slightly—ugly.
The word "suit" comes from the Latin for "following"; it is also related to ideas of pursuit and chase. (Those meanings also gave rise to the "suit" in the legal sense.) The Good Wife's celebration of the suit in all its forms nods to that complicated history: It suggests clothing that both conforms and resists, clothing that is both passive and aggressive. The Good Wife was, from the beginning, inspired by real-life events; it's fitting, then, that the clothes have, as the show has grown in popularity, taken on lives of their own. Viewers delightedly meme Alicia's outfits and Tumblrize Diane's (fuckyeahdianelockhart!) and otherwise disentangle The Suit from its dramatic context to stand on its own, as images and as evidence of the extremely thin line between TV's fictions and those of the real world. It was news—literally, news—when Michelle Obama, during last year's State of the Union address, wore the same zip-front Michael Kors jacket that Alicia had worn in an episode of the show. And when Alicia wore the same L.K. Bennett peplum jacket that had once also graced the midsection of Kate, the Duchess of Cambridge.
"Be still, our beating hearts!" InStyle gushed, revealingly. "Look who wore the same jacket: two good wives, fictional and real."