RuPaul's Drag Race and the Art of Self-Love
The reality show's emphasis on the survival stories of its contestants reveals how performance can be empowering.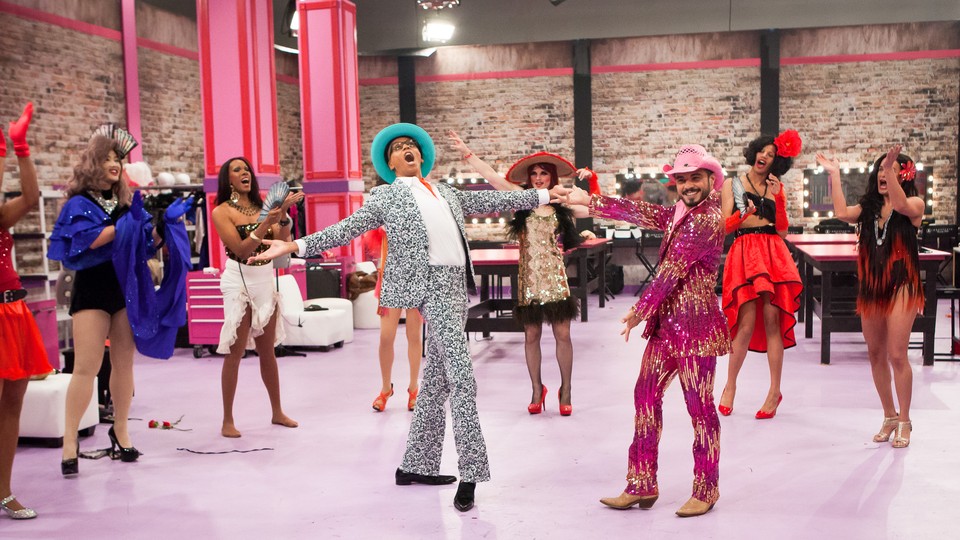 The most successful drag queen in American history ends every episode of his long-running reality-TV show, RuPaul's Drag Race, in the same way. "Remember, if you can't love yourself, how in the hell are you gonna love somebody else?" he asks, beaming at the queens who've survived another week in the competition. "Can I get an amen up in here?"
The simplicity and earnestness of the declaration may strike those unfamiliar with the Logo show as hollow, more like a catchphrase than a mantra, but this rhetoric of self-love as a form of self-care has always been essential in the world of drag. The composer Jerry Herman captured the therapeutic value of the tradition in a song from the 1983 Broadway hit La Cage Aux Folles. In the tender number "A Little More Mascara," the character Albin sings about the palliative power of turning into the star performer Zaza: "To make depression disappear / I screw some rhinestones on my ear / And put my brooches and tiara / And a little more mascara on." More recent drag narratives—from The Adventures of Priscilla, Queen of the Desert, to Hedwig and the Angry Inch and Kinky Boots—have carried the same undertones of self-empowerment.
Though RuPaul also subscribes to this idea of self-care as a natural outgrowth of drag, his show differs crucially from its film and theater predecessors. When Zaza hustles out her highest drag as her spirit starts to sag, she does so in the solitude of her own dressing room—away from her partner and the world around her. But when RuPaul's queens face the long vanity mirror that flanks the pink workroom where they get ready, they often discuss their personal experiences with body image, self-esteem, prior prison convictions, and homelessness—in front of the camera and thus with the entire world. In other words, the reality-TV format of RuPaul's Drag Race turns what are typically private, confidence-boosting anthems into communal moments for public consumption.
In this, the show much like drag itself, is reality TV's limit case, maximizing the entertainment value of its contestants' personal histories. And yet despite being produced in service of the genre's thirst for fabricated authenticity, the added layers of performance (on camera and on stage) and the salient LGBT issues make these moments ring all the more true, in a refreshingly direct way.
To heighten the connection between the queens' love of drag and their survival stories, the show's producers often edit contestant interactions together with more personal confessionals. Early on in the show's latest season, in a clip that Logo has billed online as "The Queen's Open Up," Kim Chi, a Chicago queen, talks about dealing with weight issues. Though she exudes the confidence to pull off her avant-garde looks (she describes her drag persona as "a live-action anime character who works as a high fashion model"), she gives a firsthand account of the obstacles she faced growing up as "the weird, fat, art kid who had a strong lisp and a strong accent," before finding in drag a creative outlet that allowed Kim to emerge. As another queen later puts it, "When I was an overweight kid being ridiculed and made fun of, I wanted to have that poise and that confidence and that power. And now finally, with drag, I can do that."
It's a common refrain on the show, and one that speaks to RuPaul's own beliefs, which he's turned into a bestselling self-help book titled Workin' It!: RuPaul's Guide to Life, Liberty, and the Pursuit of Style. The book distills the wisdom he doles out on his show, perhaps best summed up in the Oprah Winfrey-esque saying, "You're born naked and the rest is drag." This, one of Ru's most famous lines, gets at precisely the way he understands drag as a practice that destabilizes identity, but also one with use beyond the specificity of drag performance. It's what he tried to establish with his other reality TV show, Drag U.
A spinoff of Logo's banner series, Drag U used the template of pushing drag performance as a way to encourage inner confidence in "frumpy and shy" cisgender women. Much like in Drag Race, RuPaul meets individually with the women he's coaching, modeling a type of life-coach session. In an episode featuring the TV personality Downtown Julie Brown, the conversation revolved around moving beyond wigs and makeup and dresses to find the essence of what drag could do for her—what RuPaul dubs the "emotional transformation" that takes place when you hit the stage, and which presumably helps you "find the you that you want to be," as Brown puts it.
In this broader sense, the question of "why drag?" takes on renewed vigor. It's no surprise that RuPaul's longtime friend, the famed New York performer Lady Bunny, would frame the answer to such a question—in itself the title of the celebrity photographer Magnus Hastings's upcoming photography book—in those very terms. Drag is "my armor," she writes. "My mask, or whatever you want to call it that gives me confidence." Many queens do approach drag from a purely performance or artistic angle, but RuPaul's Drag Race is giving new life to the idea of the practice as a way to conquer personal shortcomings.
Another recent narrative that links personal growth with drag performance is Jeffery Self's new YA novel, Drag Teen. The touching and hilarious "tale of angst and wigs" centers on JT Barnett, a young, gay, overweight high-school senior from Clearwater, Florida, who's beginning to fear he may never get out of his small town. In the novel's narrative, JT's only chance to escape from a dead-end job at his family's gas station is a teen drag competition in New York. Luckily, he's a drag aficionado—who learned about this art form from RuPaul's Drag Race. Just as he'd been inspired by watching "that old '90s movie," To Wong Foo, Thanks for Everything! Julie Newmar, JT finds the queens on Ru's show to be beacons of hope: "[They] knew how to cope with their inner strands of self-doubt and sew those strands into something fabulous. Usually a dress."
Self's repurposing of drag as emotional therapy is all the more fascinating for the way it refuses to accept the passivity of the "It Gets Better" rhetoric that's monopolized LGBT youth-aimed activism. Instead, he adopts the active language of drag and performance. This allows JT to stress the serious effort it took to become himself and to project himself into, in the words of the novel, an "otherwise" previously believed to be unimaginable. It's the inverse of what viewers saw in the final taped episode of last season's Drag Race, where RuPaul asked the four finalists to address their younger selves—a device he has deployed again this season, suggesting he's intent on making it a staple of the show's final episodes moving forward.
"What would Pearl have to say to little Matthew?" Ru asked the final queen standing in front of the show's judging panel. The prompt was an attempt to, as usual, marry pop psychology with the very essence of drag. To talk back to their younger selves from a different identity in both time and kind, the queens were made to think of their personas as necessary extensions and logical responses to those bright-eyed boys whose photos RuPaul held in his arms.
In the contestant Pearl's case, viewers had already heard quite specifically how she'd dealt with the personal demons that haunted her as a child and how "little Matthew" eventually found in drag a means through which to overcome them. "Pearl was this character that I would draw just 'cause it distracted me from, like, the horrible things that I felt were going on around me," she'd confessed to the camera earlier during the season, "And one day I just painted her on me." You can see why such a narrative would appeal to RuPaul: It speaks to the way he has often talked about his own desire to don a dress, a wig, and some heels.
In a way, the show's weekly final moments, which feel like a celebration ("now let the music play!" RuPaul commands as the credits roll), can be read as a hopeful reworking of that other famous cultural landmark that brought viewers backstage to meet the queens of the ball: Paris Is Burning. Jennie Livingston's seminal 1990 documentary ends on a decidedly dour note, with a queen putting on some more mascara on and summing up the wisdom she now espouses: "You've made a mark on the world if you just get through it … You don't have to bend the whole world. I think it's better to just enjoy it." Her voice suggests abdication, the hardened outlook of someone who struggles just to get by. In the privacy of her dressing room, facing herself in the mirror, the drag queen Dorian Corey refuses to buy into the illusion of her own performance as anything but a provisional reprieve from her daily existence.
Twenty-five years later, RuPaul's show suggests a more earnest belief in the self-affirming role that drag can take. The issues may, depressingly, remain all too familiar (Drag Race has had contestants open up about HIV diagnoses, family intolerance, suicidal thoughts, and self-hatred), but RuPaul's platform depends on celebrating their survival stories. As he put it most recently in his sit-down interview with Vulture, drag "actually didn't save my life, it gave me a life." It's no surprise he's dedicated his most recent platform to give others the chance to really embrace theirs.