Preacher: A Refreshingly Fun Comic-Book Drama
AMC's new series is a ridiculous, ultra-violent thrill ride that only works because its tongue is planted firmly in cheek.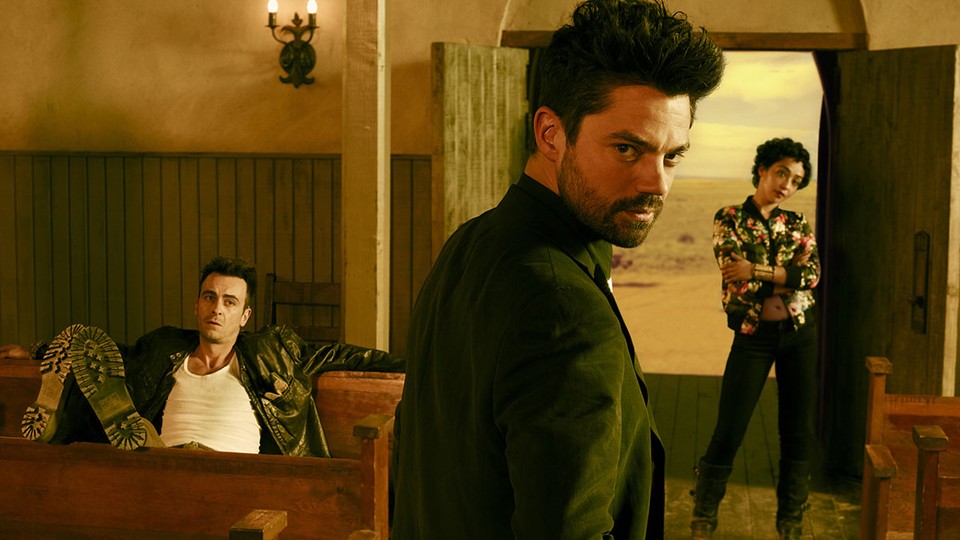 In the TV world, the words "comic-book adaptation" are usually enough to inspire feelings of dread. Not because of their quality but because of their tone: Dramas like Daredevil, Jessica Jones, and The Walking Dead are among the most gripping small-screen offerings ripped from the comics rack, but they share a particularly bleak outlook on life. Perhaps that's why AMC's new show, Preacher, stands out in a genre over-clogged with darkness: Though it stays faithful to the original landmark Vertigo series, which is known for its gory ultra-violence, it also remembers to have plenty of fun along the way.
That's perhaps unsurprising considering Preacher's creative team. The show is looking to fill the boots of The Walking Dead as AMC's next big genre hit, but it's been adapted for the screen by the comedy veterans Seth Rogen and Evan Goldberg, best known as writers for their work on films like Superbad and This Is the End. The pair's devotion to Garth Ennis's Preacher, an indie comics hit that ran from 1995 to 2000, shepherded it to the small screen after many failed attempts to translate its transgressive themes into Hollywood formula. As a series, Preacher announces its strange, heightened tone in its first scene: Seized by some demonic energy in the middle of a sermon, an African priest suddenly explodes all over his congregation. Preacher's going for gross and, with its tongue planted firmly in cheek, it doesn't shy away from the wise-cracking, pulpy excitement of its genre.
The aforementioned priest isn't the only religious leader spontaneously exploding in Preacher's pilot episode—throughout the first hour, the same supernatural accident befalls several people of faith, including (in one of the show's funniest cut-away gags) Tom Cruise on his Scientology dais. Rogen and Goldberg (who directed the pilot, which was co-written by the Breaking Bad scripter Sam Catlin) move between this growing apocalyptic mayhem and the travails of a disenchanted small-town preacher, Jesse Custer (Dominic Cooper), who's weighing leaving his flock behind before he's imbued with an unknown supernatural power.
There are plenty of disparate threads to unite—work the pilot episode only partially embarks on. While Jesse is dealing with the troubles of his local congregants, the audience is also introduced to Cassidy (Joe Gilgun), an Irish drifter skilled in the art of destruction with an odd aversion to sunlight, and Tulip (Ruth Negga), some kind of mysterious super-assassin on the run who's easily the breakout character of the show's early episodes (four were provided to critics). Soon enough, everyone's paths begin to intertwine, but don't expect a quick explanation for exactly what's going on.
Preacher has a lot of plot to get through, and though it's a relatively faithful adaptation of Ennis's comic, it steers away from mindlessly following his story, instead drawing out the humor and humanity in his central characters. Ennis's work was a profane, violent jolt to the genre in 1995 that feels a little tamer two decades later, so it's good that Preacher mostly avoids congratulating itself for being blasphemous. After the priest-exploding stunts of the pilot episode, the focus wisely narrows onto the show's core characters, including Cassidy, Tulip, and the grotesque Eugene Root (Ian Colletti), a boy disfigured by a suicide attempt.
With Preacher, AMC has somehow delivered another show that, like The Walking Dead, is set in the Deep South and mostly features a British cast adopting country drawls. But it's hard to fault Cooper's casting. In a television world burdened with flawed male protagonists, Custer's angst is happily not the primary focus of Preacher after the first episode, when he's suddenly imbued with mysterious power and starts to explore its higher celestial purpose. Gilgun's Irish brogue is nigh-impossible to understand, but it barely matters—he brings the same anarchic, sparking energy that made him such a standout in the U.K. cult hit Misfits and the silly sci-fi caper Lockout.
But Negga is undoubtedly Preacher's ace card, and Rogen and Goldberg prove they know it, directing her first appearance (a barnstorming, bloody action scene witnessed by a delighted pair of children cheering from the sidelines) with gleeful bravura. That's what sets this show apart from its miserable apocalyptic cousin, The Walking Dead series, which remains the crown jewel of AMC's schedule from a ratings perspective. That comic-book adaptation has such a desolate tone that Preacher is almost worth watching just as a necessary salve: a reminder that though many comics are filled with lurid violence and never-ending threats to humanity, that doesn't mean they all have to be portentously grim affairs.