Moogfest 2016: A Futurism Weighted With History and Trepidation
At the music and technology festival, artists paid tribute to the pioneering synthesizer and its creator—sometimes more in spirit than in sound.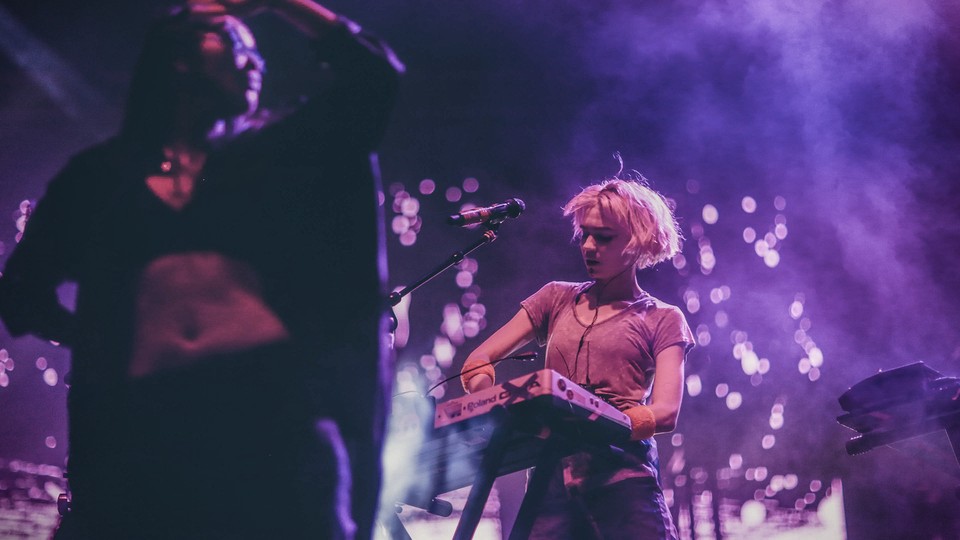 DURHAM, N.C.—There are festivals devoted to musical genres and subgenres. There are festivals centered around particular bands. There are festivals focused on specific instruments—guitars, violins, horns. There are festivals that celebrate certain aesthetics, festivals where all of the acts pair mysteriously well with particular narcotics, and festivals that seem mostly designed for profit.
What makes Moogfest unusual, and intriguing, is that it's oriented somewhat orthogonally—centered not exclusively around the Moog synthesizer, one of the first commonly used electric synths, but billed as a tribute to Bob Moog, who designed it. (It's pronounced "mohg," in case you weren't sure.) As such, it brings together a strange coalition of sounds, such that some attending the festival might, within a few hours, take in sounds ranging from Grimes's edgy pop to the synth O.G. Gary Numan performing a classic album to a thumping DJ set by the Black Madonna. The result is pleasantly disorienting, a mix of sounds that helps keep visitors from falling into the weariness and auditory ruts that are a risk at any multi-day festival.
The converse of that benefit is that it's impossible to succinctly sum up the sound or zeitgeist of this year's Moogfest. But a few particularly outstanding sets might help to map out the landscape.
The buzziest set of the three-day run, so far as I could tell, was Blood Orange, the alter-ego-cum-band of Dev Hynes. With good reason: It was an unstoppable performance. It's hard not to think about Prince this spring, but Blood Orange delivered a particularly Princeian performance. Hynes fronted a larger ensemble—six other musicians, including a pair of backup singers—and he sang, danced, and played incendiary propulsive, funky Nile Rodgers rhythm guitar. Live performances gave a ragged edge to the meticulously constructed electronic R&B of his records. This was sexy, sexual music—though sometimes tinged with paranoia and disappointment—and somehow a backdrop of sun-drenched images of Manhattan in late afternoon made it seem even more louche. But Hynes also worked to connect not just with the audience's feet and baser impulses but with their brains. The set began with a brief rendition of "Afro Blue," the Mongo Santamaria tune most associated with John Coltrane, and later quoted "A Love Supreme."
About an hour after Blood Orange finished up—too soon for anyone in the audience—Daniel Lanois played a set a few blocks away. Lanois is best known for his collaborations with Brian Eno and his production work (U2, Bob Dylan, the Neville Brothers, Emmylou Harris), but he's also a skilled guitarist, pedal-steel guitarist, and songwriter. His performance, with the lap-steel guitarist Rocco DeLuca and the bassist Jim Wilson, could hardly have been more different. Most of the set was a meditative, calm collection of songs, like a rendition of "The Maker" even more ethereal and trancelike than the recording. For a few songs, though, Lanois (with help from Wayne Lorenz) performed electronic compositions consisting of pre-recorded tracks that he manipulated and mixed live. Lanois finished after 1 a.m.—and then only under apparent pressure from the house staff—with a inspired run through DeLuca's "We Congregate."
Similarly meditative, and otherwise entirely different, was Laurie Anderson's performance on Saturday. Anderson played keyboards and violin as she delivered her trademark spoken-word style—a series of stories, loosely strung together and often politically focused that were by turns hilarious and chilling. At times, she didn't even play, but just sat in a chair on stage and spoke. The opening story involved a correspondence with then-Senator John F. Kennedy that culminated in JFK sending the 13-year-old a dozen roses to congratulate her on a winning student-government campaign. Later, she refashioned Aristophanes's The Birds into a parable to criticize Donald Trump.
Few of these performances, you may have noticed, rely much on analog synths like the Moog, or on any synths at all. But there's a thread. Hynes's electronic R&B flows from a synth-driven milieu. The cool detachment of synths has been an essential element of Anderson's oeuvre. Lanois, meanwhile, is an obsessive sound freak and gearhead, and even his pedal steel was run through a series of carefully orchestrated effects. (A careful listener could hear the clatter of the steel's pedals amidst the swells of sound, a poignant reminder of the physical and mechanical work that undergirds even the most electronic music.)
Other performers addressed the role of modern musical tools in other ways. Daniel Bachman, a talented guitarist in the mold of John Fahey, performed with peculiar instruments built by Forrest Marquisee—strange cylindrical, hand-cranked beasts that created a fuzzy, droney electronic feel without any electricity. GZA, on the other hand, has built a career rapping over carefully crafted beats that depend on sampling technology, yet he played the second of two nights with a powerhouse live band. (I didn't catch Gary Numan's sets, which were attended by a throng of rabidly excited middle-aged men; one attendee had reportedly been to a Deadhead-esque 400 Numan shows)
Among the other acts I saw were Floating Points, delivering a Pink Floyd-reminscent set; Odesza, a pair of Seattle rhythmbros who played a fun if not especially challenging set of EDM, occasionally backed by live performers; and Grimes. The latter, a dance-pop critical darling, has in the past struggled with performing live. While she seemed nervous between songs, her stage show was exhilarating, backed by three young women who danced and occasionally played instruments. The music itself seemed unusually poppy for the audience—"weird music for normal people," a friend suggested. More interesting was an installation put together by Grimes, Listen, and Microsoft that used interactive technology to allow listeners to affect the song: By pushing on mesh nets arranged in a dark tent, listeners could affect the volume of certain elements of the song, or tweak the equalization of the mix. Another exhibition gave attendees the chance to play and buy a range of synthesizers, both Moogs and other brands, as well as theremins. Some people signed up for workshops to build their own.
With its celebration of Bob Moog's technological advances, Moogfest is also in part a tech conference. This year's theme revolved around "Future Sound" and "Future Thought." It was also the first time Moogfest has been located in Durham, after previous stints in New York City and then in Asheville, North Carolina, the hometown of the Moog company but a more remote location. That fits nicely with Durham, which is positioning itself as an East Coast alternative to Silicon Valley and Austin, and there were faint echoes of South by Southwest. (The sidewalks of downtown were plastered with somewhat eyeroll-inducing propaganda about the city's friendliness to startups. To the relief of residents and attendees alike, Moogfest remains less overwhelming than SXSW.) Martine Rothblatt, a pharmaceutical CEO and founder of SiriusXM delivered one keynote, focusing on creativity and futurism—though her presence, as a transgender woman, stood as rebuke to HB2, the recent North Carolina law targeting transgender bathroom accommodation.
A festival celebrating a 50-year-old analog synthesizer is bound to attract different viewpoints—including those who admire the Moog's innovation but eye more recent technologies with some trepidation, complaining they lack the warmth or naturalism of the original Moog. Fittingly, then, there was a current of dubiousness about the future running through the festival. A second keynote featured the VR pioneer-turned-technoskeptic Jaron Lanier, but a particularly pointed moment came in the midst of Laurie Anderson's show, which she calls "The Language of the Future." Speaking over soft keyboard chords, she recalled an encounter with the author Gary Shteyngart, then in the midst of an experiment with Google Glass that seemed to be doing no favors to Shteyngart, his interlocutors, or Google. Perhaps, Anderson seemed to suggest, to seek the language of the future is to open a virtual Pandora's box.