The Noble Futility of Madonna's Prince Tribute
Her patchy Billboard Awards performance is drawing the inevitable flak, but fortunately other artists will get their chances to pay homage.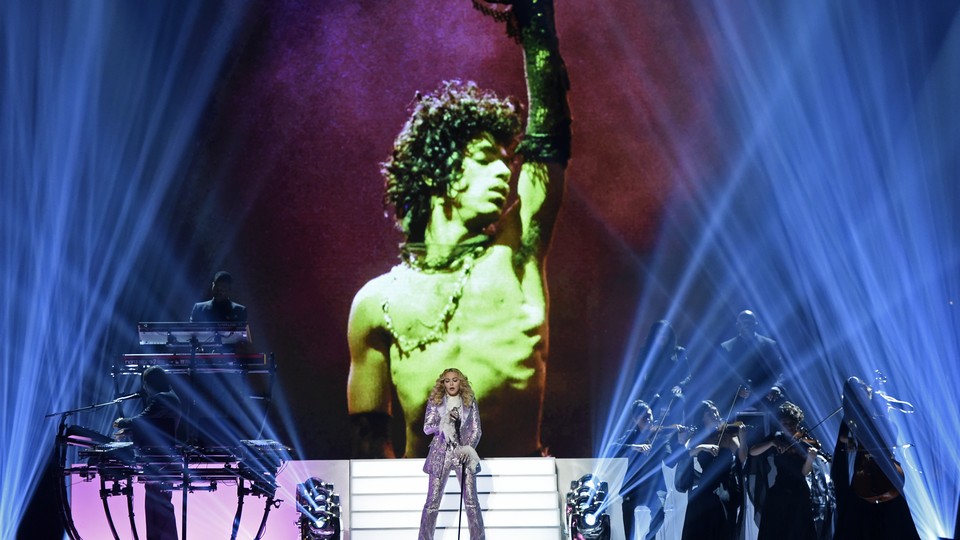 What's a tribute, anyway? Sunday night's Billboard Music Awards, the most soul-crushingly cynical of the soul-crushingly cynical music-awards shows, encouraged viewers to take an expansive definition of the word. Britney Spears's opening set, where she determinedly walked through a medley of her hits and deep cuts, felt like nothing so much as a tribute to her past relevance. Kesha's powerful version of "It Ain't Me Babe" was less an homage to Bob Dylan than to her times as a more carefree pop star. Celine Dion doing Queen's "The Show Must Go On" was an act of personal, public mourning.
But the most divisive performance of the night was the only memorial that was really billed as such—Madonna's pitchy but pious rendition of "Nothing Compares 2 U" and "Purple Rain" with Stevie Wonder. The performance was, at its most basic level, a tribute to Prince, but like so much of the evening it felt like a statement of futility: Something's gone forever, and the only, imperfect thing to do is sing about it.
That BET was so quickly able to advertise its forthcoming Prince tribute by bashing the Madonna one that had just aired ("Yeah, we saw that. Don't worry. We got you.") was a sign of how opinions around her performance had formed before it began. Madonna and Prince were peers on the charts, gained popularity in part through transgression, and had a real but complicated—and at times bitter—relationship. So it makes sense that she'd memorialize him at some point, somewhere, and an awards show where nominations are largely determined by record sales is, as these things go, a pretty low-stakes venue. But while he always was able to seem like a genuine freak, she has never been able to escape the impression of trying very hard for attention, and as a musician her strengths are very different from what his were. The fears of a catastrophe, something that tried to eclipse Prince's achievements with Madonna's antics, were high.
But showboat Madonna did not. This was as textbook-definition-respectful a set as anyone could have expected. The visuals were right: a flawless glistening suit as fashion homage, in front of images of Prince that were, appropriately, dwarfing. Her song choices did not try to wow with eclecticism, nor did they try to force a comparison between Prince's dance songs and Madonna's. Rather, they aimed for the tear ducts of the masses. In bringing in Stevie Wonder for "Purple Rain," she made a respectable choice to share the stage with someone who highlights different, significant parts of Prince's legacy.
She may have thought that all of these things meant she was playing it safe, but that idea discounts the fact that vocal ability is a real thing. Madonna simply isn't equipped to hit the notes needed to convey the ache of these ballads. This gives the backlash that was already inevitable a devastating amount of legitimacy: You can point to her performance itself, not the politics of it, to make the case she wasn't qualified for the gig. An uptempo song might have been a better fit, both for Madonna's sake and the memory of Prince's. At the very least, it seems like a mistake to let the need for weepy in-memorium strings prevent there from being a guitar anywhere on stage.
But then again, does it matter? The announcement of BET having a Prince tribute of its own is a reminder that when someone as huge as this dies, no one person is going to be able to sum them up. After David Bowie passed earlier this year, Lady Gaga staged a frenetic Grammys medley that was precisely the opposite of Madonna's approach last night—yet received similar accusations of arrogance and miscalculation. At later occasions, other performers from Lorde to the Flaming Lips to Cyndi Lauper took their worthy shots at covering Bowie, and as a result his legend has only grown.
So it shall be with Prince, as Questlove, who introduced Madonna's set, pointed out on Twitter. He added, "Every Prince rendition will not be a life changing orgasmic xperience. Just to SING his work is brave enough." I saw another comment today that summed up the failure of most tributes: "The thing about irreplaceable artists is that they are irreplaceable." Nothing compares.