Klay Thompson Is the NBA's Most Underappreciated Player
The Warriors' flashier players tend to command more attention, but Thompson is subtle effectiveness personified.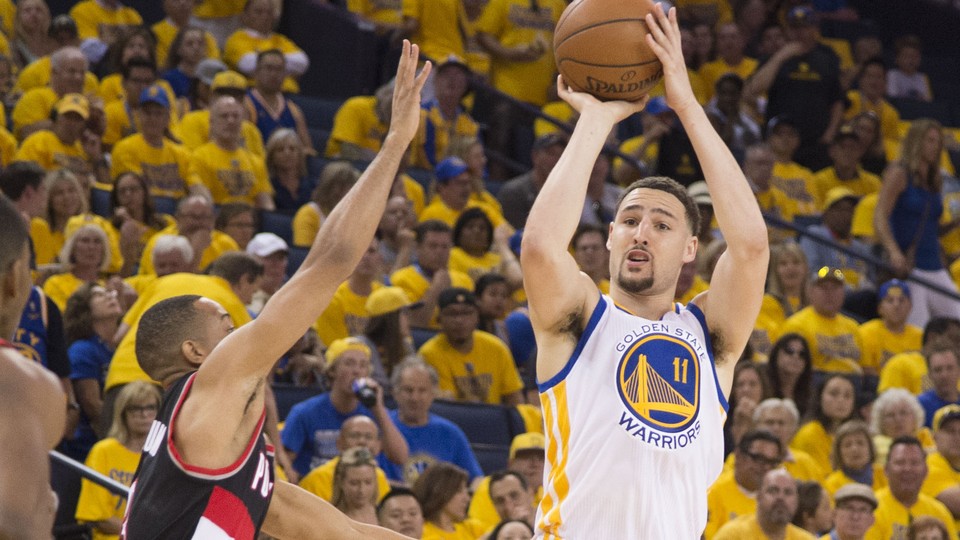 With all the ink that's been spilled these past six months in praise of Steph Curry, it can be easy to forget that the 73-win Golden State Warriors are more than a one-man show. Curry certainly deserves the encomia he's received—his exploits this season have been nothing short of jaw-dropping. But the knee injury that's kept Curry out of action the past two-and-half games, while robbing basketball fans of the opportunity to watch the reigning (and presumptive) MVP casually sink three-pointers from distances normally reserved for desperation heaves, has helped illuminate a truth that was too often forgotten this past season: Klay Thompson, Curry's running mate and the other half of the aptly named Splash Brothers duo, is a spectacular basketball player in his own right.
Thompson reminded the basketball world of his value as an individual player detached from any direct association with Curry on Sunday, when he scored 37 points and helped the Warriors ease past the Portland Trail Blazers during the first game of the teams' best-of-seven, second-round playoff series. Curry watched from the sideline while Thompson outscored the entire Blazers team in the first quarter. For the third game in a row, Thompson scored 21 points on three-point field goals alone—the most in a three-game postseason stretch since the NBA introduced the three-point line during the 1979-80 season.
Thompson's overall stats this postseason aren't necessarily attention-grabbing: He's averaging 25.7 points per game (ppg) while shooting just under 46 percent from both the field and beyond the arc. What's more telling is that Thompson's numbers have been significantly better when Curry, who's already missed four and half games this postseason, has not played. With Curry out of the lineup, Thompson's averaged 28.8 ppg on 48 percent shooting from the field and 43 percent shooting on three-point field goals.
When Curry succumbed to a sprained knee in game four of the Warriors' first round series against the Houston Rockets, analysts and fans (including The Atlantic's David Sims) openly wondered if the MVP's absence would create significant problems for the defending champions. Thanks to Thompson, who has unassumingly slid into the top-dog role and delivered as though he were used to being the team's number-one offensive option, Golden State hasn't yet experienced any major hiccups in their quest to repeat as NBA champions.
Curry's injury isn't serious enough to keep him off the court for the entirety of the playoffs, and assuming the short-handed Warriors advance past the Trail Blazers—a safe assumption—he'll be back on the floor when Golden State squares off against the San Antonio Spurs, their presumptive opponent in the Western Conference finals. But regardless of what happens in the next few weeks, it's worth taking a moment to celebrate Thompson, the most underappreciated player in the NBA, and everything he's accomplished these past two weeks.
I use the word underappreciated because Thompson rarely receives the recognition a player of his skill merits. Press coverage of the Warriors tends to paint either Curry or Draymond Green, the Warriors undersized power forward with an oversized chip on his shoulder, as the protagonist and primary reason for the team's unprecedented success. Curry commands attention because, well, he's Steph Curry. Green commands attention in part because his candid and occasionally brash personality lends itself perfectly to a media environment in search of the loudest voice in the room. He's also a truly unique basketball player, someone who combines Xavier McDaniel's toughness with Dennis Rodman's slinky athleticism with Magic Johnson's stat-stuffing skills. Juxtaposed with two much flashier teammates, Thompson tends to get lost in the shuffle. His game is not as aesthetically pleasing as Curry's or as rambunctious as Green's. He is subtle effectiveness personified, and while that makes him the kind of player most NBA coaches would trade their right arm for, it's not an attribute that lands someone significant time in the spotlight.
What's particularly interesting about Thompson once you take the time to watch him function as a team's top offensive option, as he has in Curry's absence, is that he's a rare composite of old school and new school. His game is new school in that, like all analytics-conscious players, he takes a high number of three-point field goals and uses three-point shooting as a primary offensive weapon. This outside-in philosophy, which has taken the NBA by storm, is predicated on the notion that shooting threes constitutes a more efficient approach to offense—at least that's what the math says. And Thompson, a gifted marksman, takes full advantage of this logic.
But unlike Curry, Thompson's style is unmistakably old-school. Most contemporary NBA guards look to attack defenders off the dribble. The league is full of dribble-drive penetrators who love to be the primary ball-handler in pick-and-roll situations and are equally adept at pulling-up from beyond the arc at a moment's notice. Moving without the ball and catch-and-shoot have become lost arts. Curry is a prime example of this style, but he's far from its only practitioner. Most elite guards—think LeBron James, James Harden, Russell Westbrook—are ball-dominant perimeter players who use on-ball screens to free themselves from defenders and prefer crossovers to jab steps. Thompson is the opposite. He's just as likely to use an off-ball screen to free himself for a catch-and-shoot situation as he is to work the pick and roll. That's not to say his handles are lacking, but Thompson is that rare modern basketball player who's equally adept at attacking his defender from an old-school triple-threat position as he is at using a crossover to shake that same opponent.
Stylistically speaking, Thompson is a throwback to an era when shooting guards, even elite ones, were not black holes—players who loved nothing more than to pound the rock and to force the offense to flow through them. They moved without the ball, looked for their shot, and got rid of it when the opportunity to score was not there. They didn't facilitate their team's offensive attacks so much as they kept opposing defenses honest by posing a constant scoring threat. This is what Thompson does. His closest analogue in today's NBA is the Atlanta Hawks' Kyle Korver, though Thompson is far better at creating his own shot and is a much more competent defender—according to ESPN.com, Damian Lillard, the Trail Blazers' All-Star point guard, shot a mere 2-13 in Sunday's game when Thompson was the primary defender.
Thompson's old-school offensive approach—his exceptional catch-and-shoot skills, his lack of flash—may be one reason he doesn't command the limelight like Curry and others. Fans today understandably want to watch their favorite players break defenders' ankles. They're attracted to athletes who can dunk over taller opponents with force and might. These will never be the defining attributes of Thompson's game. But as the past two weeks have shown, Thompson is a superstar player on both sides of the ball. He has the capacity to be a team's number-one offensive threat; he just happens to be second to the league's MVP. Thompson's more than adequately shouldered the offensive burden in Curry's absence. And when Curry returns, Thompson will comfortably slide back into a supporting role from which he'll still represent a significant threat to any defender he faces.
If that's not greatness, I don't know what is.