The Stakes of #FreeKesha, Clarified
Even if she doesn't have to record with Dr. Luke anymore, his company still can do things like stop her from performing at the Billboard Awards.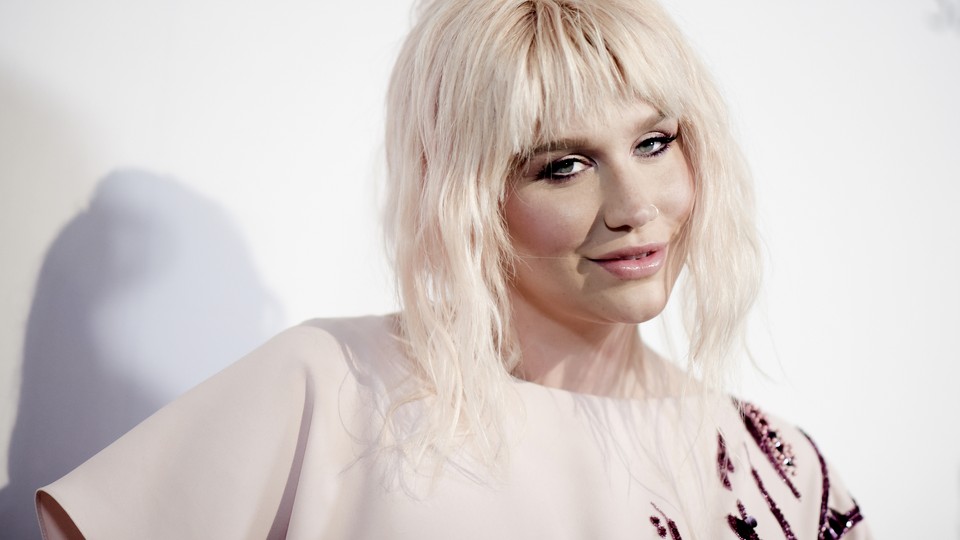 "Kesha is already 'free' to record and release music without working with Dr. Luke as a producer if she doesn't want to. Any claim that she isn't 'free' is a myth."
That was the statement put out this past February by Christine Lepera, the lawyer for the music producer Lukasz Gottwald, a.k.a. Dr. Luke. Kesha had sued to be released from her contract with Gottwald's company Kemosabe Records because, Kesha alleged, Gottwald abused and raped her over the course of a decade. Gottwald's side maintained his innocence—he was charged with no crime—and insisted that Kesha didn't need a new contract in any case: The company had reportedly told her that she could, going forward, record music without Luke's direct involvement.
The New York judge Shirley Werner Kornreich said that the assurance of a Luke-less recording future under Kesha's current contract "decimates" her request for financial emancipation, and later threw the suit out.
Recent news has made clearer what kind of independence has been at stake for Kesha all along. Last week, TMZ reported that the pop star was planning on using her performance slot at Sunday's Billboard music awards to make some sort of statement about her struggle with Gottwald. On Tuesday, Dick Clark Productions, which puts on the awards, told Billboard that Gottwald's label then decided to bar Kesha from taking the stage:
Kesha accepted an invitation to perform on the show and she received written approval from Dr. Luke's record label, Kemosabe Records. Kemosabe subsequently rescinded its approval following a media report on Wednesday May 11 regarding Kesha's appearance on the BBMAs. Unfortunately, Kesha and Kemosabe have since been unable to come to an agreement for Kesha to perform on the show.
Kesha soon after confirmed on Instagram that her performance had been cancelled, but said that she was only ever planning on paying tribute to Bob Dylan with a cover of "It Ain't Me Babe." " I was never going to use a picture of [Luke], speak of him or allude to my legal situation in any way," she wrote. Gottwald, Kemosabe, and Sony Music have yet to comment on the situation.
The turn of events underlines the fact that record contracts for many musicians are about more than just booking studios and distributing albums. Kemosabe can wield influence over Kesha's public performances—even if, according to the implication of her Instagram post, she isn't performing her own songs (I've written to lawyers on both sides of the case asking for clarification). Which raises the question: What other kinds of expression might Kemosabe bar? Kesha's first post-lawsuit single, "True Colors," had a vague theme about claiming independence and was released with Kemosabe's permission. What if she wanted to make a whole album more specifically about abuse? Would Gottwald allow it?
Kesha's previous lawyer, Mark Geragos, had argued that Kesha wasn't free even if she was shielded from having to record with Gottwald because Gottwald's company still could subtly undermine her. The more fundamental argument—for those who suspect Kesha and Gottwald's relationship really had, at the very least, reached a toxic place—was tidily summed up by Lena Dunham in Lenny:
Imagine someone really hurt you, physically and emotionally. Scared you and abused you, threatened your family. The judge says that you don't have to see them again, BUT they still own your house. So they can decide when to turn the heat on and off, whether they'll pay the telephone bill, or fix the roof when it leaks. After everything you've been through, do you feel safe living in that house? Do you trust them to protect you?
The validity of Kesha's claims against Gottwald have never been tested in court, and he has not been charged with any crime. Kornreich's dismissal of her claims was based largely on legal rules around statutes of limitations and jurisdiction. Earlier on Tuesday, news broke that Kesha's team was planning on continuing to pursue the case against Gottwald, this time in California. The news later in the day about her canceled performance highlighted what she might hope to gain by doing so—and freedom isn't too strong a term for it.