The Night Manager: From the BBC With Love
The imported British miniseries is both a dazzling six-part spy story and a James Bond audition tape for its star, Tom Hiddleston.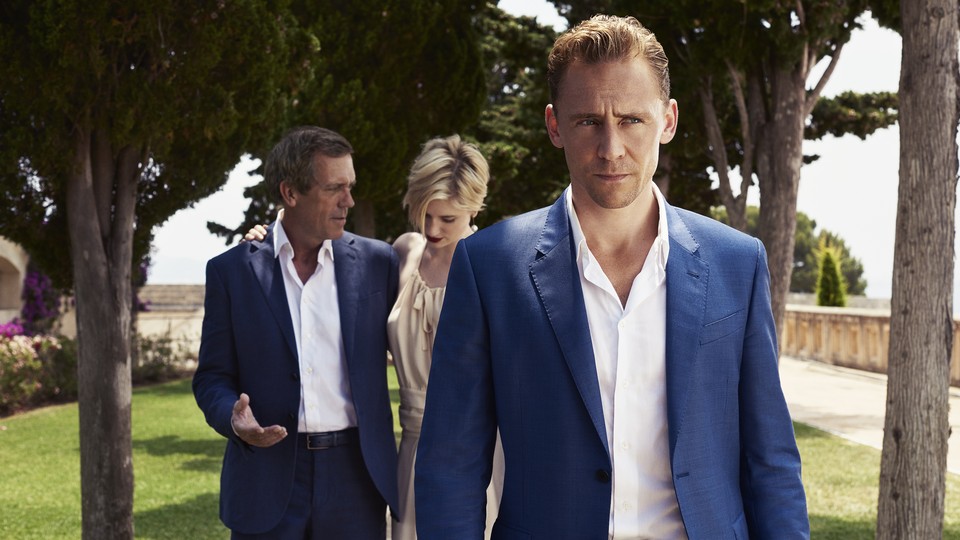 In Britain, the question of who gets to play James Bond is a fraught one, replete with animus, deeply rooted bias, uncomfortable racial undertones, and an inordinate amount of hand wringing. So, naturally, it falls to the bookmaker to offer both levity and guidance when it comes to working these feelings out. Right now, PaddyPower.com is offering odds of 40/1 for the Scottish hunk Gerard Butler, 150/1 for the Harry Potter star Daniel Radcliffe, and 500/1 for the Leicester City striker Jamie Vardy (inflated, no doubt, by Leicester's only slightly less plausible Premiership win earlier this month).
In February, a week before The Night Manager premiered on BBC One, Tom Hiddleston's odds were 20/1. Since then, he's become such an overwhelming favorite that British bookies have stopped taking bets on him. This is certainly helpful when it comes to getting free publicity (last year odds suddenly shortened on Damien Lewis, spurring feverish speculation about the prospect of a red-headed Bond). But it's also testament to the wanton glamour and spectacular panache of the six-part miniseries—evidence of its sheer Bondiness, for want of a better word. From the undulating shapes and symbols in the opening credits to Hiddleston's enigmatic, slightly perturbing performance as the show's hero, the entire product feels like nothing so much as the world's most elaborate audition tape for 007: fabulous locations, arch-nemeses, beautiful women, and all.
The Night Manager, whose fifth episode airs on AMC Tuesday night, is actually based on a book by that other great interpreter of British spycraft, John le Carré. Published in 1993, the tale of a soldier turned hotel employee who's swept into the orbit of a roguish arms dealer was le Carré's first novel not set during the Cold War, and in many ways it seems inspired by Ian Fleming's star creation. Consider how the book's hero is introduced in chapter three:
Jonathan Pine, orphaned only son of a cancer-ridden German beauty and a British sergeant of infantry killed in one of his country's many postcolonial wars, graduate of a rainy archipelago of orphanages, foster homes, half-mothers, cadet units, and training camps, sometimes army wolf-child with a special unit in even rainer Northern Ireland, caterer, chef, itinerant hotelier, perpetual escapee from emotional entanglements, volunteer, collector of other people's languages, self-exiled creature of the night and sailor without a destination, sat in his sanitary Swiss office behind reception, smoking his third unusual cigarette ...
In the series, Pine (Hiddleston) is first introduced as the night manager of a Cairo hotel struggling to make his way to work during the Arab Spring in 2011. He's preternaturally calm amid the chaos, soothing customers, and pushing them smoothly to the ground when gunshots ring out outside. Later a woman, Sophie (Aure Atika), sashays through the lobby; another hotel employee tells Pine she's the mistress of Freddie Hamid, whose family owns half the city, and is described as "everything the protesters hate. Incredibly wealthy. Corrupt to the core."
Sophie asks Pine to make a photocopy of a document that's come into her possession detailing arms purchases between Hamid and Richard Roper (Hugh Laurie), a British businessman seen in the opening minutes of the series delivering a bland TED-style talk about philanthropy. Contrary to his public face as a savior of refugees and orphans, Roper is a peddler of everything from napalm to nerve gas, and is described by Sophie as "the worst man in the world." Pine sneaks a copy of the document to an English friend of his at the embassy, and before long Sophie is murdered in retribution (but not before the two sleep together in an Egyptian hideaway when he tries to help her escape).
Four years later, Pine is working in a hotel in Switzerland when he first encounters Roper face to face, newly arrived with his entourage: a fixer named Major Corkoran (Tom Hollander), two armed security guards, and his gamine American girlfriend, Jed (Elizabeth Debicki). Still haunted by Sophie's murder (literally—the show's hammiest scenes feature her ashen corpse entreating him to act), Pine retrieves sim cards from Roper's trash and delivers them to the last contact he had at MI6, Angela Burr (the outstanding Olivia Colman). Soon, and rather improbably, Burr decides to plant him inside Roper's operation, staging a kidnapping in Spain that makes Pine a trusted new member of his inner circle.
The plot, it's worth noting, is a little janky. Would British intelligence really draft a rookie into such an elaborate sting operation? Would Roper, consistently informed by various MI6 sources that there's a mole in his shop, not suspect the new guy whom he barely knows and oddly found working in a seafood restaurant several thousand miles away from his previous career? Probably not, and none of it really matters because the whole is executed so enticingly. The director Susanne Bier (best-known for her remarkable 2006 Danish drama After the Wedding) makes a case for why Hollywood should poach her immediately, taking the necessary components of spy movies—countless languorous shots of exotic locales, high-level corruption, monstrously charming villains, an ethically ambiguous hero—and forming them into something even better.
Beyond the obvious, though, Bier finds something fascinating in the relationship between Pine and Roper. Laurie is habitually charming as the arms dealer, but his performance is undercut with persuasive menace that belies his interactions with the younger man. There's something paternalistic about his adoption of this scrappy murderer who's oddly good with kids (MI6 gave Pine a hefty criminal record to preempt Roper's background check): He seems to radiate pride when Pine is fitted for his handmade suits, and when Pine masterfully smooths over a row when Corkoran makes a scene in a Monte Carlo restaurant. Hiddleston's Pine, by contrast, is enigmatic throughout, and his allegiances (at least thus far) seem impossible to parse. Yes, his army background means he's revolted by the human cost of Roper's business, but he also seems drawn to the exuberant way in which Roper lives his life. Violence comes easily to Pine, and Hiddleston's implacable energy adds to the sense of anxiety that suffuses the series.
Bier mimics his character's appeal aesthetically: Roper's life comes in shades of vivid blue and green, from his architecturally dazzling Mallorca base to the opulent hotels he frequents in Madrid and Monaco. Burr meanwhile is relegated to an office in London so chilly that her breath condenses in front of her face. Scenes within MI6 seem grey and washed-out by comparison (the supporting cast includes Outlander's Tobias Menzies, Homeland's David Harewood, and Men Behaving Badly's Neil Morrissey). But Colman anchors the show's morality in the fourth episode when she delivers an extraordinary speech revealing why she's so intent on bringing Roper down, and reminds viewers that his breezy charm hides a capacity for singular cruelty.
With two episodes left, it remains to be seen whether Pine will succeed in reeling Roper in. But the show—rumored to be the BBC's most-expensive series ever—is evidence of how television has increasingly shown itself to be superior to film when it comes to storytelling, from ambition and scope to sheer visual flair. On the heels of last year's Spectre, which offered up a laughably weak plot and a pallid performance from Daniel Craig, The Night Manager not only manages to redeem the good old-fashioned spy story, but to make it sing.