How Pet Sounds Invented the Modern Pop Album
Brian Wilson's Beach Boys masterpiece paved the way for auteurs like Kanye West and anticipated the rise of the producer.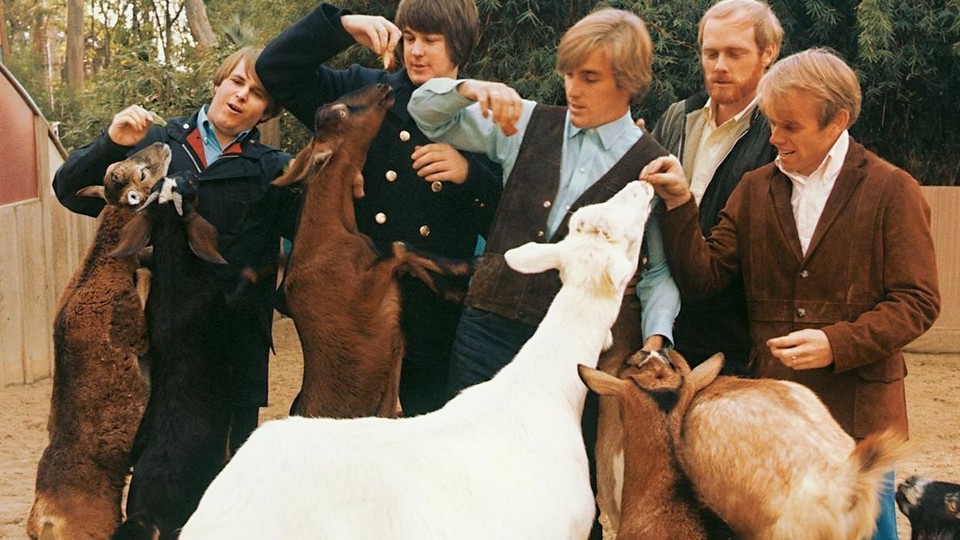 In 2008, when Guns 'N Roses finally released its album Chinese Democracy after 15 years working on it, the writer Chuck Klosterman declared the end of a zeitgeist. "Chinese Democracy is (pretty much) the last Old Media album we'll ever contemplate in this context," he wrote in his review for A.V. Club. "It's the last album that will be marketed as a collection of autonomous-but-connected songs." But nearly a decade later, the idea of the album-as-event lives on. Consider Ryan Adams enthusiastically covering Taylor Swift's 1989, or Kanye West feverishly revising the track-list for The Life of Pablo. Within the last several weeks alone, new full-length records by Beyoncé and Radiohead have dropped, defined their blast craters, and triggered countless thinkpieces.
It wasn't always thus. Popular music's first big, coherent statement—The Beach Boys' Pet Sounds, released 50 years ago on May 16, 1966—wasn't an immediate sensation, at least in the U.S. (a worried Capitol Records even rushed out a package of greatest hits, as if to recall to the public the fun, foamy band behind "Surfin' USA"). Over time, however, Pet Sounds came to occupy the upper echelons of best-of lists—or at least, the lists in magazines like Rolling Stone and Mojo that tended to prefer rock over other genres (and white, male artists over everyone else). Such "rockism" persisted from the 1960s to the 2000s, and during this time, albums fortified by theme, like Pet Sounds, were thought to be more "serious" than one-off singles.
Brian Wilson, who wrote Pet Sounds, certainly anticipated the modern pop-centric era, which privileges producer over artist and blurs the line between entertainment and art. (Wilson, his fans will delight in reminding you, carbonated classical music with pop.) But if the big-budget artistic statement is now back—if it's okay to be preposterously ambitious again—the current moment owes something to the pretensions of Pet Sounds. Wilson's bildungsroman about the life and death of adolescent love wasn't just a great record: It was also a record of a great artist's mind—popular music's first long-form investigation into the psyche of an auteur.
Before Pet Sounds, there was Frank Sinatra's In the Wee Small Hours (1955)—a kind of concept album informed by the singer's recent break from Ava Gardner. But the songs themselves predated the split; they were standards, written at different times by different people, and curated to match Sinatra's mood. It would be another decade before Wilson composed a concept album of his own. He had quit the road after a mid-flight anxiety attack in 1964, and had come to depend upon a loose collective of Los Angeles session musicians, first assembled by Wilson's idol, Phil Spector. Wilson had figured out that songs weren't enough; production was critical. Moving forward, he would make the backing tracks, while the rest of the band took care of the touring. (They would put down their vocals later.) At this point, The Beach Boys were more or less The Backstreet Boys. Like his Swedish heir Max Martin, the producer and architect behind Britney, Katy, and so many others, Wilson holed up in the studio while attractive avatars fronted the product.
But Wilson didn't simply want to manufacture hits. The Beatles' 1965 album Rubber Soul had encouraged him to disdain filler and seek to create a coherent experience. (He had already run a theme through the second side of The Beach Boys' 1965 album Today!, girding five songs with a feeling of unity.) Pet Sounds would go further: It would walk listeners through a relationship, starting with the youthful optimism of "Wouldn't It Be Nice" and ending with the disillusionment of "Caroline No." It would also double as confessional poetry, the poetry of an artist outpacing his moment. Songs like "I Just Wasn't Made for These Times" even boasted Kanye-grade complaints like, "Every time I get the inspiration / To go change things around / No one wants to help me look for places / Where new things might be found."
To his credit, Wilson's ambition was cut with a sense of play that pervaded every aspect of Pet Sounds. In a move that would've pleased Andy Warhol, Wilson recruited an advertising copywriter to come up with the album's lyrics. In a move that would've pleased a Dadaist, he rattled listeners' sense of sonic possibility. On "God Only Knows," he contrived the clip-clop of horses' hooves using a bottle. Elsewhere, he integrated banjo, bass harmonica, electric bass, kettledrums, and more.
But the result was regarded by many—including some of the Beach Boys who sang on it—as too ambitious for its own good. The great heyday of rock criticism, the 1970s, was still to come, and there was certainly no Internet to provide exegeses (read: hot takes). Nevertheless, Wilson patented a type that lives on to this day— that of the reclusive genius whose instrument is the entire studio. Pet Sounds foreshadowed the big-budget psychodramas of the future—albums by Michael Jackson, Prince, Radiohead, and other skittish artists successful enough to find a fully-stocked studio at their ego's disposal.
Anytime a band or musician disappears into a studio to contrive an album-length mystery, the ghost of Wilson is hovering near. Anticipating the working methods of today, he took to recording his work in fragments, which were collaged together later. He came so close to completing another concept album—this one an odyssey through America called Smile—that Capitol even commissioned cover art. But he lost his resolve. His bandmates, who preferred applying their vocals to songs about the intersection between surfer and girl, were resistant to Wilson's seemingly arch aspirations. Then there was the ever-present problem of the Beatles. It didn't matter that Pet Sounds had inspired Paul McCartney to compose a concept album of his own: Sgt. Pepper's Lonely Hearts Club Band, which the Beatles launched in 1967, effectively ended the arms race between the two bands. Overwhelmed by the success of Sgt. Pepper, the Beach Boy ran ashore.
Today, of course, music fans venerate boldly ambitious statements like 808s & Heartbreak and Lemonade, and romanticize the precocious talents behind them. But in the late '60s, there was no readymade narrative against which to plot Wilson—in part because he was pop's Ur-auteur, first in a line to be populated by Lauryn Hill, Axl Rose, Lee Mavers, and other recluses. He withdrew to a mansion in Bel Air, gained weight, and took up the accoutrements of the legend with lived experience (robe, beard, equity in a health-food store). But the myth is stigmatizing: Wilson was never especially pretentious or tortured. He remained enthralled to the goal of the perfect pop song, with the Spector-produced "Be My Baby" as his sacred text. Wilson even attempted several comebacks, and some of them, like 1977's Love You, yielded rewards.
Nevertheless, Pet Sounds remains the masterpiece. There's the gorgeous music, which has inspired countless musicians. (REM's 1998 love letter to the Wilson aesthetic, "At My Most Beautiful", quotes sleigh bells, cellos, and rumbling tympani.) But there's also Wilson's approach. Swap out the Hollywood studio peopled with unionized musicians for a laptop loaded with sound files, and the author of Pet Sounds looks a lot like the godfather of the current age—the first to assemble hits from fragments, the first to turn an album into an occasion. His approach was especially impressive when you consider that what he was splicing together was tape. (Wilson was artisanal, his heirs, digital.) With Pet Sounds, Wilson brought an ambition to pop that it hadn't previously known and helped make heroes out of producers. "I just wasn't made for these times," he sings towards the end of Pet Sounds, a square Beach Boy in a round world. It turns out the lyric was one part boast, one part prognostication.