A Record 16 Tony Nominations for Hamilton
Lin-Manuel Miranda's phenomenon topped the 15 received by The Producers in 2001 and Billy Elliot in 2009.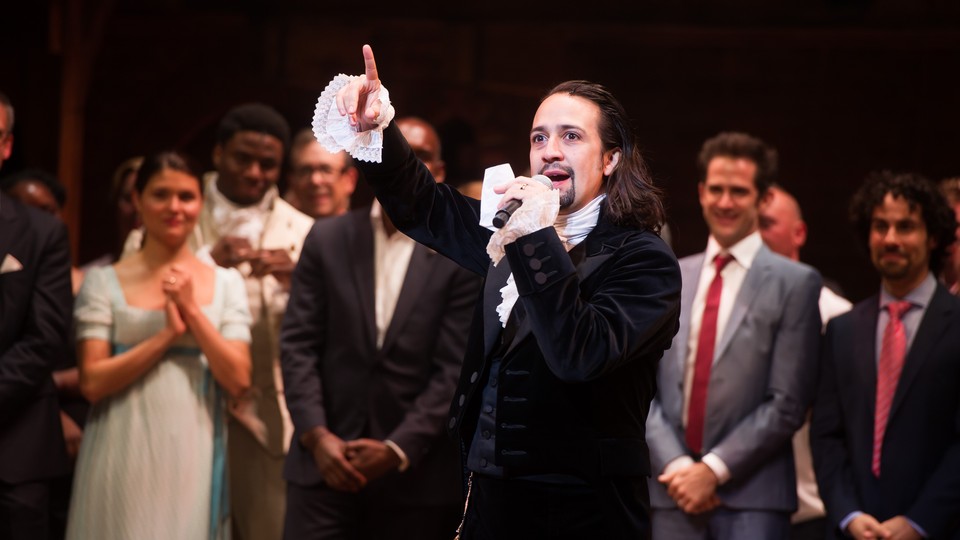 Updated on May 3 at 10:12 a.m. ET
The honors keep on coming for Lin-Manuel Miranda's Broadway phenomenon: Hamilton received 16 Tony nominations Tuesday, topping the record of 15 for The Producers in 2001 and Billy Elliot in 2009.
Also among the nominees for the 70th Tony Awards: the musical Shuffle Along, Or the Making of the Musical Sensation of 1921 and All That Followed that received 10; She Loves Me with eight; and Long Day's Journey into Night with seven.
The plaudits began for Hamilton almost immediately after it opened in previews in July 2015. My colleague Spencer Kornhaber wrote last December that the musical was his album of the year. He wrote:
One of the biggest talking points about Hamilton is about how crazy, seemingly incongruous, it is for the tale of the guy who founded America's banking system to be told through hip-hop. The creator and star Lin-Manuel Miranda has a stock reply: "It's a hip-hop story." That's both because of the way that Alexander Hamilton created a verbally dense record over the course of his lifetime, and the way that he came from poor beginnings to challenge the status quo with plenty of boasting along the way.
Miranda, the show's creator, was nominated four times: for Best Musical, Best Actor in a Musical, Best Book, and Best Score.
Hamilton was one of five shows that will compete for Best Musical. The other nominees in that category are Bright Star, Waitress, School of Rock—The Musical, and Shuffle Along. Hamilton was able to break the previous record of 15 nominations by receiving multiple nominations for Best Actor in a Musical (Miranda and Leslie Odom, Jr.) and Best Featured Actor in a Musical (Daveed Diggs, Jonathan Groff, and Christopher Jackson).
The full list of nominations is here.