Finding the Magic: The Secrets of the Music Producer Daniel Lanois
The Canadian musician, who has collaborated with Bob Dylan, Brian Eno, and U2, on his approach to performing and making records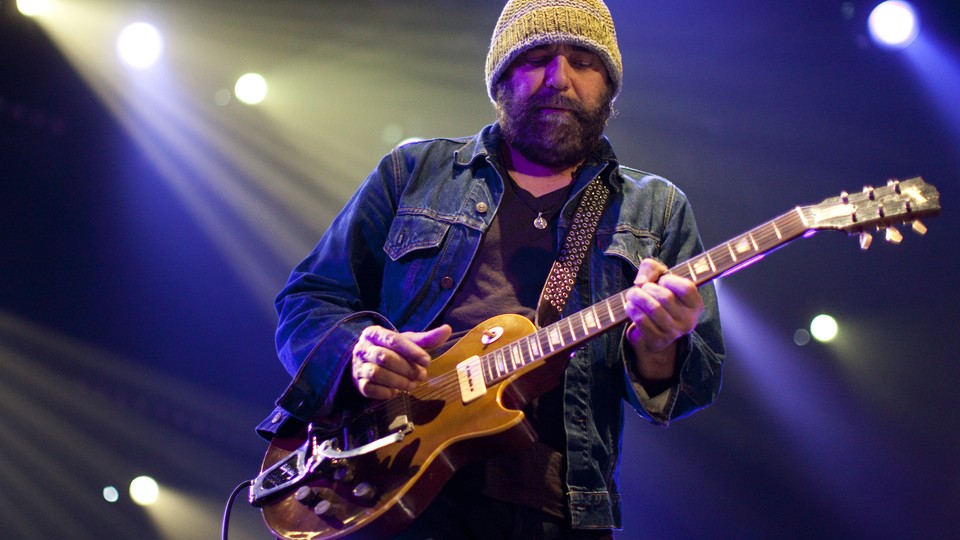 Daniel Lanois's name may not be familiar to you, but his work is. The Canadian guitarist, singer, and songwriter produced two of Bob Dylan's finest late-career records, Oh Mercy and Time Out of Mind. With the electronic pioneer Brian Eno, he produced some of U2's best-regarded albums, including The Unforgettable Fire, The Joshua Tree, and All That You Can't Leave Behind. Lanois also produced classic records by artists like the Neville Brothers and Emmylou Harris, and his own records are both highly praised and frequently heard. That's him on Friday Night Lights, and his work with Eno in that infamous Trainspotting scene.
Lanois performed at Moogfest 2016 this month, a fitting showcase for his combination of affection for old-school instruments—guitar and pedal steel—as well as technological mastery. During his set he played ethereal, rootsy steel guitar, but also several works of electronica, performed with laptop and a mixer. What might seem a dichotomy for most listeners and musicians feels natural for Lanois; perhaps it's a form of bilingualism, which is fitting for a French-Canadian who didn't speak English until he was 10.
The day after a late-night performance, I spoke with Lanois. In this conversation, he discusses his initiation into electronic music and collaboration with Eno, his approach to steel guitar, and how he helped U2 reach its full potential on "Beautiful Day." (This interview has been condensed and edited for clarity.)
---
David Graham: People talk about the Lanois sound. What, to you, is your sound?
Daniel Lanois: Maybe in the '80s it was more specific to a certain approach, when I was doing a lot of records with Eno. We did a lot of textural work and I was really just serving Brian and his vision with those records, but I really got hooked on my effects. Since then, things have evolved and I don't use so much of that now. My recent record coming out in the fall called Goodbye to Language, I developed this system of taking samples of already existing components and extracting them from—putting them out of sync with the track and then doctoring them externally through other boxes, maybe changing them to slow them down, and if I hit on something special then I go back in and find a spot for that special sound back into the track. It won't work for most of the songs. I just run it randomly.
Graham: That sounds very time consuming.
Lanois: It's very time consuming. It wouldn't recommend it.
Graham: It seems to me you straddle music that's really acoustic and stuff that's very electronic. Do you see that as a gap?
Lanois: It's certainly a duality, you know, the two worlds of electronica and hand-played instruments. I've always embraced electronics because I started as a kid with my studio, so I always had a high regard for that world. I like introducing a little bit of technology sometimes. Like a lot of people I have an array of beatboxes, and some of those are really cool. I still use my little—I call it the Timmy Thomas drum beat. Timmy Thomas had a hit called "Why Can't We Live Together" out of Florida, I think that would have been the '70s, I think he just used a beatbox on his organ—it must have been a Lowrey Organ. When Marvin Gaye did "Sexual Healing," I already had a Roland 808, so it was very reassuring to me that someone could build a hit song out of an electronic beatbox, and not even have real drums. Even on the ambient records that I did with Eno, that track, "Deep Blue Day," which showed up in the Trainspotting movie, that was done on a little Suzuki Omnichord, a little toy instrument. It's essentially an electronic autoharp. That's what we used on the track, but we slowed it down a lot. The early Suzuki Omnichords had great basslines. And by slowing it down, it developed this beautiful, luxurious jukebox sound.
Graham: You were playing some electronic music last night, and I couldn't quite tell what you were doing. Can you explain that?
Lanois: Oh, I just had a magic moment, because I just met Mad Professor, the Jamaican dub specialist out of England. I saw the Mad Professor about six years ago in Toronto, at a little place called the Great Hall that has a wraparound balcony, so I was on the balcony looking at him do his thing on the main floor about 10 feet from me. I was watching him and thought, "Oh! He's got a little multitrack and a mixer and he's including a track or not and then had some predetermined repeat echo settings," and I thought, "This guy is having more fun than me! He's taking the studio recordings of some quite famous Jamaican tracks and he's dubbing them out on stage," so I adapted his—if not specifically the music, then his technique. I just met him in the hallway, I was practically in tears. I thought, "Oh my goodness, a hero of mine." So that's what it is. It's as simple as that. It's little eight-track, sometimes we use 10 tracks. All the tracks are from the studio and then how I treat them on the night belongs to the night. It's always a little bit different.
Graham: What was your approach on Oh Mercy?
Lanois: That was a very special time. I was very focused at that point, I had a certain kind of approach. I chose to make the record without a lot of people around, and so speaking of the beatboxes, that's a Roland 808 on that record, probably three-quarters of the songs were built on the 808. And he played my acoustic guitar, and it had a pickup, and that fed a little Fender Concert amp that I had tucked around the corner with a bunch of pillows around it. The reason I did that is if Bob needed to replace any vocals, because you know, he was amending lyrics as he was going along, so he might want to drop in a line with an improved lyric. There were quite a few repairs and overdubs on that record, although it doesn't sound that way. There's a track called "Ring Them Bells." We did a beautiful recording of it and then he came back in a week later and said, "I've written a better verse." So I asked him to perform just that one verse and then I cut it into the original performance.
Graham: This is cutting the tape by hand?
Lanois: Yeah, yeah, cutting the tape by hand with a razor blade. That's something I have been doing since I was a kid, so I was pretty good at it. I kind of miss cutting tape, I sort of like the physiological tangibility of it.
Graham: It seems like sometimes what you're doing is helping artists write or arrange the songs, and sometimes the artists come in with the songs and you're trying to help them bring out the best in them.
Lanois: That's right, sometimes the songs are written. For example, Bob Dylan's "Most of the Time" [sings] "I'm clear focused all around, most of the time, I can keep both feet on the ground …" Bob played me that on the piano at his house before we went in. The compositional structure never changed, even though the production feel is radically different from when he played me it at his house. Some other tracks, you know, have more of a studio development in them, compositionally. Bob writes his own songs of course, but there have been other situations where I felt like people needed a little bit of help.
Graham: Is there a moment where you say, "Listen, guys, why don't you try this instead?"
Lanois: There have been cases where maybe we just haven't gotten the magic yet, and everybody is hoping to get it, and the best way to make a suggestion is to play a suggestion rather than talk about a suggestion. I reference the U2 song named "Beautiful Day." We'd done a hand-played version of it, which never quite found its magic. So Eno and myself designed a more electronic, electro angle on it, which was built on a box [sings]—quite Germanic. We quickly put a version of it together in the morning prior to the band's arrival and when they came in, they said, "What's that? That sounds interesting." We said, "Well, that's your song. It's just a rendition of it." What was nice for Larry [Mullen] on drums, it got him away from the responsibility of playing the straight beat, so it gave him some freedom to experiment with something more unusual on the top. Sometimes people just need a little more of encouragement to go in a different direction. I never tell people that they're wrong, or that it should be done this way rather than that. We might promote another approach, but by example, never by criticism. Criticism doesn't work that way.
Graham: I'm curious about your distinctive approach to pedal steel. Are there steel players you listen to, or is your sound something you've conjured on your own?
Lanois: As a young player I was more of a conventional player. I played in some country bands, I was pretty good at that, but not as good as the greats. I found a tuning that was more appropriate to my—I left out the ninth and the sixth, I tune those strings to unisons with other strings. The sixth chord and the ninth chord are beautiful chords, but they're very specific to a genre, and so by getting rid of those notes the instrument suddenly became a little more Celtic in tuning, if I could use that term.
Graham: What do you like to listen to on your own time?
Lanois: I did a remix for Tinariwen, that African band. And I think they're just terrific. And so I've become acquainted with them through that remix. I did the remix in the back of my '72 Cadillac. It's on the internet, check it out. I appreciate that they are a really great soul band. It's not American soul from R&B, I just really trust their—where their music comes from. It seems like it comes from a deep place. They're obviously people that have lived in the desert and have had hardship and travail. That really—there's something ancient about the sensation you get from their music. Then I like some old records. I still love putting on Stan Getz's Bossa Nova, beautiful record. To this day I appreciate putting on—I still get a kick out of Grandmaster Flash, the Fat Boys, sort of '80s New York. In regards to other new music, I can't wait to hear Eno's new record, called The Ship. I've seen the vinyl, but I haven't heard it yet.