The Sad Irony of Bill Cosby Finally Being Prosecuted
What's harder to believe: that it took a year for Andrea Constand to accuse the star of sexual assault, or that it's taken 11 years and dozens more women coming forward for those accusations to be heard in court?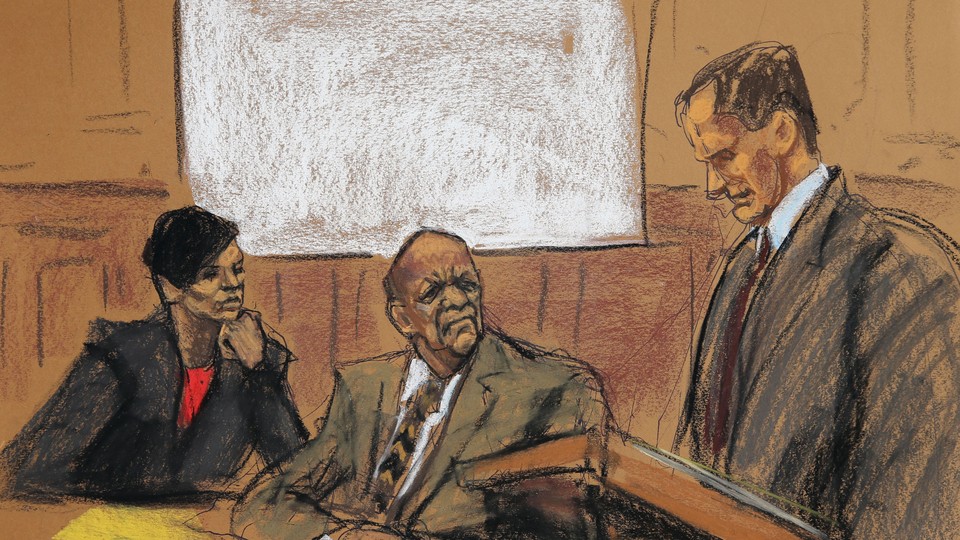 "Why did you wait so long to report?"
That's the question that Bill Cosby's lawyer Bruce McMonagle reportedly said he'd have asked Andrea Constand if she'd been at the Tuesday hearing where a judge decided her accusations of sexual assault by the comedian will, finally, be tried in criminal court.
To date, more than 50 women have accused Bill Cosby of sexual misconduct. Constand was the first. In January of 2005 she told police that a year earlier, Cosby had touched and penetrated her after drugging her. A prosecutor decided against proceeding with the case, and Constand followed up with a civil suit that resulted in a 2006 settlement. After that came an accelerating drip of women making allegations about incidents spanning a wide swath of Cosby's career, from Kristina Ruehli (1965) to Chloe Goins (2008).
Throughout, these women have faced suspicion and ridicule—from the Cosby team, from allied celebrities, and from members of the public making their thoughts known on social media—for not coming forward sooner. "How big is his penis that it gives you amnesia for 40 years?" the comedian Damon Wayans said in a riff bashing the accusers. That Constand went to police about a year after the alleged event and is still facing this same question shows how slippery its premise can be: Most any time period can apparently be declared suspicious.
Constand remained in contact with Cosby in the time between the alleged assault and her going to the police, with her mother at one point calling the sitcom icon to ask what he'd done to her daughter. Newly public deposition transcripts from the 2006 civil suit have Cosby describing his M.O. in terms that dovetail with the stories of the accusers who would later come forward, except when it comes to whether they were consenting or not. At one point, he talked about having an agency send "five or six" models to his studio each week while filming his sitcom. In another, he explained what happened with Constand after he'd given her drugs that he'd described as a remedy for stress:
Q: So, you're not telling us that you verbally asked her for permission?

A: I didn't say it verbally, I said. The action is my hand on her midriff, which is skin. I'm not lifting any clothing up. This is, I don't remember fully what it is, but it's there and I can feel. I got her skin and it's just above the hand and it's just above where you can go under the pants.

Q: Then what happens?

A: I don't hear her say anything. And I don't feel her say anything. And so I continue and I go into the area that is somewhere between permission and rejection. I am not stopped.
The question of why many sexual-assault victims often delay in making allegations, especially against public figures, has been answered time and again. Justified fears of reprisal and disparagement have to be put into the cost/benefit calculation—and if anything, the Cosby situation has highlighted the costs. "People often these days say, 'Well, why didn't you take it to the police?'" another accuser, Tamara Green, told New York Magazine last year. "Andrea Constand went to the police in 2005—how'd it work out for her? Not at all. In 2005, Bill Cosby still had control of the media. In 2015, we have social media. We can't be disappeared."
Constand's case, incidentally, also defies other rhetoric that Cosby's defenders tend to use about accusers. As an athletics administrator at Temple University, she didn't have a clear interest in gaining public exposure. She wasn't speaking out only after it became fashionable to do so—Cosby's reputation at the time was sterling. As to the fact that Cosby himself has never been convicted of a crime, that could now change now, too. So what's harder to believe: that it took a year for Constand to make an accusation, or that it's taken 11 years and dozens more women coming forward for those accusations to be prosecuted?