Chance the Rapper and the Lessons of Childhood
The uplifting Coloring Book makes profound use of Millennial nostalgia.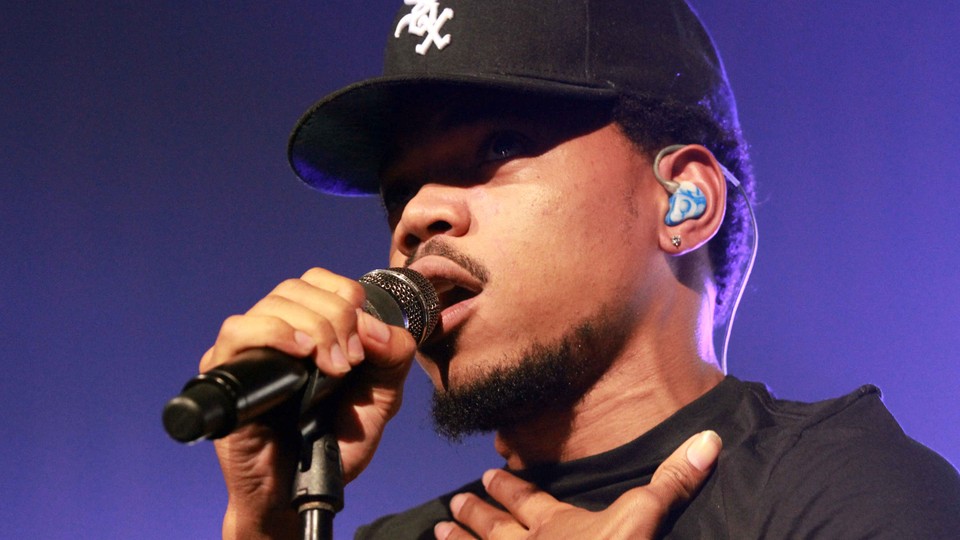 If adulthood truly is in crisis, one sign might be popular music's anxious relationship with childhood. The recent 21 Pilots hit "Stressed Out" suggests a generation wishing to return to a time "when our momma sang us to sleep." Most of today's new pop icons come out of the child-star pipeline—the Demi Lovatos and Ariana Grandes sweating to prove that they didn't peak before they could buy booze. Both in rap and outside of it, Biggie and Nas's child-as-album-cover concept keeps being recycled, often to assert that the artist at issue was hard even when he was soft. Right now, bubbling up on the digital singles chart is a song from a 13-year-old Vine user who recently lost his braces.
Into the playpen comes Coloring Book, the third solo full-length record from the 23-year-old Chicago sensation and Kanye West protégé Chance the Rapper. Its title promises the same kind of kidult activity that's upended the publishing industry, and its lyrics namecheck The Lion King, Harry Potter, Dragon Ball Z, Space Jam, Tootsie Roll Frooties, and cooties. Justin Bieber, the embodiment of developmental struggles, shows up to sing on a track about memories of innocent nights at the roller rink. Wendy of Peter Pan fame gets a shout-out.
If all of this sounds a little too like a Buzzfeed "remember that?" listicle turned into music, fear not: The album is a grown-up triumph. Unlike many of his contemporaries, Chance doesn't want to revert to childhood; he doesn't want to overcome it; he doesn't invoke it to prove something about himself. He just, sensibly, draws from the past when dealing with very real challenges of the present. As he explains in a glorious spoken-word segment at the end of the album, "I speak of wondrous unfamiliar lessons from childhood / Make you remember how to smile good."
Smiles have often come easily when listening to his music. Chance's last major outing, Donnie Trumpet and the Social Experiment's blissful 2015 album Surf, paired analogue jazz and soul with Chance's carefully crafted yet accessible verses, which he typically delivers on the edge of a giggle or an excited yelp. Coloring Book keeps that formula but adds in mighty gospel choruses and crisp, radio-ready rhythms as Chance delivers some of his most straightforward affirmations—and declarations of Christian faith—yet. The only abrasive element in 14 songs is Kanye warbling on the opening track.
How isn't all of this a recipe for sap? It helps that Chance isn't holding himself above the rest of popular culture. He peppers his album both with trending names like Young Thug, D.R.A.M., and Lil Yachty (plus someone credited as "my cousin Nicole"), and with established talents like Lil Wayne, T-Pain, 2 Chainz, Future, and the gospel star Kirk Franklin. On head-bobbing crew anthems like "No Problem" and "Mixtape," he finds a way to stunt like any other famous rapper by talking about the fact that, unlike most other famous rappers, he has refused to sign a record deal (Coloring Book was released independently and distributed as an Apple Music two-week exclusive).
More importantly, he avoids #tooblessedtostress cloyingness by talking about specific, difficult problems from urban violence to a recently kicked pill addiction. The heartbreak of aging is well captured in a song called "Same Drugs," which uses a central metaphor about getting high for a ballad that stays subtle even as it incorporates a Prince-ly guitar solo. Elsewhere on the album, he portrays the unexpected burden of fatherhood as anything but a drag:  "I know the difference in blessings and worldly possessions / Like my ex girl getting pregnant and her becoming my everything." This is optimism for life as it's lived, where finding grace is a survival technique.
That technique comes more naturally to kids than to adults, and that's why Chance spends so much time talking about childhood. The point of the album's nostalgia becomes clear on "Summer Friends," a twilight-toned sketch about growing up in the South Side of Chicago—a place where, as Chance detailed on the 2013 track "Paranoia," the murder rate spikes in the summer. His friends die, he lives in fear of violence, but he also mows lawns for cash, rents movies from Blockbuster, and hangs out at mom's salon. The juxtapositions he makes in the song manage to avoid minimizing trauma while also suggesting that trauma doesn't preclude a happy life. "Scars on my head / I'm the boy who lived," he raps later in the album, rolling together his message of resilience with a giddy reference to magic that everyone in his generation will get.
Chance is obviously far from the first rapper to talk about growing up in a tough part of town. Kendrick Lamar's breakthrough Good Kid, M.A.A.D City was largely about that, for example. It's remarkable how different the music from these two young kings of their genre sounds, even though both rap over jazz bands about unglamorous real-world challenges and the Christian god. Perhaps because of lived experience or perhaps just because of personality, Lamar has the darker outlook: His songs are ones where childlike serenity has been stolen by the world, to be regained only partially and only though hard struggle and discipline. Chance preaches a state-of-mind solution—a constant openness to the good.
After "Summer Friends" comes an interlude that feels like a lullaby, where D.R.A.M. croons, "You are very special / You're special too / Everyone is special." In the context of the track listing, what could be a platitude becomes a political statement—the kids on Chicago's 79th street who became a statistic, they're special too. And in the context of Chance's ministry across the album, it's a reminder of an empathetic truth that's obvious to people early in life, when the world and everyone in it seems new. Religion can remind adults of that truth if they've forgotten it. So can music.