CBS's Star Trek Could Change the TV Broadcast Model
By handcuffing a new series to its online-only service, the network is trying to catch the next wave of the television industry.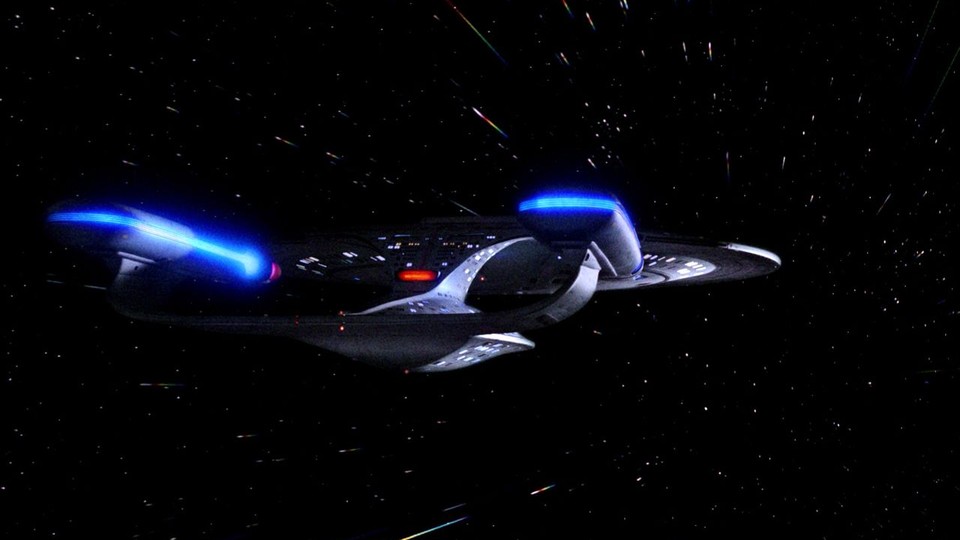 What's the easiest way to tell that we're in the midst of a television programming revolution? Just look at what the networks, the dinosaurs of the industry, are doing to keep up. On Tuesday, CBS detailed its plans for its prospective Netflix competitor "CBS All Access," a monthly subscription-based online service that will use a new Star Trek show to try and reel in viewers. But where Netflix's strategy is to become a vast repository of original content, dumping whole seasons of original shows at a time for people to sample at their leisure, CBS is trying to hold onto the weekly model that has defined broadcast strategy for decades. That compromise is currently untested, but it could be the future of the medium.
According to a conference call held with reporters by CBS's president, Les Moonves, the new Star Trek series will debut in January 2017, with one episode released per week. It's not much different from how CBS airs its programs now, except that "All Access" will cost an extra $6 a month. The news that Star Trek was returning to TV excited devoted fans of the franchise, but online chatter mostly focused on how quickly they'd be able to watch the season before unsubscribing from the service. The fan site TrekCore acknowledges, sadly, that such a "binge and bail" tactic won't be possible—which is exactly what CBS wants. As cable cord-cutting grows more common among younger viewers, networks need to find a new way into their pockets, which is why the weekly cliffhanger may not be going anywhere anytime soon.
This Star Trek model already exists at the streaming network Hulu, which releases one episode a week of shows like Casual and The Path. But so far none of its original content has made the kind of splashy debut that Netflix secures for so many of its big shows, from House of Cards to Orange Is the New Black to Unbreakable Kimmy Schmidt. That's more because Hulu's shows are a strange hodgepodge of small-scale comedies, European shows, and muted dramas, along with later seasons of network cast-offs like The Mindy Project. But there's no question that the Netflix model, which gives viewers the chance to devote an entire weekend to the show they love and then rewatch as they see fit, leans more toward instant buzz and helps build brand recognition.
CBS is no Hulu—it has plenty of brand recognition, and in case that isn't enough, Star Trek is about the most bankable streaming TV property imaginable. It has a built-in fanbase that goes back for generations and only continues to grow. Its rebooted film franchise has tapped a new wave of devotees, as has (ironically enough) the availability of the old Star Trek series on Netflix. Moonves knows that it could be big enough to attract millions of subscribers to a service that right now goes mostly unnoticed, but that might be a huge piece of the network's profits sometime in the future.
"We could have cashed in for a lot of money, selling it to Netflix, Amazon, Hulu … they were all very interested in it," Moonves told reporters. "We know that Star Trek is a high-priced, quality product …  there are a lot of very rabid Star Trek fans who are going to sign up for it."
Indeed there are. But will they stay? Star Trek will probably only run for 13 episodes. Moonves has plans to debut "three or four" other original shows on the All Access service, though he's offered no details of what they might be. Other than that, the app provides a basic service to TV viewers who've abandoned their cable subscriptions: You can watch any regular CBS show and thousands of archived episodes through it. At $6 a month, that might seem like good value, but it's going to feel less and less so as more networks offer the same bundle of original content and back-catalog delights.
NBC is trying this approach with Seeso ($4 a month), which has both new comedies and a curated selection of classic TV works like Monty Python's Flying Circus and Saturday Night Live. HBO Now ($15 a month) lets viewers watch the premium network without a cable box; its rivals Showtime and Starz are now pursuing similar services. As consumers abandon their cable bills (which can cost hundreds of dollars every month), a pick-and-choose approach will help save money in the online market, and a weekly dose of something like Star Trek will help make that choice easier for many subscribers. Les Moonves and CBS's programmers may look like they're behind the trend now—but they have their eye on the future.