Can Chelsea Handler Break the Late-Night Format?
The comedian's new Netflix show has a 'near-live' recording schedule and an eclectic mix of guests.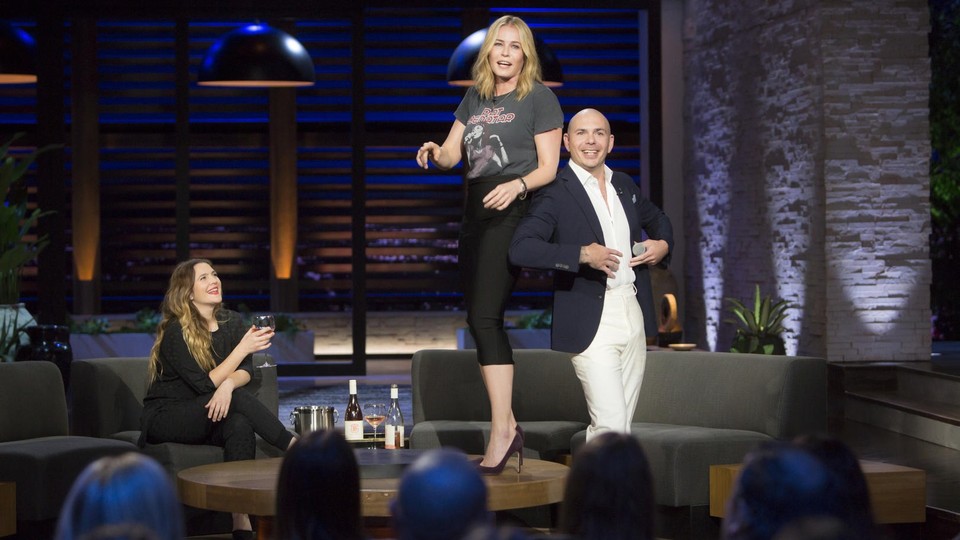 For all the downsides of binge-watching and serialized storytelling, Netflix has done much to revitalize many moribund TV genres with its original programming. The comic-book show, the grownup cartoon, and the network sitcom have all found surprising new angles thanks to the streaming service. But its new offering Chelsea—hosted by Chelsea Handler—is tackling an even steeper challenge: turning the late-night talk show, the most staid, old-school television format around, into something fresh and exciting. The series makes a noble effort, but from the look of its first episodes, it hasn't yet figured out a way to stand out from its competitors.
Handler is a veteran at the talk-show game, and her long-running series on E!, Chelsea Lately, was more anarchic than her network-TV rivals, with its permanent roundtable of L.A. comedians riffing on pop culture and reality TV. Her Netflix series, which will release episodes every Wednesday, Thursday, and Friday, applies that freewheeling conversational style to more serious topics—education reform, tech innovation—while retaining some of the medium's classic formatting. But more often than not, the combination is awkward rather than transformative.
Part of the problem is Handler's insistence that she's doing something radically different. "I've learned that I don't want to do a monologue anymore," she said in the first episode's monologue, delivered to a laughing audience. "I know it seems like a monologue, but this is not a monologue. It's an explanation. And if you don't know the difference, then you can log out, or log off, or fuck off, or whatever ... I'm a late-show host that doesn't want to be tied down by time, or television, or even hosting."
That'd make more sense if Chelsea didn't feel like such a classic late show, through and through. After her opening monologue, which disses the idea of an opening monologue, Handler transfers to a desk and makes a few jokes about the upcoming election, before cutting to a pre-taped sketch poking gentle fun at her new network. There's nothing here viewers haven't seen before—but that's not entirely Handler's fault. The late-night talk show really only hinges on two things: It airs late at night, and its stars and guests talk about current events, be they frivolous or weighty. What's there to revolutionize?
As with many Netflix shows, the biggest difference the viewer might immediately notice in Chelsea is the lack of ad breaks. With network shows, commercial breaks have come to inform the structure of each episode: They demand that a guest fit an anecdote into six minutes, or that the viewer sit through five ad breaks before watching the musical performance or stand-up set they might have tuned in for. Not so with Chelsea. Bored by the opening sketch, but interested in Handler's discussion with Education Secretary John King? Just skip ahead to that. If a panel runs a little longer than expected, the show can keep it all in, since running times don't matter much (episode one is 37 minutes long, episode two is 33). Meanwhile, even premium-cable talk shows like HBO's Last Week Tonight, which also don't have to worry about ads, still have to fit within a half-hour block.
Chelsea is also notable for its "near-live" status (it records the Monday, Tuesday, and Wednesday of each week it airs), while all other network talk shows, from Stephen Colbert to Jimmy Fallon to Trevor Noah, tape hours before they air. Since joining Netflix, Handler has talked about how bored she got with the demands of her E! show and the necessity of discussing the latest life updates of reality stars and hot items from gossip blogs. She envisions Chelsea as 60 Minutes but "faster and cooler," and the first two episodes of the show try to accomplish that by throwing wonks like King or TED Talks founder Chris Anderson together with celebrities like Drew Barrymore and Gwyneth Paltrow. It provokes some insightful moments—and some wince-inducing ones, like Handler's attempt to freestyle rap with Pitbull minutes after he tearfully talked about the educators who had an impact on his adolescence.
Late night has strict formatting for a reason: The whiplash between straightforward comedy and insightful, honest interviews can otherwise be too much for audiences. Still, few talk shows know from the start how to nail the tone they're aiming for. Fortunately, Handler has time to figure that out—the show will air 90 episodes this year, three per week, throwing together eclectic groups of guests. Chelsea may be off to a shaky start, but for those who want to wait for the show to find its feet before checking out some episodes, there should be an interesting backlog of segments in a few weeks. It might not exactly overhaul the late-night format, but few shows are in a better position to do so.