A Bigger Splash: A Dark, Sensuous Romantic Drama
Luca Guadagnino's new film sees Tilda Swinton caught in the middle of two men's affections, while a weightier crisis plays out in the background.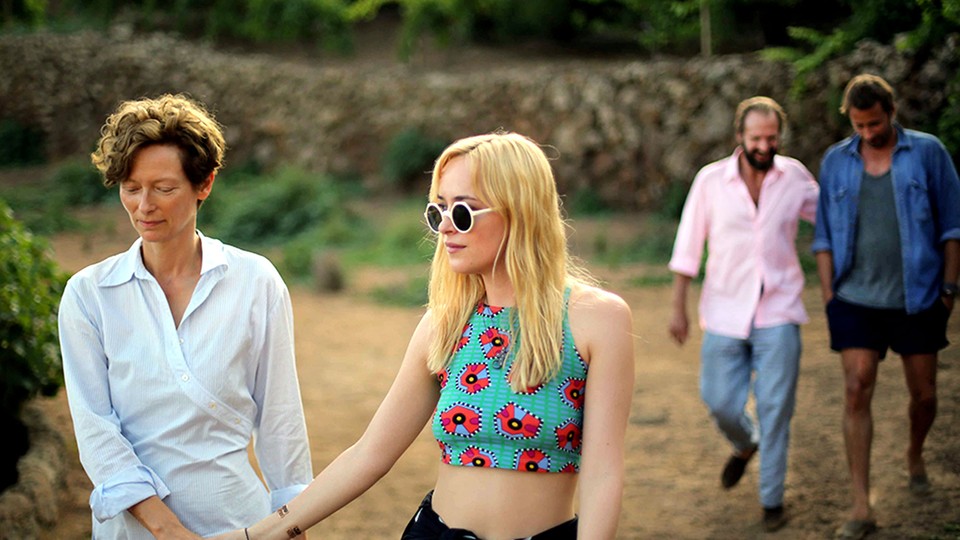 A Bigger Splash seems to announce its intentions from minute one, cutting from the rockstar Marianne Lane (Tilda Swinton) electrifying a stadium of thousands to a shot of her sunbathing nude by a pool in an Italian villa. Here, it appears, is a movie about the glamorous life of a celebrity, and the consequences therein. But Luca Guadagnino's new film comes into sharper focus much later, as the viewer realizes Europe's ongoing migrant crisis is playing out in the background, largely ignored by the high-wattage ensemble until it becomes impossible not to.
A Bigger Splash is a sensuous delight of a film, but it has a darker heart that brands itself in the viewer's mind. Like Guadagnino's last film, the 2009 drama I Am Love, A Bigger Splash is filled with beautiful things to look at, from the cast to the striking landscape. It's a loose adaptation of Jacques Deray's 1969 French film La Piscine, a provocative potboiler set on the French Riviera, but Guadagnino moves his story to the remote Italian island of Pantelleria, a balmy paradise being inundated with groups fleeing crises in Africa and Asia. Though it starts out as an energetic romantic yarn, following the struggles for Marianne's affection between her boyfriend Paul (Matthias Schoenaerts) and her old flame Harry (Ralph Fiennes), it becomes a far more engrossing film when it breaks out of its reverie and confronts the ugliness both within the villa and without.
The story is less a love triangle than a love rhombus, and the plot kicks off when Harry and his daughter Penelope (Dakota Johnson) crash Marianne and Paul's island looking to make trouble. Guadagnino charts the building tension as Harry and Paul jockey for Marianne's attention, though Penelope also wedges herself into the action. Harry, a parody of a coked-up '80s record producer who still manages to feel like a real person, is creepily close to his daughter, a gorgeous poolside temptress he claims to have met as a grown-up. Fiennes's performance is exhilarating and exhausting in equal measure, a jolt of fun for a film that's mostly about characters who want to languidly relax by the pool and make eyes at each other. Paul is both quieter and hunkier, played by the French up-and-comer Schoenaerts, a champion brooder who excelled at the task in last year's Far From the Madding Crowd.
Caught in the middle is Swinton, who was electrifying in Guadagnino's I Am Love. In A Bigger Splash, Marianne has undergone some sort of vocal surgery that makes it impossible for her to speak beyond an occasional whisper. It's a dazzling experiment for Swinton, who's slipped into so many strange skins in recent years—a Thatcher-esque dictator in Snowpiercer, rival twin gossip columnists in Hail, Caesar!, a bored vampire queen in Only Lovers Left Alive. She more than rises to the challenge of a dialogue-free starring role, communicating her longing for both partners in subtly calibrated facial expressions.
A Bigger Splash is mostly light and airy for its two-hour running time, until Harry and Paul's tussling grows more heated and claustrophobia takes over. But discord lurks on the edges of the film from the beginning, as Guadagnino and the writer David Kajganich hint at the influx of refugees to the island (and Italy at large), and the problems fermenting around this idyllic slice of life. At one point, Paul and Penelope go on a hike through the cliffs of Pantelleria, and run into a group of refugees doing the same, but for survival, rather than leisure. A tense standoff plays out even though neither side understands what the other is even doing there: The gulf between the holidaying party and the people around them is socially vast, but geographically tiny.
Though A Bigger Splash slides into more nakedly political territory in its final 30 minutes, the shift doesn't feel jarring, but necessary—a chilling reminder of the heavy investment viewers have in the splashy lives of the rich, and our disinterest in the opposite. It's a rare film that pulls off a Rules of the Game-style satire—portraying the lives of the wealthy and the famous to deliver a heavier social message—but it also manages to be an otherwise straightforward and enjoyable romantic drama. The sexual machinations of these beautiful people are easy to enjoy, but it's just as satisfying when things all start tumbling down.