Ding Dong, Azealia Banks Is off Twitter
The controversial rapper's final (for now) racist freakout exemplifies the worst Internet behavior.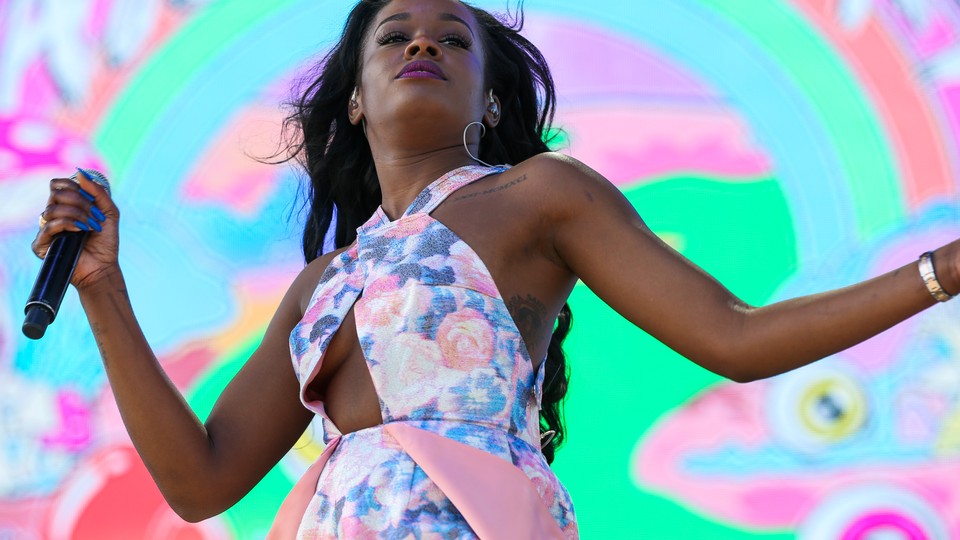 Even the biggest fans of the rapper Azealia Banks's music—I'd count myself among them—have to admit, by now, that her larger ongoing cultural significance stems from her tweets rather than her music. At a time when sensitivity—or "political correctness"—is a hot topic, Banks has played the unique role of reminding people that there's no partisan monopoly on hatefulness. She supports Trump but also parts of far-left ideology; she's flung hate speech at nearly every identity group imaginable, with her latest flare-up slurring the singer Zayn Malik for being Pakistani and the actress Skai Jackson for being young. This time, the results are that she's been dropped from a U.K. music festival and—this is big, though possibly coincidentally timed—suspended from Twitter.
It feels like satire come to life that her long-awaited reckoning would come only after insulting an insanely popular ex-boy-bander like Malik. The racism and homophobia on display wasn't new for her; the lesson would seem to be that the one group you never want to offend is One Direction fans. If you want to find a deeper lesson, though, you can: Banks's final (for now) Twitter tirade was a perfectly incoherent masterclass in showing how we end up with so many people spewing hate speech at strangers online.
The incident began with Banks posting a side-by-side comparison on Instagram of Malik's new music video with an old one of hers. The point was that he was jacking her aesthetic, though the picture of skinny shirtless Malik next to Banks in a bra seemed like a wink that she wasn't being all that serious. Ditto for the caption: "I'm not mad about this though. Zayn is a cutie pie."
Soon after, Malik tweeted "I see you reaching but I don't care" and "My @'s too good for you." He might have been referring to Banks but he might not have been. She assumed he was, replying, "dude, I make better music than you. Simmer down with that fake white boy rebellion and that wannabe beiber swag."
From there, she underwent a pretty dramatic devolution. The next tweet called him a "curry scented bitch," leading the online Desi community to quickly turned #curryscentedbitch into a pride slogan. The one after: "imma start calling you punjab you dirty bitch." Imma start—in other words, she's choosing to go there. She's reaching for the cruelest weapon available. Unvarnished racism blended with attempts at a wider critique as her tweets lectured him that he'd only ever been a token in One Direction: "Do you understand that you are a sand nigger who emulates white boys' renditions of black male hood?"
She later posted a textbook non-apology for her freakout—"Remember that offense is never given, it is only taken. I apologize to everyone who TOOK offense." More interesting was her longer explanation:
I said what I said to Zayn because I was angry. He felt as if he was too good to acknowledge me yet not too good to copy my creativity. I had to remind him that we're both in the same boat in this industry and people of color by reminding him that no matter what you may think of yourself, the world still sees you as "other," as they see me.
This might have made sense if she hadn't been the one employing disgusting slurs in exactly the way that the racists she was supposedly exposing might use them. The first two lines, suggesting she turned to hate speech out of anger and powerlessness, seems like as good an explanation as anyone is going to get for what leads someone to send so many mixed (and horrifying) messages over the years. Twitter has made it easy for her and others to air their ugliest feelings with the ugliest words possible; it hasn't ever seemed to make those feelings go away. For now it's doing the next best thing, which is taking her words offline.