Hollywood's Sequels Are Wearing Thin
The lukewarm box office for films like X-Men: Apocalypse and Alice Through the Looking Glass is part of a worrying trend for major movie studios.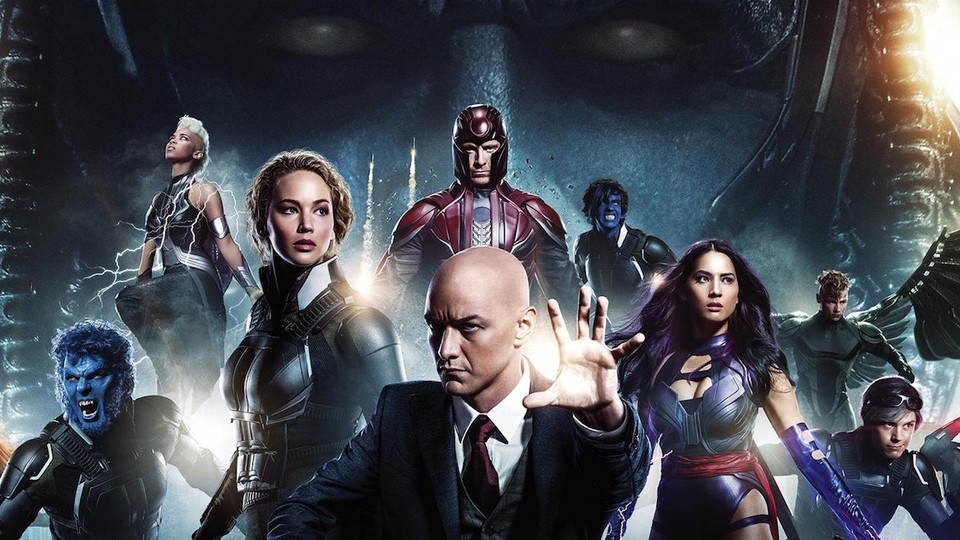 Up until recently, the most common descriptor attached to Hollywood sequels was "critic-proof"—a backhanded compliment that describes how films cash out on fan interest and appeal to the lowest common denominator. Even the most generic action movies have spawned improbably prompt follow-ups, from Teenage Mutant Ninja Turtles to Olympus Has Fallen. In an age of superhero franchises, studios have doubled down on sequels, considering them the safest possible bets as the average budget of blockbusters swells close to $200 million. But looking at 2016's box-office results, it's possible 2016 may be the year the bubble bursts.
On the surface, the opening take this Memorial Day weekend for X-Men: Apocalypse doesn't sound bad at all—it made an estimated $80 million over four days. But that's down from the $110 million its predecessor Days of Future Past took on the same weekend in 2014, and not quite the $85 million that X2 made on its three-day weekend some 13 years ago. What did those films have going for them? Good reviews, but also, especially in X2's case, a marketplace far less crowded with sequels. In 2003, X2 was the only sequel in wide release when it hit theaters. Last weekend, X-Men: Apocalypse was one of six.
It's a slump that may pass: Hand-wringing about the proliferation of unoriginal moviemaking is as old as Hollywood itself, and of course, one of the most dominant films of 2016 is Captain America: Civil War, the third Captain America movie and the umpteenth installment from the interwoven "Marvel Cinematic Universe." But increasingly, the Marvel strategy—which has been so readily copied by other studios—appears to be an exception rather than the norm, and with bombs like Zoolander 2 already on 2016's flop pile, studios are beginning to worry publicly about where things might be going.
With an opening of $80 million, X-Men: Apocalypse is projected to earn around $170 million total at the domestic box office—less than Civil War earned in its opening weekend. Coupled with healthy international grosses, the film will make enough to cover its reported $178 million budget (studios take home about half of what a film grosses), but not enough to really justify the expense of making it. More important, the film's shoddy buzz won't do any favors for future franchise entries that are already in the works, especially since big stars like Jennifer Lawrence almost certainly won't be returning.
Some of the other sequels that are underperforming this year include Alice Through the Looking Glass, which opened to $34 million and likely won't even clear $100 million total—a number its 2010 predecessor outstripped in its opening weekend. The Huntsman: Winter's War, a follow-up to the successful Snow White and the Huntsman, is about to exit theaters with a domestic total of $47 million, less than half of its budget. The third film in the young-adult Divergent series, Allegiant, finished at $66 million, down from the first film's $150 million. Perhaps most prominent is Batman v Superman, which took a seemingly healthy $328 million—but as the $250 million-budgeted flagship film of a giant franchise, with eleven follow-up films already in the pipeline, it was enough of a disappointment to prompt a major shake-up of executives at Warner Bros. to try and right the ship.
All of these films were rated "rotten" on Rotten Tomatoes (unlike Civil War, a critical and commercial hit). The upcoming summer 2016 slate is full of similar red flags, follow-ups that were ordered on the back of limited audience enthusiasm. There's the aforementioned Teenage Mutant Ninja Turtles: Out of the Shadows; Now You See Me 2; The Purge: Election Year; Ice Age: Collision Course—even a follow-up to Jason Statham's forgotten action flick The Mechanic. There are also less risky bets—a revival of Independence Day, a reboot of Ghostbusters, a new Star Trek film, and a sequel to Pixar's Finding Nemo—but when you put it all together, there are hardly any weekends when one of these films isn't among the big new releases.
This isn't to argue that Hollywood is about to start embracing originality, but rather that the straight-sequel model might have reached its peak. Among the hits of 2016 are The Jungle Book, in which Disney gives a CGI coat of paint to a classic animated work; Deadpool, a superhero movie that succeeded by thumbing its nose at the dull franchise model, indulging in ludicrous violence and meta-commentary; Zootopia, an animated hit that coasted on great word of mouth and strong reviews; and Civil War, which despite following a smoothed-out Marvel formula, did the same. The only obvious thing these movies have in common is that they emphasized storytelling and character development instead of mindlessly following a formula, and they were well-liked by critics as a result. While sequels will always be somewhat inevitable, studios could benefit now by paying attention to what works rather than repeating what doesn't.