Network TV's Future Is All About the Past
Reboots, spinoffs, and sequels dominate the small screen next season, as the likes of CBS and NBC try to stay ahead of their streaming rivals.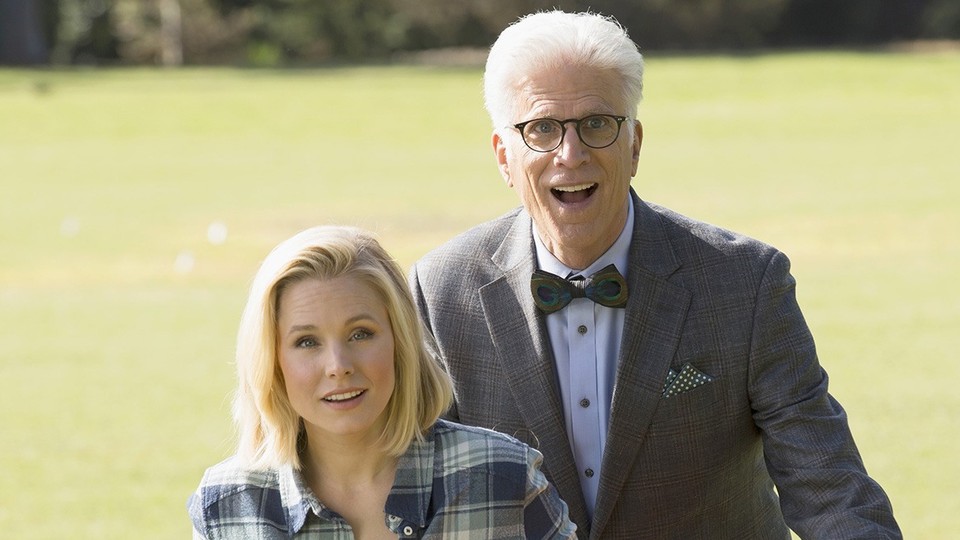 Every year, advertising and programming executives come together for an old-school gathering known as the network-TV upfront. And every year, amid discussions of the upcoming season of shows, there's always talk of innovation. 2016 was no different. NBC has said it's planning to cut back on Saturday Night Live's ad breaks in favor of more "native" advertising, or branded content that appears within episodes. Meanwhile, ad firms continue to use data to figure out just how many people use their DVRs to fast-forward through commercials. Both sides are navigating ever-narrowing avenues of relevance, but you wouldn't know that from the shows making it to the screen.
As the TV world grows more diffuse, the "Big Four" networks—which once took more risks on shows with iffy ratings potential in hopes of Emmy attention—have retreated to what they know will work. Crime procedurals, spinoffs, adaptations of famous films, and reboots of popular old shows matter most. Streaming networks like Netflix and Amazon are throwing money at original programming that can defy the strictures demanded by commercial breaks and timeslot competitors. Meanwhile, CBS, Fox, NBC, and ABC are going back to their glory days: a monoculture where the Law & Order creator Dick Wolf was the most important person in the business, and a TV version of the Lethal Weapon films might have actually appealed to young people.
That's not to say the golden age of network TV was filled with creative triumph; the schedules presented at upfronts have always included cheaper cash-ins. But the already announced lineups from NBC and Fox are heavy with supposed "safe bets" that harken back to the days before cable and streaming networks started crowding the market. Meanwhile, more daring work like The Carmichael Show, a marginal hit on NBC, struggled to even get renewed, while CBS (perhaps the fustiest of the "Big Four") apparently passed on a modern update of Nancy Drew because it skewed "too female." That's how risk-averse these networks have become: They're afraid of shows that might appeal to half of the viewing audience.
CBS's full lineup hasn't yet been announced, but for years the network has thrived by embracing classic staples like procedural crime dramas (the CSI, NCIS, and Criminal Minds franchises) and broad laugh-track sitcoms (like Two and a Half Men, Two Broke Girls, and The Big Bang Theory). The approach has kept CBS at the top for more than a decade—though its programming doesn't skew young (the 18-49 age bracket is the most crucial to advertisers), it's broadly popular enough for that not to matter. Which explains the network's reluctance to take chances: The female-led Supergirl, which debuted to big ratings that later declined, is being shuffled over to The CW, which already airs several superhero shows. That move, coupled with the fear that a Nancy Drew reboot was too niche for the network, casts a harsh light on CBS's fierce commitment to the middle of the road.
Yet it isn't an approach other networks are looking to copy. NBC's lineup includes one exciting prospect, The Good Place (from the Parks & Recreation creator Michael Schur), a comedy set in the afterlife starring Kristen Bell and Ted Danson. But other than that, the network looks nothing like its more creatively adventurous days, when its schedule included low-rated but critically acclaimed shows like Community, Friday Night Lights, and 30 Rock. The bulk of new shows are related to existing hits, so the silly spy thriller The Blacklist gets a spinoff called The Blacklist: Redemption, while Dick Wolf's empire of Chicago procedurals (Chicago Fire, Chicago P.D., Chicago Med) gets a fourth entry called Chicago Justice. NBC has also taken to sprucing up hoary old pieces of intellectual property: There's the Wizard of Oz-inspired epic drama Emerald City, a Game of Thrones knock-off that transforms the world of Oz into a darker copy of Westeros, filled with magic and political intrigue.
Fox's lineup is even more reboot-happy. Along with existing adaptations like Gotham and Lucifer, the network is trying out new versions of Lethal Weapon and The Exorcist. Reworking film franchises that haven't been popular since the mid-'90s may not make a lot of sense, but in the world of Peak TV, any kind of brand recognition is key—that's probably how a misguided adaptation of Uncle Buck is making its way to the airwaves this summer. Fox has good reason to believe the nostalgia hype: One of its biggest hits last season was its six-episode reboot of The X-Files, which got great ratings with viewers young and old. It also capitalized on the show's streaming resurgence (the original episodes are all available on Netflix) to get huge attention online, even though reviews were generally negative.
So this year Fox is bringing back 24 (though not in its classic 24-episode format) and Prison Break, as if to remind viewers of the mid-2000s when it was a champion of high-concept genre TV. The network's also continuing its run of live musical spectaculars after the success of Grease Live, with The Rocky Horror Picture Show (starring Laverne Cox) due sometime this fall. The recurring theme across every major network is a bet on big brand names and must-see TV events that demand to be watched live. It seems to be working. According to advertising insiders, prices could spike this year after a long plateau, as a flurry of investments in digital advertising have yielded mixed results.
That's why the Big Four are chasing down well-tested projects: Any griping about NBC's shift away from bolder television can be easily countered by citing the network's steadily improving ratings. The firing of ABC's chairman Paul Lee, who took creative risks on low-rated shows like Galavant and American Crime, was a sad reminder that companies value consistent ratings over good reviews, but it was a defensible decision nonetheless. This year, ABC is doubling down on its biggest name—Shonda Rhimes—adding a loose Romeo & Juliet adaptation called Star-Crossed from the mega-producer of Scandal, Grey's Anatomy, and How to Get Away With Murder.
For all the focus on reboots and spinoffs, that seems like the smartest middle ground: betting on smart creators who make memorable, bombastic dramas that demand to be watched as quickly as possible. Though it's not exactly prestige TV, Fox's Empire remains one of the most-watched shows among young viewers and consistently trends across social media any time it features a major twist (i.e. almost every week). It's the perfect mix of network nostalgia and forward-thinking programming, taking a classic genre (the Dynasty-esque soap) and giving it a contemporary setting and a diverse cast. By contrast, this year's upfronts mostly seem firmly mired in the past.