American Idol Will Be Missed
The Fox talent show, ending with its series finale tonight, offered rare glimpses of humanity in primetime entertainment.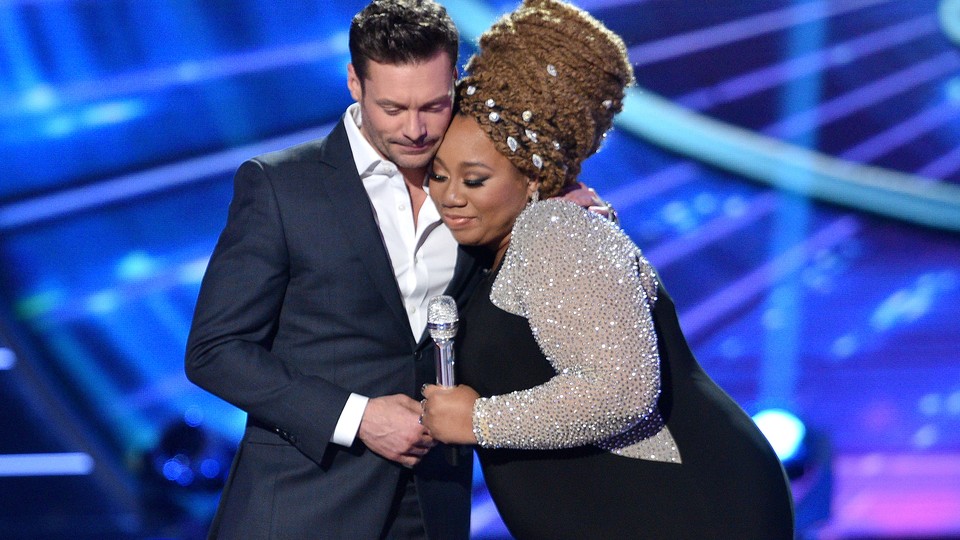 Weeks ago, at the beginning of the ninth episode of American Idol's farewell season, Lee Jean stood at a hotel window, nervously rubbing his hands together while gazing out at the Hollywood Hills. The high school student from Bluffton, South Carolina, had been a fan favorite since Jennifer Lopez summed up his audition by declaring, "You're so cute … everything about you just makes me want to squeeze you!"
Now the teenager, just 15 at the outset, had made it past thousands of failed hopefuls all the way to "Hollywood Week," where he dedicated a performance to his deceased brother. As he sang, the nationwide search had been winnowed to 75 contestants sorted into three groups. A third of the 75 would be cut by the end of the hour.
The drama unfolded across a series of enjoyable performances, including an original song from MacKenzie Burge, a 23-year-old musician from Lafayette, Louisiana. Later, there were a series of short vignettes about friendships among contestants. Just when viewers had forgotten about Lee Jean, that segment concluded with clips showing the adorable bond between him and another teenage singer, Sara Sturm, a cute girl with braces who was roughly three years his elder:
After a commercial break there were vignettes about other singers, then more performances building up to the denouement. "Behind these three doors are 75 very nervous contestants unsure of their fate," Ryan Seacrest explained, indicating three ballrooms. "We're about to find out whose dreams end and whose continue."
* * *
American Idol debuted less than a year after 9/11, when a singer with big dreams had no obvious way to get heard. There was no Facebook, no MySpace. YouTube wouldn't launch for another three years. SMS wasn't yet common (a lot of Americans sent their first text messages while voting on Idol). In the beginning, Ryan Seacrest co-hosted the show with Brian Dunkleman. Performers were judged by the pop star Paula Abdul, the producer Randy Jackson, and the record executive Simon Cowell, who'd served as a judge on the original British version, Pop Idol.
"I'm here to do a job, and I think I'm going to do something that is a shock to the American public," Cowell said in episode one. "We are going to tell people who cannot sing and who have no talent that they have no talent. And that never makes you popular. We are going to show the audition process as it really is, because shows in the past have not shown the brutality of auditions. Auditions are horrible places to go, and I'm warning you now, you are about to enter the audition from hell."
For some viewers, the show's appeal was mostly aspirational: They dreamed of being like Kelly Clarkson, the big-voiced talent with girl-next-door charm who ran away with the first season and took home a Grammy soon after. Other viewers took satisfaction in seeing bad singers publicly mocked. As Newsweek later put it, "It's meanness as a pastime, as a recreation, as sport." Large swaths of the audience enjoyed both aspects of the show, and Idol quickly became a ratings powerhouse, which it sustained long enough to become one of TV's most successful shows.
Critics have been saying for years now that the series is past its prime, in large part because it spawned so many imitators that a ratings decline was probably inevitable. "Idol and the programs that emulate it have played out all the stories mainstream music once offered," Ann Powers declared on NPR back in 2012. "The ingenue rising from innocent obscurity; the contender getting another try; the marginalized person pushing her way into the center—these scripts have been exhausted."
Maybe so, but I've enjoyed the past several seasons of Idol more than any others. That's partly for a reason that Powers hit on later in that same NPR piece. "On the surface, Idol and its imitators harken back to an older tradition: the amateur hour that lifts exceptional ordinary people into the glamorous life," she wrote. "Yet because it was structured as a 'journey' for contestants whose interactions with the judges and others—stylists, celebrity mentors, the band—helped them focus a gift and turn it into a product, this updated version of the star search felt less like the kiss of a fairy godmother and more like the reward for contestants' entrepreneurship."
As Idol matured and spawned rivals, Powers concluded, "the story of innocents thrust into the spotlight became one of self-made contenders perfecting their games."
Alongside that evolution, the show's audience matured. Before Gawker or Web 2.0, Cowell's insults and snark seemed edgy and taboo-shattering. Today, everyone with access to Twitter knows that needlessly rude jerks are a dime a dozen. And empathy for people putting themselves before TV cameras has grown as social media has made almost everyone into semi-public figures at constant risk of being publicly judged, mocked, or ridiculed. Who needs more of that in their lives?
So, over time, Idol producers rose to the challenge of doing better.
In place of savaging bad performances, they used their growing budget to mine more gold from moments of humanity. In episode nine, I watched 25 hopefuls, including Lee Jean, erupt in elated cheers as they got sent through to the next round. Room two was harder viewing: 25 singers, many of them familiar faces, were cut. Finally, Sara Sturm and the rest of room three were told they were safe, too.
But the best moment, the one that convinced me that American Idol would conclude its 15-season run at the top of its game, came after all three of the big reveals.
You couldn't watch it without smiling.
The winning contestants spilled out of their respective ballrooms. Two groups of 25 young people met in the throes of celebration, some jumping for joy. And amid the chaos, there was Sara Sturm, her expression unmistakable: I made it! This is really happening! Thank you thank you I am elated I can't believe it I can hardly contain myself but I haven't exploded in celebration––I may yet but haven't quite because I am searching faces, where is Lee oh please did he make it too OMG Lee where are you where?!
All that came across in a few well-chosen frames tight on her face, interspersed with cuts of the others celebrating. Beneath those images, Sia's "Alive" was building to its frantic climax. And at just that moment, Sara Sturm spotted Lee Jean. They rushed together, crashing into an embrace. "I told you," Sara shouted, "we would make it together!" It was a fine bit of narrative editing to top off an episode.
Those are the sorts of moments that a mature American Idol delivered.
So, too, the last group of judges, Harry Connick Jr., Jennifer Lopez, and Keith Urban, distinguished themselves as the finest American Idol ever had. They panned performances when warranted. In early auditions, they crushed some hopes by assessing talent forthrightly. But they weren't cruel for sport. They were only cruel to be kind. They took no pleasure from the duty of telling someone that they were no good. When critiques could be softened by pointing to real strengths, they were. It wasn't that they thought Simon Cowell was wrong about the value of truth—they simply showed by example that he'd gone farther than necessary.
America had gone farther than necessary.
In its last seasons, American Idol could plausibly claim to be that rarest of things: mainstream entertainment that elevated its viewers (on a Fox reality show, no less). Behind the scenes, there may have been ruthless entertainment industry antics aplenty. But at least in front of the camera, no other reality TV show that I can think of has done more than late Idol to appeal to the best rather than the worst in Americans, grounding itself in genuine human emotions born of real stakes.
The show portrayed a highly stylized reality, to be sure. But within that hour or two of television, people of different races, classes, religious backgrounds, regions, personal styles, body types, and aesthetic tastes were presented as dignified individuals worth getting to know and value as they revealed who they were.
Skeptics told Ruben Studdard he "didn't look like an American Idol." But even as early as season two, America proved it wasn't as shallow or racist as those people had imagined.
The many-faceted diversity on display across 15 seasons helped viewers see people beyond their bubbles, increasing the sorts for whom they were inclined to feel empathy. And contestants modeled the fact that while talent is unevenly distributed, hard work and self-acceptance pay off, even if they don't guarantee victory. Most went on to lose gracefully, having gained something from the experience, even when, like Jennifer Hudson, they deserved to stay longer than they did.
Idol was never a meritocracy. The best singers didn't always win. But as it concludes its run, I won't just miss the moments of triumph, despair, and camaraderie it captured; the best of its musical numbers; or the chance to become acquainted, if only slightly and for a little while, with new groups of young people from all over my wonderfully varied country. I will lament the loss tonight's finale represents for all the musical dreamers who saw Idol as one way to make it, and for all the people who treated the show as fuel to pursue success in their chosen fields.
This year's final contenders included Dalton Rapattoni, an endearingly vulnerable vocal coach who struggled with manic-depression, Trent Harmon, who grew up on a Mississippi farm, and the powerhouse La'Porsha Renae, 22, a call center worker from McComb, Mississippi, who fled to a domestic abuse shelter with her 1-year-old and needed this platform to show off her undeniable gift. One wonders how many people have gained inspiration or confidence from their journeys.
America has more talent in its many corners. How much will go undiscovered? We could use more talent searches that require no credentials, more excuses to discover strivers who need a shot, more chances to glimpse and learn from their humanity.
That's why I'll miss Idol long after it's gone.