The Brilliant Anxiety of Weezer's White Album
The rock band's 10th full-length recaptures their early sound while sharpening their underratedly powerful message.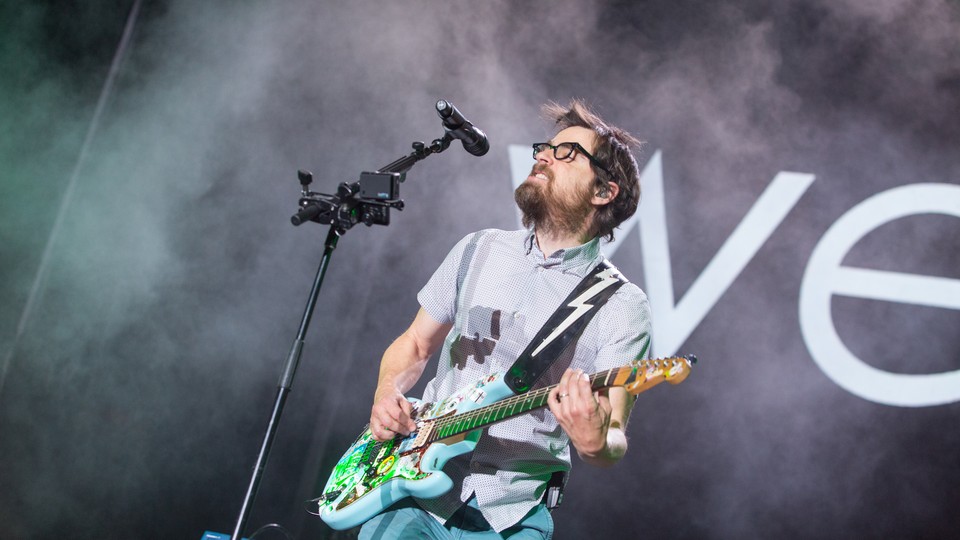 The most unexpectedly emotional music-related experience I've had this year came when I was scrolling through Weezer lyrics on the annotation website Genius, of all things. On first hearing their new song "King of the World"—file under "sounds like Weezer"— you might wonder if Rivers Cuomo's mentions of magazine covers and plane crashes were the result of random, writerly babble. Turns out, they're references to his wife's deep phobias, and on Genius she replies, line by line, to his vows to help her deal with them. "We could ride a Greyhound all the way to the Galapagos" goes the song's chorus, to which Kyoko Cuomo responds, "I felt like you really understand—like, you chose the ground transportation rather than flying. You know that I don't like airplanes. It's kind of nice that you know about your spouse, you know what I mean?"
The couple's back-and-forth is moving for a few reasons, one of which is that it affirms that the highly publicized gimmick about Rivers looking for lyrical inspiration—and just lyrical inspiration—by joining Tinder is not, in fact, a sign of trouble at home. More poignantly, the "King of the World" commentary, and the song itself, encapsulates the often under-appreciated philosophy that Weezer's been preaching for two decades. Life is anxiety and disappointment; rock and roll is love and passion and fantasy; to use them to cope is glorious and human.
Many reviews for the white album have rightfully identified it as Weezer's best work in a very long time. The warm reception is quite possibly because their new producer Sinclair, according to this Rolling Stone interview, is obsessed with the band's early masterpieces and seems to have reverse-engineered their charms in the studio. Fans of Weezer's blue album (1994) and Pinkerton (1997) will feel acute déjà vu at the sound of this record's sky-climbing guitar solos and other instrumental touches, like the "Pink Triangle"-esque chimes that kick things off. More importantly, for the first time in a long while with a Weezer release, after a listen or two they'll be able to look down the tracklist and hum the melody for each of the songs.
That catchiness, one imagines, is among the highest accomplishments that Rivers Cuomo would hope to achieve. The band's satisfyingly metallic riffs, candy-sweet toplines, and sturdy A/B/A/B song structures want to be seen as hewing to templates: Rivers has talked over the years about painstakingly studying the ingredients of hit pop music, and always has been a very honest critic of his own work. Like, say, Max Martin, he's a brainy savant whose specialty is in pleasing the masses. Unlike Max Martin, though, he doesn't sell his talents to more natural avatars of pop-rock fabulousness. Cuomo plays up his insecurities while presiding over a soundtrack to invincibility. He is a wheezer, wailing. He is all of us normals, singing about how music and other drugs make us feel like Buddy Holly and his successors.
The white album sees Cuomo fixating on a number of those palliatives. One is place: Opener "California Kids" is the ballad of a neurotic Bostonian finding mental escape in warmer places—yes, like "Island in the Sun," yes, like "Surf Wax USA," yes, with an avalanching chorus. Another drug is new romance: "Wind in Our Sail" imagines mariners in love cursed by their own albatrosses but getting up to fun adventures nevertheless—"no more hyperventilating in wheelchairs," Cuomo sings. Another drug is drugs, as when the appropriately sludgy "Do You Wanna Get High?" flips a cliche about pill-popping: "It's like we're falling in love."
But drugs don't last. For all the fist-pump fuel the white album delivers, it also provides a few moments that approach the heartbreak of Pinkerton's "Butterfly." "L.A. Girlz," a deceptively named chuggalong rocker about yearning, hits you sneakily; Cuomo's voice quivers right along the borderline between hope and fear even as he makes an undisguised declaration of love in the bridge. The closing two songs don't bother to hide their sadness. "Jacked Up," a rare sonic departure, uses bordello piano pulse and Cuomo's falsetto to inject anticipation of regret into a one-night stand: "If I stroke your hair, it's gonna hurt so much." The closer, "Endless Bummer," conveys its title's sentiment in the traditional way, with acoustic guitars, as Cuomo sings of fading passions and unconquerable OCD.
The admission of neurosis will come as no shock to anyone familiar with Cuomo's work. But the album does break ground in answering critics who have long glimpsed a kind of chauvinist solipsism in his nebbish confessions: Ever since "I want a girl who laughs for no one else," the opposite sex in Weezer songs have been objects with little interiority, existing only to soothe the singer's addled mind. But the panicked near-rapping of "Thank God for Girls" parodies that idea by imagining a big, strong uber-woman shoving a cannoli in her put-upon boyfriend's mouth. More beautifully, "King of the World," the song about Kyoko's fears, reverses the typical Cuomo dynamic. His wife sounds like more of a neb than he is, and his love is what is supposed to save her. "Thank you & I love you, Rivers," she wrote back.