Unbreakable Kimmy Schmidt: More Madcap Than Ever
Tina Fey's Netflix show remains a winning hit in its second season, despite one obvious misfire of an episode.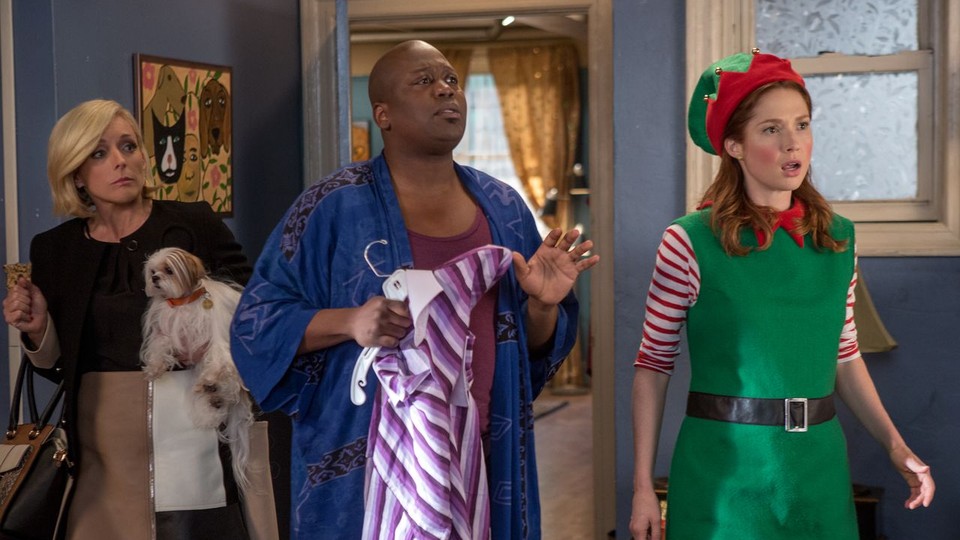 It makes perfect sense that Unbreakable Kimmy Schmidt was a breakout hit for Netflix in its first season: The series brought Tina Fey's wildly successful, madcap NBC style to the binge-watching world, and confronted dark issues with her typical verve. Simply put, viewers who liked season one are going to like season two, which (much like Fey's previous show 30 Rock) doubles down on everything that worked before without worrying about appealing to a broader audience. Once again, Fey and her trusty co-creator Robert Carlock have offered up more bizarre, whimsical adventures for fans to barrel through.
For such a deliberately cartoonish show, Unbreakable Kimmy Schmidt has a remarkable grasp on its central character's buried traumas and the ever-widening gulf between New York City's moneyed class and the victims of their wave of gentrification. And like 30 Rock, it routinely crams 10 incisive one-liners into a single, ludicrous exchange, making even the most absurd moments feel meaningful. In the first six episodes made available to the press, the show's second season only appears to truly misfire once, in the third episode, which plays out as a bizarre, tone-deaf diatribe against those who've criticized the show in the past. It sits uncomfortably alongside an otherwise sterling batch of television, serving as a valuable reminder that Fey, like all the best comic minds, has her blind spots.
But first, the bigger picture. Kimmy Schmidt's second season largely tracks along the lines of the first: Liberated after her kidnapping by a religious cult, Kimmy (Ellie Kemper) is a happy-go-lucky teen in an adult woman's body, whose buffoonery belies impressive insightfulness and a strong moral compass. She's navigating life in New York with her roommate and wannabe actor Titus Andromedon (Tituss Burgess), her batty landlady Lillian (Carol Kane), and her former employer Jacqueline (Jane Krakowski), who's picking up the pieces after the collapse of her marriage to a cruel financier.
Season two pushes things in even more metatextual directions, largely to good ends. Kimmy's Vietnamese love interest Dong (Ki Hong Lee), who was criticized for his halting, stereotypical speech patterns in the first season, is back with a much mellower accent and a hilariously silly explanation for that evolution. The early episodes of this season seek to explain Titus's mysterious origin story, a needlessly convoluted tale that ends up succeeding because of its sheer ridiculousness. The first season, meanwhile, was mostly concerned with Kimmy's backstory and would flash back to her life in the cult, building to a courthouse-drama finale as Kimmy finally took down the man who kidnapped her (played with cheerful aplomb by Jon Hamm).
Even though the show was conceived and shot for NBC (and obeyed that network's strictures about language and sex), it nonetheless made a surprisingly good fit for the binge-friendly Netflix. The second season sticks to the tone of the first (Kimmy isn't suddenly dropping F-bombs for the sake of it) but plays a little with the format: There are no obvious commercial breaks required anymore, and episodes don't have to finish in precisely 22 minutes. That's mostly a good thing, since Fey and Carlock are smart enough to know where to push the boundaries of the medium and where to pull back. At its best, the series evokes classic 30 Rock (it's hard to think of a higher compliment).
Which is why the third episode—"Kimmy Goes to a Play!"—feels particularly clunky, and reveals the show's blunter, crueler side, which is usually counterbalanced by the deep humanity of its main characters. In it, Titus stages a musical about a Japanese geisha whom he insists he was in a past life, and a troupe of angry bloggers (most of them Asian) picket the performance—supposedly to represent the online "outrage brigade" that descends upon a new cause every day. There's certainly a way to satirize that subject, but the episode gets it all wrong: Titus's performance is too bizarre (and his character too generally insensitive) for the show to convince viewers that its heart is in the right place. Ultimately, the whole storyline reeks of misplaced anger.
Fey has been vocal about her disinterest in the Internet's "apology culture." Her comments were partly prompted by the initial reaction to Unbreakable Kimmy Schmidt, which trod the "outrage" line with several of its storylines, from Kimmy's romance with Dong, to Jacqueline's Native American heritage, to Fey's portrayal of a Marcia Clark-type lawyer at the end of the season. Most of those stories had enough pathos and wit to work despite the thorniness of those topics. This episode doesn't, and it's a misstep that makes it hard to fully enjoy the rest of the season—proof, perhaps, that Kimmy is still a winning show, but one that's best when it errs on the sunny side.