Drake's Excellent New Sad-Sack Cellphone Love Song
"U With Me?", an early standout from his album Views, returns to the rich topic of exes in text messages.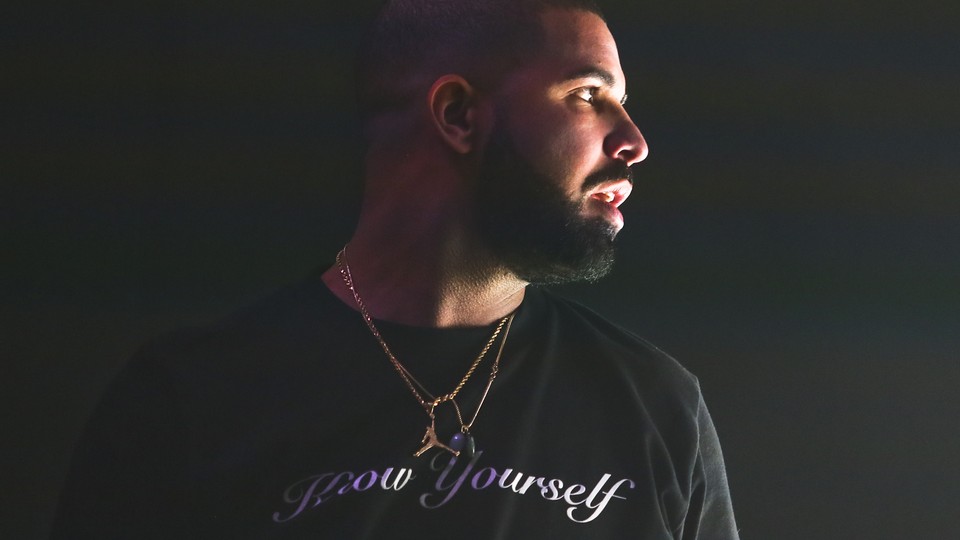 After a few listens to the hour-and-a-half long weather report that is Drake's new album Views, the third track, "U With Me?", has begun to stand out for nailing queasy aspects about our era in the way that only Drake can. Toward the beginning of the song (currently available only through Apple), the 29-year-old Toronto rapper says the following:
I group DM my exes
I told 'em they belong to me, that goes on for forever
And I think we just get closer when we're not together
This is demented stuff, no? The last two lines are something that a stalker says. The first line confesses to a behavior that not even the most frightened think-pieces about Millennials would claim is a presently accepted use of social media. Taken all together, gulp, we might have a rom-com premise on our hands.
As is always the case with Drake's many moments of semi-self-aware monstrousness, there's relatable truth here. In the era where Instagram, Facebook, Twitter, and Snapchat serve as individual trophy rooms for human connection, terminated relationships can linger in the consciousness, suspended in eternal animation, more easily than ever before. Noreen Malone nailed this phenomenon in a 2013 New York essay that traced how George Strait's "all my exes live in Texas" (a song referenced by Drake himself) became for, many people, "live in texts."
Drake's ongoing relevance owes to the fact that he is a mascot for so many trends, and this is one of them. He is the bard of what smartphones have done to dating; if you wanted to argue for the existence of a trilogy spanning from his song "Marvin's Room" to "Hotline Bling" to, now, "U With Me?," no one would send you a snotty tweet about it, hopefully. This song starts with an unanswered phone ring (and a DMX sample), and to depict the sketchiness of a relationship where neither party will commit, Drake mines the minutiae of text messaging: "3 dots, you thinkin' of a reaction still," "All that grey in our conversation history," "LOLOL I'm glad you find this shit amusin'."
The fact that he's (even in exaggeration) DMing multiple exes suggests that he thinks of them less as individual human beings than as a conceptual category. For the first two-thirds of the song, his passive-aggressive drawling could indeed be directed at a generic "you"—surely more than one suitor has heard that his pool parties are like Mardi Gras, and ideally you would never look someone in the eye and use a cornball simile like "You toyin' with it like Happy Meal." The chorus refrain—"is you wit' me or what?"—is basically mumbled; he's playing it casual, though no one makes a song like this about feeling casual. A muffled thump and melancholic keyboards, courtesy of the producers Kanye West and Noah "40" Shebib, keeps the mood feeling bummed-out but even, steady, numb.
Then for the final verse, there's a surge of emotion. The beat changes with a swarm of metallic skitters, and Drake soon after not only starts singing—he also takes his voice to a place higher and more plaintive than he usually goes. What's he so upset about? Memories of a luxury-hotel stay; "you runnin' your fingers through my curls"; the thought of professional concerns that have kept him wary of settling down. This is pure, uncut yearning for a physical connection that's lost to distance, time, and technology; it's the sound of fully remembering who's behind the three dots. Melodramatic, hypocritical, and self-pitying as it may be, it's one of the more shattering moments that popular music has offered this year.