The Star Wars Empire Rolls on With Rogue One
The teaser trailer for the first "Star Wars anthology film" promises a nostalgic thrill-ride.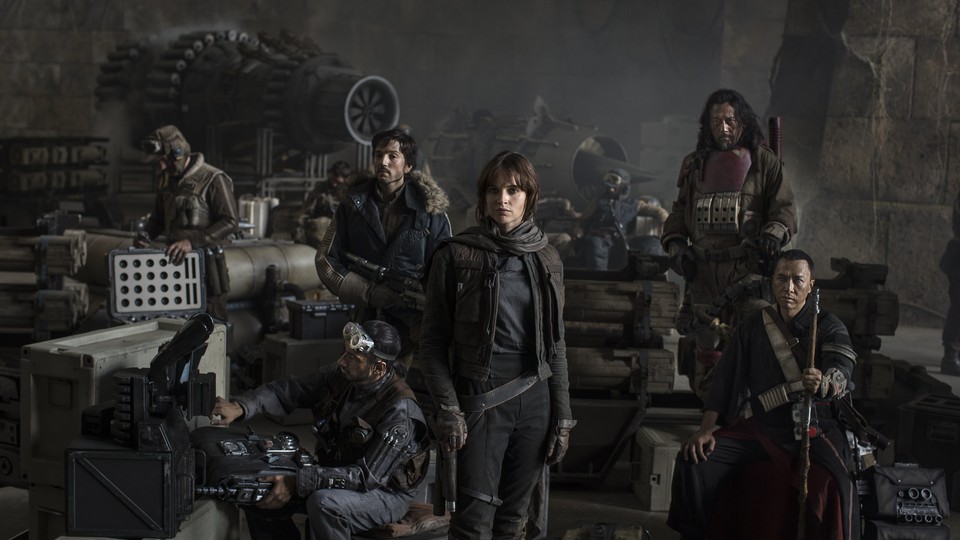 The release of Star Wars: The Force Awakens, the seventh episode in a four-decade-long film saga, was the main event for Disney's revival of the franchise, a multi-billion dollar gamble that's so far paid off handsomely. Part of the studio's plan, now that the film series has been wrested from George Lucas's grasp, is to give audiences a new Star Wars story every year, even if they're not directly connected to the ongoing series. Rogue One (subtitled A Star Wars Story), due out this Christmas, is the first such effort, and from the teaser trailer released today, it looks like an extremely appetizing side dish.
Directed by Gareth Edwards, who successfully revamped Godzilla to critical acclaim in 2014, Rogue One is being described as a sci-fi heist movie, set before the original 1977 Star Wars and following the Rebel spies who stole the plans to the Empire's Death Star (the ones R2-D2 carries around at Princess Leia's behest). It exists in the margins of the main series, but that could be freeing: Rogue One doesn't need to adhere to decades of continuity or set up several future sequels, and it still gets to exploit the powerful nostalgia of the Star Wars world and all of its grimy detail. Best of all, like The Force Awakens, it's got an exciting, diverse cast at its disposal, with a compelling female lead.
Felicity Jones plays Jyn Erso, a soldier in the Rebel Alliance with a history of insubordination and a planet-sized chip on her shoulder ("This is a rebellion, isn't it? I rebel," she clunkily quips). She's dispatched to figure out the weakness of the Death Star, a mission that will eventually give Luke Skywalker the chance to blow it up in the original Star Wars, and she has an intriguing ensemble in tow to help her out. The teaser doesn't spend much time on anyone else, but there's Diego Luna (Y Tu Mamá También) as her right-hand man, Forest Whitaker as some sort of grumbling mentor, and the Hong Kong action star Donnie Yen whipping a bunch of Stormtroopers into shape with a stick. Ben Mendelsohn (Bloodline), Hollywood's favorite new brooding villain, plays an Imperial officer of some sort, dressed all in white.
More than anything, it's exciting to see a film that gets to play in the sandbox of Lucas's original trilogy, rather than echoing and remodeling it as The Force Awakens, which was set 30 years beyond it, had to. The Rogue One trailer brings back some memorable pieces of architecture, from the lumbering AT-AT walkers to the Death Star itself (which is still being assembled), not to mention the glorious '70s costuming of Star Wars (Mendelsohn's flowing cape is a particularly welcome throwback). In other words, it's got the look: a distinct blend of old favorites and new design wrinkles, like the jet-black Stormtroopers hunting Jyn or the hodge-podge samurai armor worn by Whitaker.
For all its nostalgic appeal, Rogue One is still a bit of a gamble by Disney. There was almost no doubt The Force Awakens was going to be a financial smash (and indeed it was, earning more than $2 billion worldwide), since it continued the main story and promised a turnaround from George Lucas's derided prequel trilogy. It remains to be seen whether audiences will have the same rabid enthusiasm for a side-story. If so, Disney's plan for future "anthology films" (including a Han Solo prequel and a possible Boba Fett movie) will be a license to print money; if not, franchise fatigue could set in, and the studio's plan to release a Star Wars movie every single year might need tweaking.
For now, things seem to be on stable ground—Rogue One looks splendid, Felicity Jones should be an exciting new heroine for a franchise still relatively bereft of major female characters, and the cast is an intriguing mix of established character actors. Disney can worry about franchise fatigue later. Right now, there's still a halo around anything and everything with Star Wars in the title.