The Revolution Will Be Streamed
Shows like Hulu's The Path are part of an ongoing paradigm shift in television that favors the season over the episode.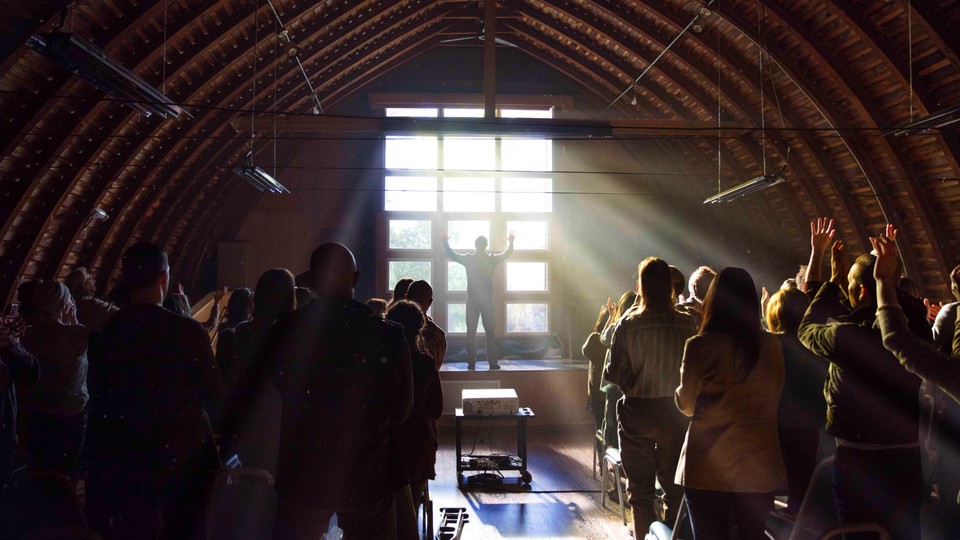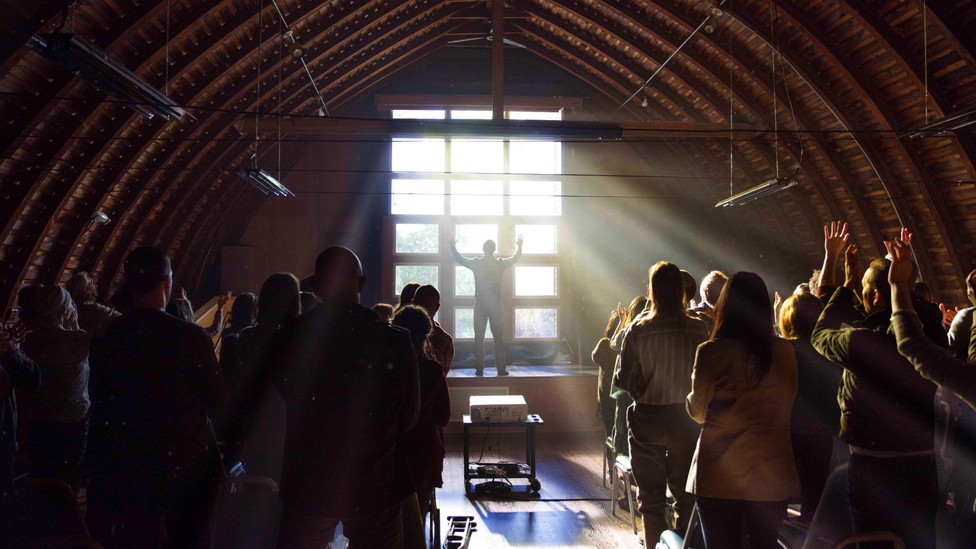 The first episode of Hulu's new drama The Path follows the template of many contemporary TV dramas. After a barnstorming opening sequence showing the aftermath of a tornado strike on a small town, the series introduces the cult that shows up and pulls survivors out of the wreckage. Their leader, Cal Roberts (Hugh Dancy) is driven and imperious; Eddie (Aaron Paul) is another cult member who's conflicted about his involvement; and Sarah (Michelle Monaghan) was born into her role as a recruiter. As soon becomes clear, the organization they're all part of is mysterious and possibly evil. It's a compelling premise, and some of the group's darker secrets do come to the surface—but only once viewers are 10 or so hour-long episodes in.
The television industry is currently in the middle of a radical paradigm shift, as streaming networks like Amazon, Netflix, and Hulu look to create as much original content as possible. One of the most notable changes evident in the flood of new content is the total abandonment of the long-accepted idea that a show needs to hook a viewer in its first act, or at least its first episode. But streaming shows like The Path, Bloodline, Hand of God, Love, Sense8, and many others are taking this to extremes, seeming barely concerned with letting stories pay off until viewers have sat through a whole season.
The New York Times critic James Poniewozik's take on The Path was particularly apt (and telling): "I could see it having a strong second season." That's the new reality of the medium—it can take a whole year before a show even needs to be good, which has unfortunately led to pervasive issues with pacing and plotting that hurts the overall viewing experience for streaming audiences.
Poniewozik has written more extensively on the topic, noting that streaming networks don't have to worry about the situational strictures of broadcast television. A viewer can discover a show at her own pace and (more than likely) watch it all at once. A streaming network exists simply to offer a broad repository of content for subscribers to check in with, rather than a daily deluge of explosive plot twists and special guest stars to keep people tuning back in. Even comedies like Netflix's BoJack Horseman have this type of structure—one episode viewed in the abstract might be mildly funny, but watch the entire season in a short burst and it feels suddenly like a work of art.
There's a strange loyalty demanded by a show like BoJack (which is outright bad for its first few episodes before gathering steam) or The Path. Sure, nothing much happens for the first six or seven hours, but the viewer has to be trusting enough to know that their patience will be rewarded. "Netflix's chief content officer, Ted Sarandos, has said he considers the first season of a series, not the first episode, to be the 'pilot,'" Poniewozik noted. It's an insidiously clever approach: You need a whole season to decide whether or not you like a show, and by the time you've watched all that, you're in too deep to turn back.
It'd be easy to pinpoint the premiere of Netflix's House of Cards, with its ominous title "Chapter One" (it's up to "Chapter 52" now), as the ostensible beginning of this trend. But Netflix was simply playing into viewer patterns it had already identified from how people watched other shows in its streaming database. David Simon's masterpiece The Wire, which ran on HBO for five seasons in relative obscurity, was the original and best example for the critics' refrain of "Give it five episodes, and you'll be hooked." Simon's approach was novelistic, where TV before (even HBO shows like The Sopranos) had been almost totally focused on the entertainment value of single episodes. With The Wire, you had a show that needed time to percolate and gather its story threads together. That approach didn't draw strong viewership on HBO, or much attention from Emmy voters, but it worked perfectly for platforms like Netflix and Amazon that prompt audiences to immediately hit "play" for the next episode.
Other serialized hits, from network shows like Lost to cable successes like The Shield, were suited to this model, too. The comedian James Adomian had a great stand-up routine mocking the new culture of binge-watching: "I love that I'm expected to watch an entire television series on DVD before someone will even talk to me as a human being at a party," he said. "You know how many hours there are of Lost? There's like 200 hours! You just asked me to watch 100 feature-length films."
The problem with Lost, of course, is that its finale was notoriously unpopular—it's a binge-watching classic, but even casual TV fans know they might be setting themselves up for disappointment by watching all six seasons of a show that ends in confusing fashion. Early Netflix hits like House of Cards and Orange Is the New Black seem to be doing everything they can to avoid that fate—by simply never ending. House of Cards was just renewed for a fifth and sixth season even though its creator Beau Willmon has departed the series, and Orange Is the New Black will be back for at least three more years, even though the prison stay it's inspired by only lasted for 18 months.
That's what's most troubling about the new binge economy: There's even less emphasis on a show's quality or consistency. The network TV model, which hinges on ratings, can certainly be cruel and unfair—there are dozens of cult classics that were unfairly cut short because they didn't fare well enough with the right advertising demographics. But the streaming model doesn't seem much better either. Outright critical bombs like Hemlock Grove and Fuller House are auto-renewed as a matter of course, and genuine hits like House of Cards will pump out new chapters as long as their casts can stay under contract. Name recognition is everything—it's why burgeoning streaming networks like the now-dead Yahoo! Screen will spend millions to revive marginal network shows like Community—and even the most unpopular returning shows are at least established titles.
At Vox, Todd VanDerWerff pointed out the clear flaw of the hyper-serialized Netflix storytelling style, and how even its best shows tend to sag in the middle.  "Streaming services have an unfortunate tendency to assume they should use all the time in a season—including the extra moments freed up by not having to remind viewers of certain plot developments—to tell a single story," he wrote. Serial TV hits like Breaking Bad might have something in common with this approach, but even they delivered powerful, punchy episodes week after week because they had to stay in viewers' minds amid all the other networks' competitors.
At the end of the day, "television" might be the wrong word for streaming shows. This may not be the dawning of a new era in TV, but an entirely different (though related) entertainment medium that's much more focused on extended, drawn-out storytelling. It's been suited to superhero adaptations—Netflix's Daredevil and Jessica Jones were hits that tapped into the drawn-out narratives of a comic book. Half-hour comedies like Transparent or Unbreakable Kimmy Schmidt tend to fare better, simply because viewers expect less propulsive storytelling from them.
The advantages are clear: There's no pressure to insert artificial plot twists at the end of every hour, and to use unnecessary cliffhangers and other storytelling gimmicks to keep the viewer coming back. TV has always offered the chance for writers to flesh out a character's story over months, years, and streaming shows can extend that even further and dig even deeper. But there's an immediacy that's lost: a sense that a show's creative personnel are pushing against the strictures of their format and cramming in only their best material as a result. The Path could be part of the medium's future, but for now, audiences are stuck waiting for a payoff.