The Rare Vin Scully
At 88, the legendary baseball announcer is marking his 67th and final season with the Los Angeles Dodgers. His contribution to the sport is harder to quantify.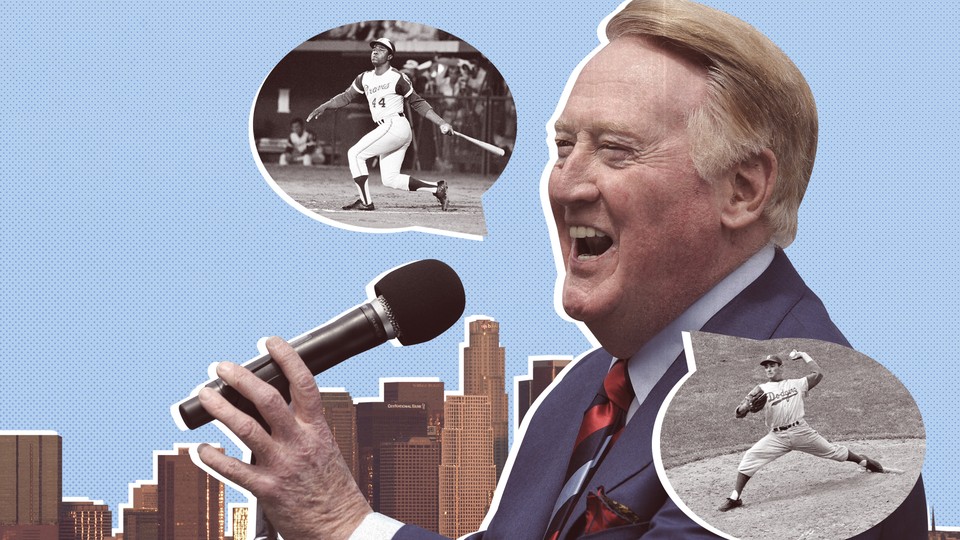 Long ago, when the world was new and the cement wet in Los Angeles, I found myself staring down the longest row of stairs I'd ever seen to a vanishing point called home plate. An iced box strapped around my neck, I began to walk down from the sky, it seemed, into a cavernous bowl radiating heat. I was 12 years old, selling frozen chocolate malts at the Los Angeles Coliseum, on the first day of my first job. Descending into the 72,140 baseball fans at the game that day, I was afraid. Until I heard a familiar voice.
The voice seemed to come out of the earth. It was cooling in the heat, a sort of collective whisper that I felt was heard by my ears alone. It was Vin Scully. How could this be? Many a night, a sleepless asthmatic, I'd heard Vin's voice through a transistor radio held to my ear in bed, with his lilting call of a Dodger home run—"Back goes Mays, a-Way Back, to the wall, SHE—IS—GAWN!" And I knew two things: a Dodger home run was a woman. And my lungs would unstick themselves at the roar of the crowd and Vin's voice. I would awake the next day, the grill of the transistor imprinted on my cheek.
But in the Coliseum that day—it was August 16, 1961, and 100 degrees—I didn't have a transistor. So where was the voice coming from? Looking around, the source of it hit me. Not hot dogs, nor beer, nor peanuts were held as near as tens of thousands of little radios at the ear. Everyone was listening to Vin, even as they watched the game in person.
To put this plainly, Dodgers fans in the early years in Los Angeles couldn't believe their eyes, unless they heard it. That's how powerful Vin Scully's rendering of baseball was. It was better than seeing.
And is. If only for one more year. This 2016 baseball season will be the timeless 88-year-old redhead's 67th season broadcasting for the Dodgers, stretching back to 1950. Why did Vincent E. Scully last so long with one team, and why is he so lionized? The answer, I think, partly lies in the nature of Los Angeles itself, spread across 502 square miles seeking a center, and its long-suffering life without baseball. Baseball is America's oldest professional sport, dating back to 1869, but for nearly a century, it was an Eastern sport. However, in 1958, after a wrenching breakaway from Brooklyn (for which Brooklynites have never forgiven them), the Dodgers touched the Pacific. Baseball, the country, and children's ears would never be the same.
* * *
Los Angeles—with the rest of California—was founded by Hispanic Franciscans. For a long time it was a sparsely populated, agricultural society compared to the industrial colossus of the East. But that began to change, first with the advent of trains and the mass production of cars, then motion pictures, and finally the war economy of World War II. The wonders of Western sun didn't hurt, either. When Eisenhower built the interstate highway system in the '50s that linked both coasts by road, the die was cast for a huge westward swing of American culture. Baseball—in the form of the Dodgers and later New York Giants (who went to San Francisco, shifting an ageless rivalry to the Pacific coast)—came with Vin. And Angelenos latched onto him like a long lost cousin, a unifier the burgeoning town of suburbs desperately needed. New York had the Empire State building. Los Angeles had a voice. The voice.
If it's true that place and circumstance create a hero, there's also the matter of just who Vin Scully is, which of course influenced greatly who he became. First and foremost comes his love of language, born of being a Literature major at Fordham. An American poet once called Scully "our Yeats," and another writer has compared him to Homer. Both are certainly exaggerations, but what bounty came from frustration, both in poetry and baseball. Scully was a no-stick center fielder at Fordham, and, hanging up his cleats at age 20, he decided "to talk a good game."
That he did. Out came cascading metaphors ("the butter-and-egg man"), internal rhyme (a line drive "whacked into the gap"), euphony, electric verbs, alliteration ("a lamb chop to a lion" for a perfectly centered 3-0 pitch to a home run hitter), allusions to poets like Pope and Shakespeare, and personifications of everything from dirt clods to a lazily hit ball ("a room-service fly"). Scully's elephantine memory of the history of the game intertwined with the high and low points of the country is certainly unprecedented and will probably never be duplicated. His sheer love of the game, of doing what he is doing, and the excitement in his voice climbs right along with the ball. Scully rarely refers to the Dodgers as "we." He brings to his enthusiasm a hard-nosed journalist's objectivity and preparation, one reason why his call is treasured across the nation.
Then there's the music. The Los Angeles Times columnist Chris Erskine (no relation to Carl) recently compared Scully's voice to a horn that can "make musical the specter of grown men mostly standing around for three hours," and that contains such elements as "swing, moxie, and sonic opulence." The University of Southern California professor Jeffrey Allen describes the voice as "a virtuoso instrument."
Scully would probably run for the nearest beer at such dissection, but the USC musicologist Chris Sampson insists that the voice "starts with a dominant chord (that) has some tension to it that's leading to a resolution." (He has actually done sheet music on the last out call of the 1965 Sandy Koufax perfect game: "Two and two to Harvey Kuenn. One strike away.") It scans poetically, too—trochaic pentameter actually—urgent, even insistent, with a double-stressed spondee ("One strike") before ending with a teasing iamb, keeping us hanging in the air. Sampson calls this unconscious music Scully's "claw mark"—what makes Sinatra Sinatra, Lennon Lennon, Flack Flack—and no one else.
The Voice has been more than mimetic—it has catalyzed, and not just fans. Angelenos never tire of the myth of Kirk Gibson, the crippled Dodger who hobbled off the bench in the last inning of the first game of the 1988 World Series—angered at hearing Scully's radio voice in the locker room attesting that he would "not see any action tonight, for sure." Gibson hit a stumbling, one-handed home run to win the game, rounding the bases while cocking the air as if it were a rifle. "In a year that has been so improbable, the impossible has happened," Scully exclaimed, after 67 seconds of silence, or rather crowd roar. In a crazy sort of way, Scully had goaded, even caused Gibson's heroics.
Gibson's gimpy homer has been voted the greatest sports moment in Los Angeles history, but it wasn't Vin's, by his own reckoning. His was not of a Dodger at all; in fact, it took place during a Dodger loss. It was the middle of Watergate, April 8, 1974, almost four months to the day before Richard Nixon would resign the presidency. Henry Aaron was at the plate, tied with Babe Ruth for the all-time record in home runs (714), facing the Dodgers' Al Downing. Aaron took the first pitch, low, below his knees. And then: "Fastball, high drive to deep left center field. Buckner goes back, to the fence—it is GAWN!" Scully later recounted that he took the headphones off, went to the water cooler for a drink, and let the crowd's ecstasy and fireworks fill the nation's ears. "Scully made his greatest contribution by saying nothing, thank you," he told a benefit audience honoring him in February 2016. But that is not true. Here's a condensation of what he said when he returned to the mike:
What a marvelous moment for baseball, what a marvelous moment for Atlanta, for the country and the world! A black man is getting a standing ovation in the Deep South. And it is a great moment for all of us, but particularly for Henry Aaron who is met at home plate not only by every member of the Braves, but by his father and his mother, who came running across the grass, threw her arms around his neck and kissed him for all she was worth. As Aaron circled the bases, the Dodgers on the infield shook his hand. And for the first time in a long time that poker face of Aaron's shows the tremendous strain and relief of the past seven months. It is over, at 10 minutes after nine o'clock in Atlanta, Georgia. Henry Aaron has eclipsed Babe Ruth. You could not get two more opposite men—the Babe, big and garrulous, oh so sociable, immense in all his appetites—and then the quiet lad out of Mobile, Alabama, slender. Ruth, as he put on the pounds and the paunch, the Yankees put their ball players in pin striped uniforms because it made Ruth look slimmer. But they didn't need pin stripes for Henry Aaron. And now you can hear Georgia around the world.
Aaron was a better export that year than lies and tapes. You can see other Vin virtues here: his reverence for people (he's a devout Catholic), knack for story and character detail, but also, his sense of pathos. It's in that "tremendous strain" on Aaron's face. As Bart Giamatti once said, "[Baseball] is designed to break your heart." But Scully caught another kind of tragedy: the racism Aaron endured that year as he got closer to 715 homers. It was hardly a magic number for him. His home was attacked, death threats were delivered.
Scully lets the crowd speak in peak moments, partly out of his own (temporary) wordlessness, but also because of a sense of the greater whole. As a kid in a fifth floor flat in the Bronx, he would put his head on a pillow under the radio stand to listen to a game and "let the crowd noise come down like water out of a shower head." The boy Scully liked "getting goosebumps long before I saw them on my skinny arm." In one of the few interviews he's given over the years, he mentioned that the baseball faithful does more for him than he does for them. It's an actor's bow, perhaps. It is certainly humility. But it is something else. At 5, he watched his father die of pneumonia. "I hardly knew him," he later said. According to The Scribner Encyclopedia of American Lives, Scully lost his first wife Joan to an accidental overdose of prescribed medicine; she went to sleep one night and didn't wake up; she was 35. He was 45 and left to raise three young children. "From the first day I can remember, I was brought up thinking about death," he would recall years later. "It's a constant companion in our religion. Tomorrow is so uncertain."
That dark year, he's said, "I felt like I would jump off a building." But before long, he married Sandra Schaefer, the secretary to the owner of the L.A. Rams, adding her two children to his three, and then later one more of their own. Scully loves kids. He points out children in the crowd doing goofy things like painting their faces with chocolate, trying to feed their feet into the mouth, or attempting unsuccessfully to high five. In 1994, shortly after the Northridge earthquake, his son Michael was killed in a helicopter crash at the age of 33 while inspecting quake damage. After that, quakes seemed a part of life.
Beauty comes from loss (and as Keats reminds us, there's truth involved). You can't earn it outright or even attract it. That clear, dulcet tenor, with its occasional tremor, was Scully's gift from his red-haired, "excitable" Irish mother, as he described her. You couldn't teach it, any more than you could teach Ruth and Aaron to hit baseballs far from home, to go home. (Baseball, after all, is about going home.) It was a born gift, yes, but the voice that raised L.A. was also loss-made.
That blistering day in 1961 I also learned something about loss—it sold frozen malts. The Dodgers were shut out twice that day, 8-0 and 6-0, by the Cincinnati Redlegs (renamed during the '50s' Communist "Red Scare," soon to return to just plain Reds). As the heat climbed and the people sweated, the malts practically flew out of my box. Save one. That one I savored alone, positioning myself right behind home plate, at the last out, and as his voice got fainter, I looked up behind me at the open booth above where the man with hair like a flame and the voice we all loved removed his headphones, took off his glasses, and went to the water cooler. I wished I'd kept one for him.
* * *
Baseball is terror. It is also courage in the face of it, grace, speed, remarkable timing, long history, chess with human bodies on a board of grass and sand. To its detractors, it is infinitely slow. But in some fundamental way, it is terror.
There is no ball in sports as hard as a baseball, 5 and a quarter ounces of tightly wrapped yarn around a rubber and cork center sheathed in red-stitched cow hide, nor one shot as fast (with the possible exception of hockey's 6-ounce puck of vulcanized rubber). Pure fear took me out at the age of 13, the youngest player on a Pony League team, and takes out most young players, even promising ones. There's a reason for the common refrain that hitting a 100 mph fastball is the hardest single action in sports.
The terror isn't just for the batters, including two major leaguers who died after a "beaning," or a fastball at the head. Between 2008 and 2013 alone, 10 pitchers were seriously injured, some with fractured skulls, when they were struck by balls batted back as fast as 120 miles per hour (Albert Pujols's bat speed). In May 1957, the Cleveland Indians' Herb Score was temporarily blinded when his right eye took a bullet hit by Gil McDougald of the Yanks who was so shook up he ran to the mound rather than first base.
We went through the years watching and listening to the delightful terror with Vin. In 1961, a journeyman Dodger catcher named Norm Sherry famously told Sandy Koufax, then still mixing his brilliance with wildness, "Take the grunt out of your fastball." It calmed and focused him. He also added a devilish "twelve-to-six-o'clock" curve ball (Vin's phrase). I listened in awe to Vin's call of Koufax's perfect game in 1965, his fourth no-hitter in five years (a concentration that has never been matched, though Nolan Ryan in a career nearly three times as long as Sandy's recorded seven no-nos). Here's part of the last inning against the Cubs, which is not just Sandy's masterpiece, but Scully's, too:
It is 9:41 PM on September the 9th. There are 29,000 people in the ball park and a million butterflies. In the Dodger dugout, Al Ferrara gets up and walks down near the runway, and it begins to get tough to be a teammate and sit in the dugout and have to watch. Sandy back of the rubber now, toes it. All the boys in the bullpen straining to get a better look as they look through the wire fence in left field. A lot of people in the ball park now are starting to see the pitches with their hearts … Two-and-two the count to Chris Krug. Sandy reading signs. Into his windup, 2-2 pitch: fastball got him swinging! Sandy Koufax has struck out twelve. He is two outs away from a perfect game … Koufax with a new ball, takes a hitch at the belt, and walks behind the mound. I would think that the mound at Dodger Stadium right now is the loneliest place in the world.

Sandy, fussing, looks in to get his sign; 0-and-2 to Amalfitano. The strike-two pitch to Joe: fast ball, swung on and missed, strike three! He is one out away from the promised land. And Harvey Kuenn is coming up. The time on the scoreboard is 9:44. Sandy into his windup and the pitch: fastball for a strike. He has struck out, by the way, five consecutive batters, and this has gone unnoticed. Sandy ready, and the strike-one pitch: very high and he lost his hat. He really forced that one.

That was only the second time tonight where I have had the feeling that Koufax threw instead of pitched, trying to get that little extra, and that time he tried so hard his hat fell off. He took an extremely long stride to the plate, and Torborg had to go up to get it. You can't blame the man for pushing just a little bit now. Sandy backs off, mops his forehead, runs his left index finger along his forehead, dries it off on his left pants-leg. All the while, Kuenn is just waiting. Now Sandy looks in. Into his windup, and the 2-1 pitch to Kuenn: swung on and missed, strike two. It is 9:46 PM. Two-and-two to Harvey Kuenn. One strike away. Sandy into his windup. Here's the pitch: swung on and missed, a perfect game! [Crowd roar washes over.]
Koufax and Scully were a duet from the start. In 1995, the 1965 perfect game was voted the greatest game ever pitched by the Society for American Baseball Research. Scully's call of the milestone "read like a short story," wrote Gary Kaufman in Salon. "It had tension, rising and falling drama, great turns of phrase. It was, and still is, the best piece of baseball writing I've ever seen."
And it wasn't writing, though it's been anthologized in essay collections. As Kaufman noted, "It came off the top of his head." Larry Stone, a writer for The Seattle Times, remembered listening to the Koufax's perfect game while helping his father fix a bathtub faucet. As the game progressed, Stone and his father "did less and less work, finally stopping altogether to sit on the side of the bathtub and listen to Vinny's magnificent call of the ninth inning." When the last man struck out, Stone "ran around the house waving a wrench over my head in triumph."
* * *
What happens when the music stops?
"I'm not going to bring me on tour like I'm some Stradivarius or whatever," Vin Scully told reporters before a March spring training game. When it was revealed the major networks and CNN wanted him to do a few innings nationally as a swan song this year, he recoiled: "No, no, no, I don't belong there. I belong in Dodger Stadium in the booth, that's where I belong. That's where I lived, that's where I'll stay till it's over. I love this game and I don't want to get in front of it."
On April Fools' Day, Vin drifted more, as he seems to be doing in this sayonara year, wistfully, during the first "Freeway Series" exhibition game against the Angels. Contemplating the dangerous hitter Albert Pujols, he remembered as an 11-year-old in the Bronx playing a prank, calling up a tobacco store and asking, "Do you have Albert in a can?" The reply, "Yes, I do." And the kids shouted into the phone receiver, "Would you please let him out?!"
After my year-long attempt to secure an interview with him for this story failed, just after New Year's I saw a message on my cell phone: Restricted. Listening, my ear widened: "Hi, this is Vin Scully trying to reach Or-FA-la. Mr. Or-FA-la, I'm sorry that it's taken me so long to reply to your letter. Things are getting a little hectic this time of year for me and the family. But anyway, I just wanted to say hello and wish him well and acknowledge the fact that I certainly appreciate his lovely letter. Again, my regrets it took so long, but I send along my warmest wishes. Thank you."
Vinny has 16 grandchildren. That "hectic" may hide some pique. It may also hide a lot of joy. It sure gave me some. I'll hold that warmest on a cold night.
Ross Porter, 78, who paired up with Scully for 28 years and now announces for California State University at Northridge's baseball team, admits that Vin "is universally considered the best baseball announcer of all time, and the most popular individual in Southern California. But what is not known by people who don't know him is his worth as a human being."
Porter recalls seeing Scully in numerous encounters with fans "who could be considered annoying. Asking for an autograph, requesting a photo with him, delaying his entry into the press box to tell a personal story, and other inconveniences. Yet I have never seen Vin Scully rude to one person." Porter also notes that Scully was once approached by political people asking if he'd run for governor. He declined and later told Ross, "They didn't know I was in the other party."
Bob Costas, who couldn't wait as a boy to get to Vinny's voice when his family moved cross country from New York to Los Angeles, has said that Vin Scully "never overstays his welcome." On April 12 this year (opening day at Dodger Stadium), we got an eerie taste of what it would be like without that voice. For the first batter Jean Segura of the Arizona Diamondbacks, the television was totally silent. Three pitches and Segura hit by the ball and nothing. Barely a crowd murmur. We looked at each other at my home in a panic. Suddenly, the voice of Vin poured out, "The stairs get steeper here at Dodger Stadium and anyway here we are. And Jean Segura is hit by a pitch." Segura was standing on first. We all exhaled, as if we'd been on that stairs, too.
Perhaps the reigning baseball voice after Scully retires, Costas wrote to me, "Vin Scully was one of the very first baseball voices I ever heard, along with Red Barber and Mel Allen. All of Vin's contemporaries are gone and yet he continues, at least for one more season, a voice that encompasses well over half of the modern history of baseball. If you are of a certain age, and you listen to a game Vin broadcasts, it is simultaneously present and nostalgic."
Scully's fellow Angeleno, the author and former Nation columnist Max Holland admitted that Vin not being "a homer," or a booster of the home team, bothered him as a child: "Instead he imparted the lesson of objectivity, no small thing, as it requires empathy or grudging appreciation of the other."
At that April Fools' Day game, after Corey Seager flubbed an easy pop fly, Scully went back a half century to Red Barber commenting, "Even Pee Wee Reese dropped 'em." And then back even further, 300 years, to Alexander Pope, "To err is human." He lets you, merciful listener, complete the rest.